This post brought to you by Bona. The content and opinions expressed below are that of Thrifty Jinxy.
I love, love, LOVE hardwood floors. When we were considering buying our current house, the one thing that really sealed the deal for me was seeing that there were hardwood floors under the disgusting carpet that was throughout the house. We were still a little hesitant at first because the previous owners obviously had a dog that wasn't well house-trained and had left deposits on the carpets that in turn soaked through to damage the wood floors. It seriously looked bad. BUT, we found an amazing local floor refinisher who had those disgusting floors looking absolutely beautiful in just a few days.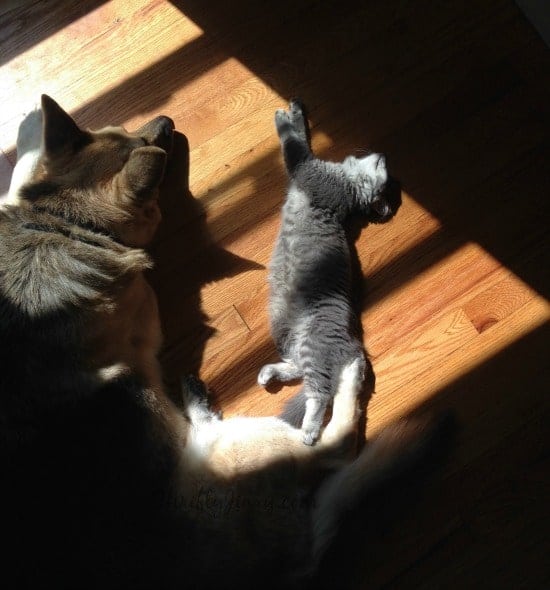 Now that we have my beloved hardwood floors throughout the house, it's time for ME to keep them clean. I'm lucky that all of our pets are well trained and don't have "accidents" to damage the floors, but just the every day in and out of the house by the dog can lead to floors that get plenty dirty. It's especially noticeable during these spring months when it is often wet outside and those dirty and damp wet paws sometimes make it in the house without being wiped off very well.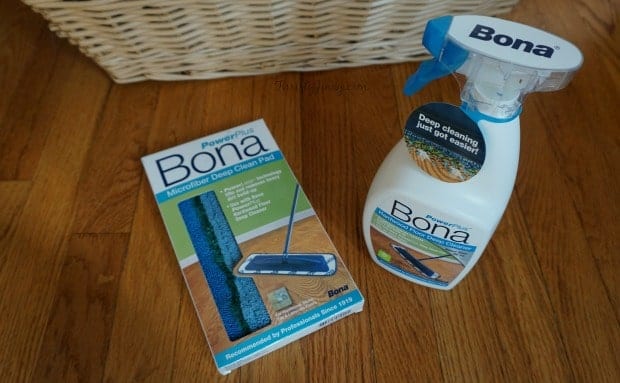 That's why I was particularly happy to learn about Bona PowerPlus Hardwood Floor Deep Cleaner and Deep Clean Pad. These two work together to make the ideal solution for fighting everyday grime and dirt on hardwood floors. This is Bona®'s most powerful cleaner yet and it has an oxygenated formula that loosens and removes heavy dirt build-up, providing a deep clean without the extra effort. I think the deep clean pad goes a long way in effectively cleaning too. It has both a PowerLoop technology (which feels like a soft version of a kitchen scrub sponge) combined with dual-zone microfiber, which is great for trapping dirt. Between the cleaner and the pad, things clean up easily and in a hurry. I'm all about the more clean/less effort cleaning methods!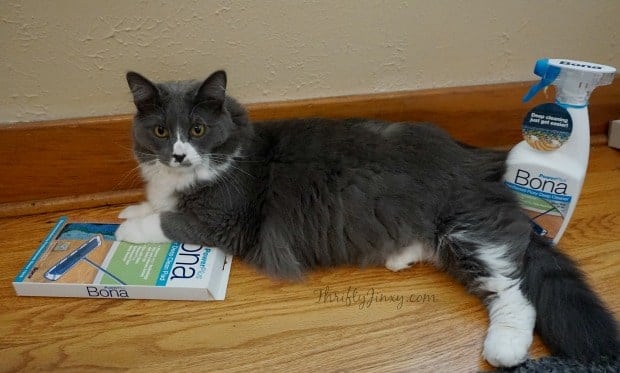 We have even more good news! Bona is hosting the Bona PowerPair Sweepstakes to highlight the power of their new PowerPlus deep clean system. You can enter for a chance to win an amazing grand prize (see the details below). But ALSO, they will be offering 100 INSTANT WIN PRIZES for those playing their PowerPair Match Game! Play for a chance to win a Bona Hardwood Floor Mop and a $25 VISA® Gift Card.
As an extra bonus, you can upload your receipt to receive a $5 Starbucks® Gift Card when you purchase two Bona Products, like the Bona PowerPlus Hardwood Floor Cleaner and Bona PowerPlus Microfiber Deep Clean Pad! Grand Prize Details: NEST® Thermostat SONOS® Speaker iRobot® Roomba® Hue®Light Bulb Moxie® Showerhead One Year's Worth of Bona® Product including Bona® Hardwood Floor Mop, Bona PowerPlus™ Microfiber Deep Clean Pad Pack, Four Bona PowerPlus™ Cartridges, Four Bona PowerPlus™ Hardwood Floor Deep Cleaner Refills, Two Bottles Bona® Furniture Polish abd Bona® Cabinet Cleaner
Who leads to dirty floors in YOUR house? Is it the pets, the kids, yourself?