I will be totally honest. When we first heard at the end of last year that a new Hard Rock Cafe had opened at Mall of America (right in our backyard) and my husband wanted to us to visit, I wasn't big on the idea and talked him out of it. While I thought the experience might be fun, I wasn't looking forward to the food. And, as I said I was being totally honest (and blunt) – I thought it would suck. I hadn't been to a Hard Rock Cafe in a loooooong time. Not since the days when I visited there just for the fun aspect only and thoughts of the food were totally secondary. Now when I go to a restaurant, the food itself is at the top of my priorities list.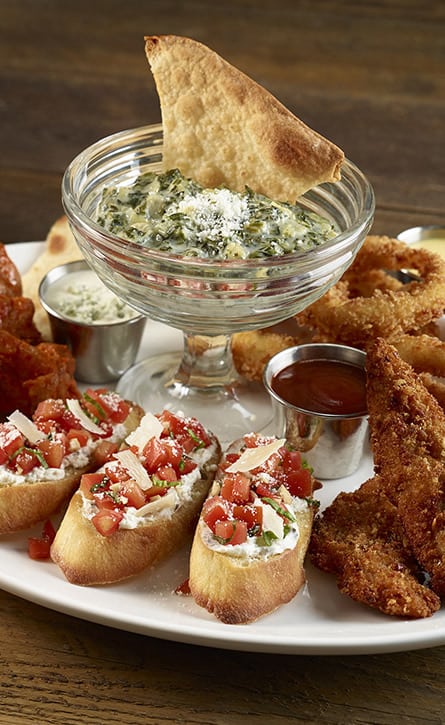 A few months after that opening, I was invited to a media dinner to try some of the newest Hard Rock Cafe. I figured that was the perfect time to give in to my husband's request to visit the Hard Rock Cafe at Mall of America as at least I wouldn't have to pay for it. Not liking food I don't have to pay for isn't as big a loss in my book!
The event itself was fantastic. We had a chance to meet with Hard Rock's Executive Chef Russell Booth and we tried soooooo many different items from the menu – appetizers, food, drink, desserts – you name it! And guess what….. it was good! Seriously good! Not just "this is free food so I will eat it" good – – but, "this is awesome, when do you think we can come back again?" good.
The goodness started with the appetizers. Most of the appetizers we tried are all in the "classic casual dining variety" such as bruschetta, chicken tenders and artichoke dip, but Hard Rock does all of these so well. I could make a meal out of only their appetizers, especially if I teamed it up with this:
  If you follow me on Instagram, you might have seen me calling out some of my favorites during the event. My absolute top favorite was the Grilled Chicken Arugala Salad. It was amazing! It is made with baby arugula, thinly sliced grilled chicken, spicy pecans, dried cranberries and fresh oranges tossed in lemon balsamic vinaigrette and topped with crumbled feta cheese. Do you know how at many restaurants the chicken on a salad often seems like an afterthought – like they added whatever chicken they had available?? At Hard Rock, the chicken was definitely well thought out. It's the best chicken I ever had on top of a salad.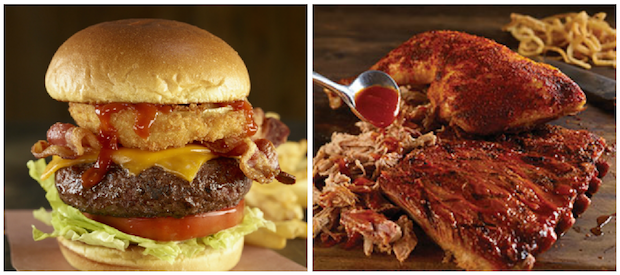 There were so many other things we tried like the Original Legendary® Burger and the hickory-smoked barbecue trio. I especially LOVED the beans that are served with the barbecue. I could eat a big bowl of those all on their own. And I can't forget the drinks! There were lots of fun and interesting drinks to try. My favorite was the Red Berry Press, which uses a French Press to add the flavor of fresh fruit to the vodka drink. It's both fun and delicious! I also loved the Margarita flights. They're a great way to try a variety of flavors. You can see the Red Berry Press on the right side of this picture of my friend Marybeth. Don't worry – she only SAMPLED all of those drinks!  
And I can't forget to mention dessert! We sampled several different yummy Twisted Shakes – which are adult versions of the classic favorites with a little added spike. Another dessert drink is the Salted Caramel Cafe which mixes Tia Maria, Baileys Irish Cream, Monin Salted Caramel, half & half and is then topped with whipped cream, caramel corn and caramel sauce. For "non-drinkable" desserts, I especially liked the fresh apple cobbler and Oreo cheesecake.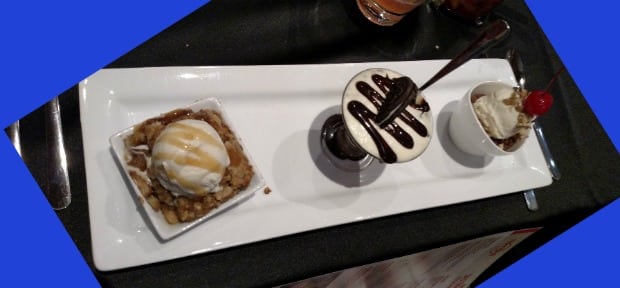 I'm so glad to have had the chance to attend this media preview. Now the next time my husband suggests that we go to Hard Rock Cafe I'll say, "Sure! Let's go!"