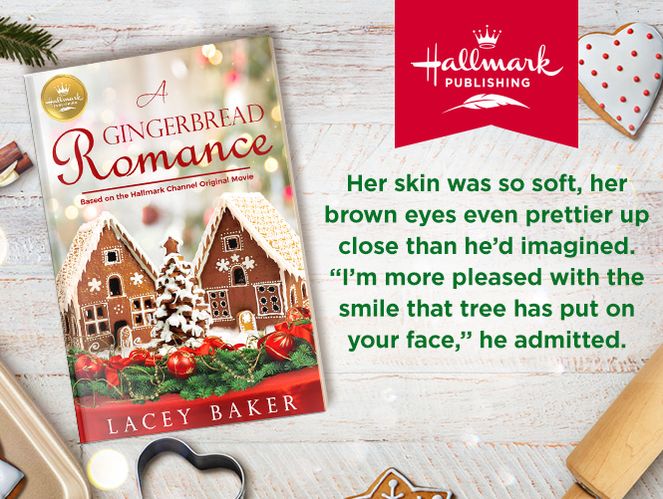 I know there are many of us who eagerly look forward to Hallmark Christmas movies every year. It's so fun to snuggle up and enjoy a sweet story set in the most wonderful time of the year!
Hallmark Publishing is giving even more ways to relax and indulge in a Hallmark story with both novelizations of some of their movies as well as brand-new original novels! These will be perfect to give as Christmas presents to the Hallmark lover on your list. If that's you, add it to your own wish list. It's never too early to start thinking about them!
These titles from Hallmark Publishing are based on Hallmark Original Movies and are available in paperback, e-book, and audiobook, so you can enjoy them in the way that suits your life the best. Plus, these books give you something to look forward to during the holidays with additional recipes inspired by the stories! We've given you a sneak peek of these recipes below.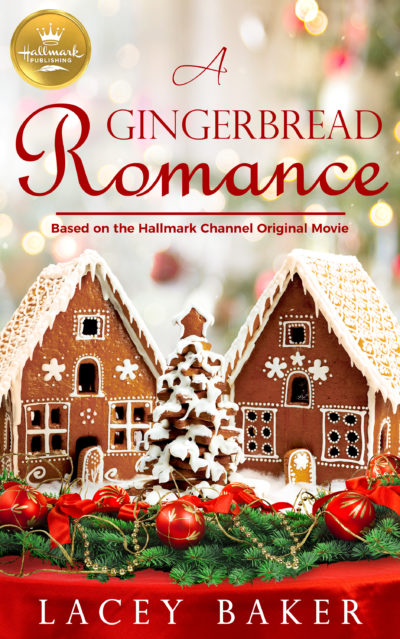 A Gingerbread Romance by Lacey Baker
Taylor's architectural firm enters her in a contest in which the teams will design and build life sized gingerbread houses. After the contest, Taylor will likely be getting a promotion to a position in another city. But Taylor's original partner soon backs out, and she needs to find a replacement.
When she meets Adam, a baker and single dad, at a local bakery, she convinces him to partner with her for the contest. After all, winning would give the bakery and his designs much needed exposure.
For years Taylor has been resistant to call anywhere "home" for fear it would only be temporary. But the time she spends with Adam and his daughter Brook in their cozy home, decorating for Christmas, and enjoying Philadelphia's holiday traditions, fills her with a longing for a place to call her own.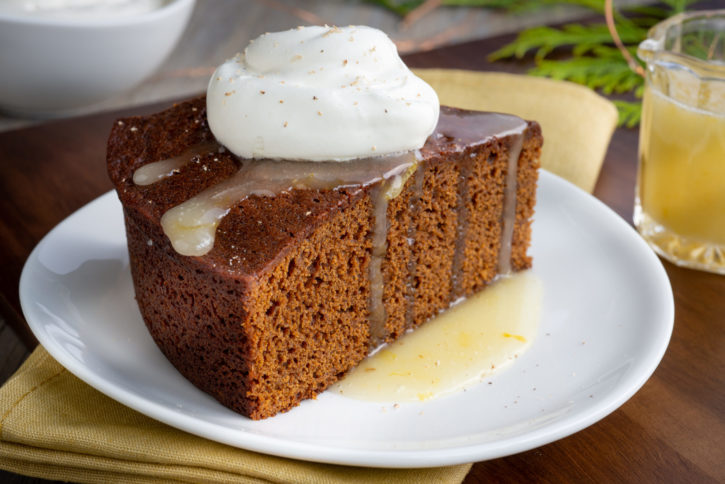 Gingerbread Cake with Lemon Sauce Recipe
There's nothing like the smell of gingerbread to make you think Christmas—but why build a house when you can eat Gingerbread Cake! In A Gingerbread Romance, Taylor finds herself baking and rebaking the layers needed for a life sized gingerbread house, but you can pop this easy-to-make cake in the oven and sit back and enjoy your book while it bakes.
Yield: 12 servings
Prep Time: 15 minutes
Cook Time: 45 minutes
Total Time: 1 hour
INGREDIENTS
Gingerbread Cake
½ cup (1 stick) unsalted butter, softened
½ cup brown sugar, packed
1 large egg
1 teaspoon vanilla extract
2 cups all-purpose flour
2 teaspoons ground cinnamon
2 teaspoons ground ginger
1 teaspoon baking soda
¼ teaspoon ground nutmeg
¼ teaspoon kosher salt
¾ cup unsulfured mild molasses
¾ cup hot water
Lemon Sauce
½ cup granulated sugar
¼ cup unsalted butter
3 tablespoons fresh squeezed lemon juice
1 teaspoon fresh lemon zest (optional)
1 teaspoon vanilla extract
As needed whipped cream
DIRECTIONS
To prepare gingerbread cake: preheat oven to 325°F. Butter a 9-inch springform pan; set aside.
Combine butter and brown sugar in bowl of a stand mixer fitted with a paddle attachment; beat at medium speed until light and fluffy.
Add egg and vanilla extract and mix until well combined.
In a separate bowl, combine flour, cinnamon, ginger, baking soda, nutmeg and salt; stir to blend. In a separate bowl; combine molasses and water; stir to blend.
Alternately add about 1/3 dry and wet ingredients to mixing bowl and mix until just combined. Scrape down sides of bowl; pour batter into pan.
Bake for 40 minutes or until a toothpick inserted in center of cake comes out clean. Cool cake in pan on rack. Serve slightly warm or at room temperature.
To prepare lemon sauce: combine all ingredients in saucepan; bring to a boil, reduce heat and simmer over low heat for 3 minutes, stirring frequently, until sauce thickens.
Slice cake into wedges; top each with warm lemon sauce and whipped cream.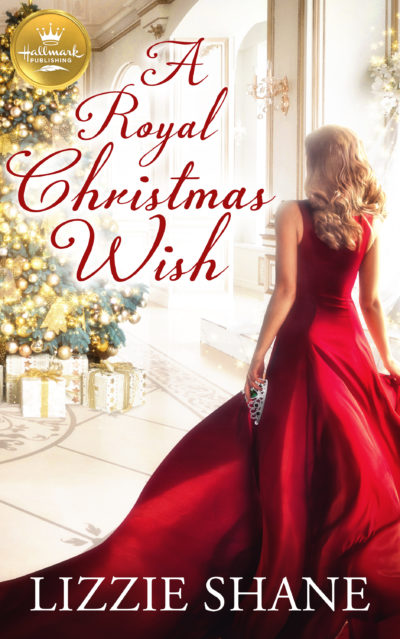 A Royal Christmas Wish by Lizzie Shane
Jenny knows she isn't the princess type. Sure, she's friendly and caring, but with her clumsiness and lack of self-confidence, glass slippers would only make her trip. When Dom, the cute guy she runs into in the park, turns out to be the prince of San Noelle, she figures he must not be her happy ever after.
But a mysterious countess grants Jenny's one wish, and she finds herself married to this handsome prince! Unfortunately, at the stroke of midnight on Christmas night, her life will go back to normal.
In funny and touching ways, Jenny navigates royal traditions the best she can. But even as she grows closer to Dom, the clock is ticking. With love and a little holiday magic, could she somehow make the enchantment last forever?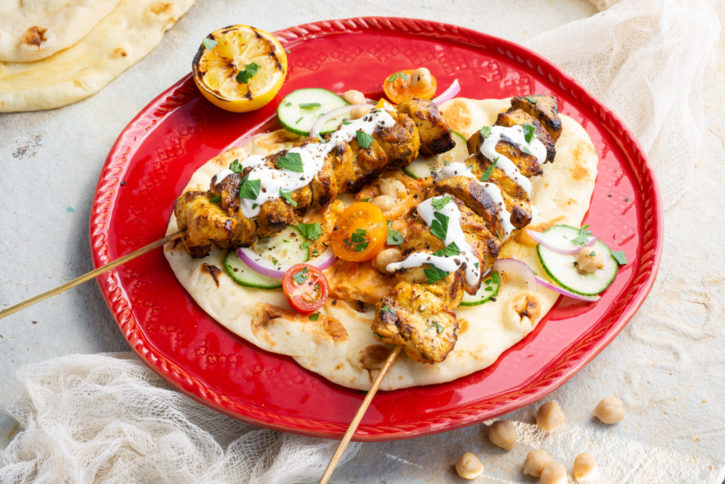 Chicken Shawarma Recipe
In A Royal Christmas Wish, Jenny wakes up to find herself married to a real-live prince. As she attempts to navigate the royal lifestyle—with less-than-successful results—she does miss a few things about her old life in New York City, including the chicken shawarma from the place around the corner. Our recipe for it is so delicious, it's fit for a princess. Make it once, and you'll be craving it, too!
Yield: 4 servings
Prep Time: 2 hours, 20 minutes
Cook Time: 10 minutes
Total Time: 2 hours, 30 minutes
INGREDIENTS
Spice-Rubbed Chicken
1 teaspoon ground cumin
1 teaspoon smoked paprika
1 teaspoon kosher salt
1 teaspoon black pepper
½ teaspoon dried oregano
½ teaspoon ground cardamom
½ teaspoon ground coriander
¼ teaspoon ground turmeric
¼ teaspoon crushed red pepper
¼ cup olive oil
2 tablespoons fresh lemon juice
2 garlic cloves, smashed
3 large or 4 average boneless, skinless chicken breasts
Garlic-Cumin Sauce
1 cup plain Greek yogurt
2 teaspoons fresh lemon juice
1 garlic clove, fine minced
½ teaspoon ground cumin
¼ teaspoon kosher salt
¼ teaspoon black pepper
Marinated Cucumber Salad
1 cup halved grape tomatoes
½ cup thin sliced cucumber
½ cup drained chick peas
¼ cup thin sliced red onion
1 tablespoon olive oil
1 tablespoon fresh lemon juice
¼ teaspoon black pepper
8 bamboo skewers, soaked in water
4 naan (or pita or flatbread), warmed on grill, in oven or in a skillet
¼ cup spicy hummus
As needed, flatleaf (Italian) parsley, chopped
4 grilled lemon halves (optional)
DIRECTIONS
To prepare spice rubbed chicken: combine dry spices, olive oil, lemon juice and garlic in a large bowl (or zip-lock bag) and stir to blend.
Slice chicken into thin 2-inch pieces: place in bowl with spice rub and toss to evenly coat. Cover and refrigerate for 2 hours, stirring occasionally.
To prepare garlic-cumin sauce: combine all ingredients in bowl and whisk to blend. Refrigerate.
To prepare marinated cucumber salad: combine in ingredients in bowl and toss to blend. Refrigerate.
Heat grill to medium heat. While grill is heating, thread spice rubbed chicken pieces evenly on bamboo skewers.
Grill chicken skewers for 10 minutes, or until fully cooked, turning frequently.
To assemble chicken shawarma: spread each piece of naan with hummus. Top evenly with marinated cucumber salad, spice rubbed chicken skewers and garlic-cumin sauce. Garnish with chopped flatleaf parsley and a grilled lemon half, if desired.
Two other upcoming title releases from Hallmark are An Unforgettable Christmas (out September 24th) and Wrapped Up in Christmas (out October 1st).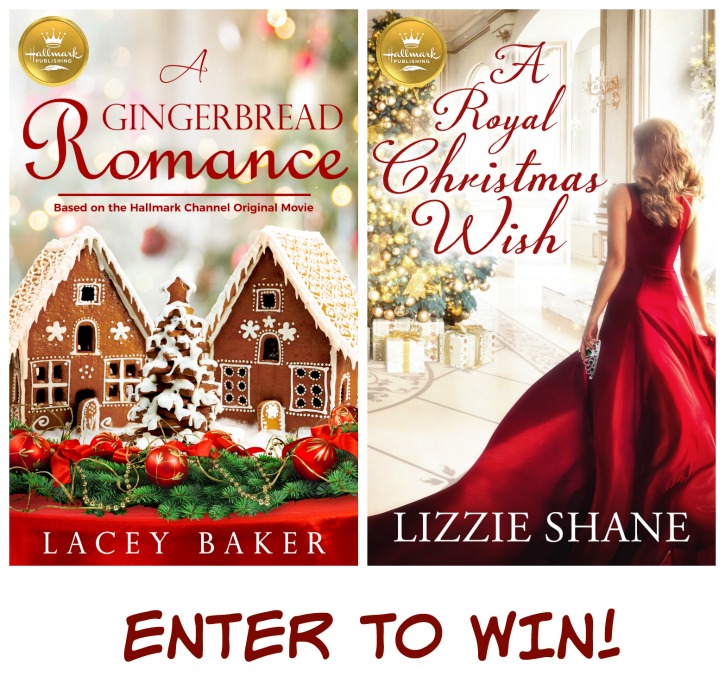 Reader Giveaway: One lucky Thrifty Jinxy reader will receive a copy of A Gingerbread Romance and A Royal Christmas Wish. To enter, just complete the entry form below by 11:59 pm ET on 10/7/19. Good luck!