#Feelinvigorated #CollectiveBias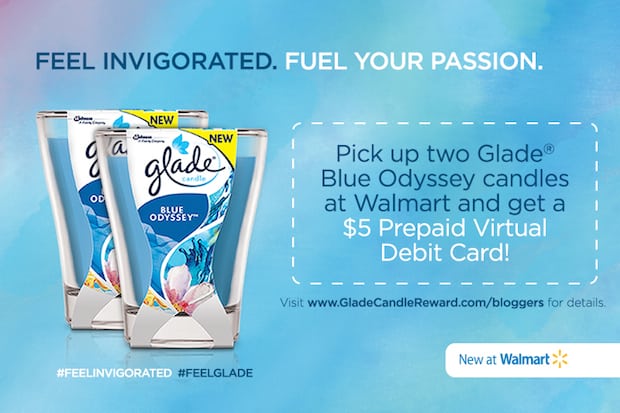 What are you passionate about? Is there something that drives your day-to-day life and inspires you to do something special or just to make time for a favorite hobby? Life is more livable when we care deeply about something and there are some simple ways we can be more inspired to fuel our passions.
If one of your passions is saving money, we have a great offer for you from Glade! Not only do we have a money-saving offer, but we also have a giveaway. Keep reading!
Feel Invigorated. Fuel Your Passion.
The scent of the new Glade® Blue Odyssey™ Large Candle will help make you feel invigorated, fueling your passion and creativity. With hints of musk, peach, rose and citrus, together these notes make a refreshing fragrance combination. A perfect addition to your living room, especially during these warm summer days, as it helps to create a fresh and energizing environment for you and your guests.
From now through August 21, if you buy Two (2) Glade® Large Candles at Walmart, you can get a $5 Prepaid Virtual Debit Card! See below and visit www.GladeCandleReward.com/bloggers for more details.

Glade Blue Odyssey Candle Rebate Program Terms:
1. Two (2) qualifying Glade® Candles must be purchased in a single transaction at a Walmart between 8/1/15 and 8/21/15.
2. Receipt must show the qualifying products, retailer name, date, time and receipt total.
3. Each receipt can only be submitted once. Limit one (1) reward per valid submission.
4. Limit one (1) valid submission per person.
Submission Instructions: Visit www.GladeCandleReward.com/bloggers
Get the new Glade® Blue Odyssey™ Large Candle at Walmart. For additional savings, use this coupon to save $2.25 on any ONE (1) Glade® large candle at Walmart! What are you waiting for?