Looking for the perfect gift for your dog or your favorite dog lover? Check out these great dog gift ideas!
When Christmas time rolls around we can't forget our furry friends! We have a few fun gift ideas for dogs that are just perfect for your little (or big) buddy.
Gift Ideas for Dogs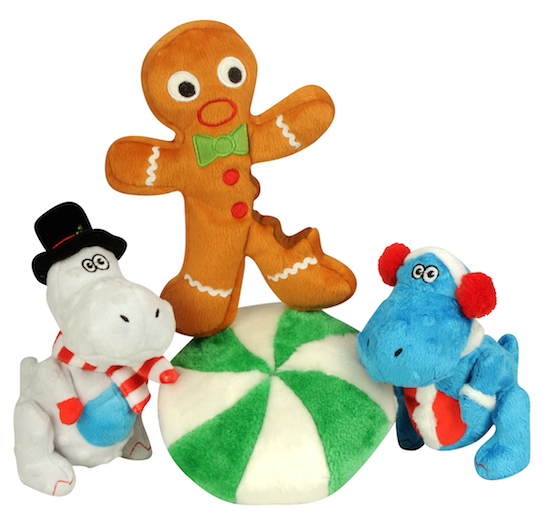 goDog™ has super fun toys for dogs of all breeds and sizes. They are extra durable with tough Chew Guard™ technology. Chew Guard offers added durability to help toys stand up to tough chewers. goDog toys are also bright and colorful! Toby is playing with a goDog T-Rex toy in the picture above!

A gift that is as much for YOU as for your dog is SnapLeash. It's a super convenient way to go out and about with your pet. The multi-use Snap Leash and Lead are made of tough pure high grade heavy thickness nylon with double ended nickel-plated swivel snap clips.
It includes strategically spaced steel grommets to secure your pet around multiple sized objects including trees, handrails, doors, benches, etc. without having to tie a knot or unclip the leash from collar first. You can even attach around your waist. Use the first grommet for ha andle.
You can also hang your keys or waste bags from the grommets. The box bar-tacked stitching at stress points gives the leash added strength.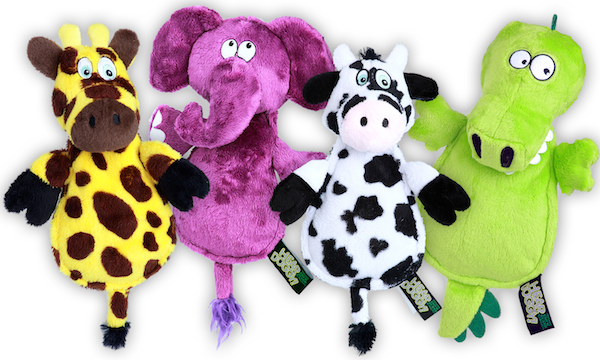 We all know that dogs love the feel and sound of "squeaky" toys, but listening to that high-pitched repetition over and over again can drive any pet-parent crazy! Ultrasonic HEAR DOGGY!® toys are made with a squeaker ONLY your dog can hear! They give your pet the same sensation and enjoyment of traditional squeaky toys without the irritating noise!
The science behind Hear Doggy!: Dogs can hear sounds at a higher frequency (0 to 45 KHz) than humans (0 to 20 KHz). Tuned to an ultrasonic range in the 24-28 KHz frequency, each Hear Doggy! squeaker is out of human hearing range, but still fun for your four-legged friend.
Hear Doggy! toys are available in 2 plush designs: Stuffed toys (Blowfish, Whale and Penguin, available in small or large) and Flats (Deer, Rabbit and Skunk) come in one standard size and contain no messy stuffing in the body.