Often times when we think about using smartphones we think about texting and emailing co-workers instead of walking 20 steps to talk to them, surfing the internet and watching dozens of silly cat videos, and playing hours of that addicting Candy Crush – – – basically all "sit around and be lazy" stuff.  BUT, did you know that your smartphone can also help you get more fit??
I recently started using the Jawbone UP and it's helping me to get back in gear.  The UP is an activity tracker that helps you understand how you sleep, move and eat so you can make smarter choices.  It is also a great motivator!  
Here is my goofy self all excited when I received the Jawbone UP from Verizon as part of the #VZWBuzz program:
The Jawbone UP is a simple wristband you wear every day, all day. (I take mine off to shower, although I have heard from others that they leave theirs on with no problems – I don't want to take the chance!) It comes in several different colors, but I like the black since it coordinates with much of what I wear.  (Oh, and it's super lightweight too – only 19 grams for the small size up to 23 grams for the large size.  I usually HATE wearing something on my wrist and I don't wear a watch (another  thing replaced by the Smartphone), but I adjusted quickly to the UP.  I will be curious to see if it bothers me in the humid summer weather – I hope not!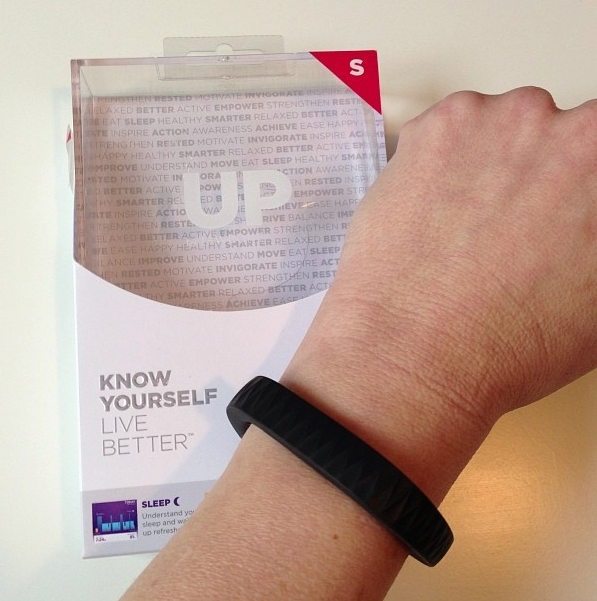 Getting started with the Jawbone UP was really easy.  It comes with a simple USB adaptor.  You just pop the little metal end cap off the bracelet, plug it into the adaptor and charge.  A charge lasts about a week to 10 days.  From there you just wear it and forget about it.  Using sensor technology the UP tracks your movement to record how many steps per day you are taking.  The other cool thing it does is record your sleep!  I know I usually don't get enough sleep and it's such an important part of being healthy.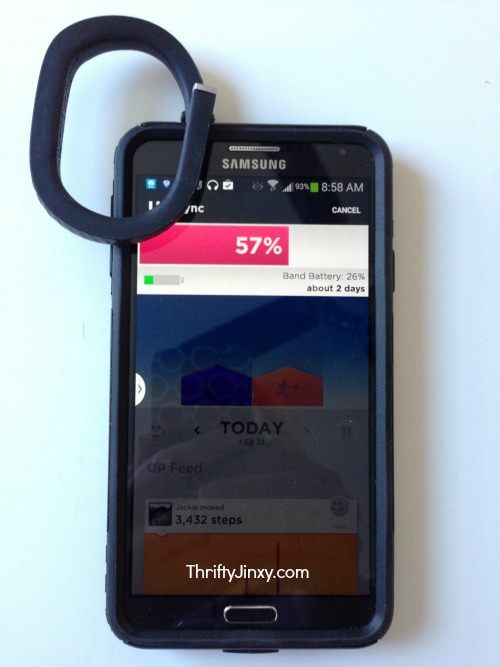 When you're ready to sync up with your smartphone and check out your activity, you just pop that little end cap off the bracelet again and plug it into your phone.  (Yes, I'm worried about losing that little end cap, but so far I haven't  – so that's a really good sign!)  That is the super awesome Samsung Galaxy Note 3 that I'm using, by the way.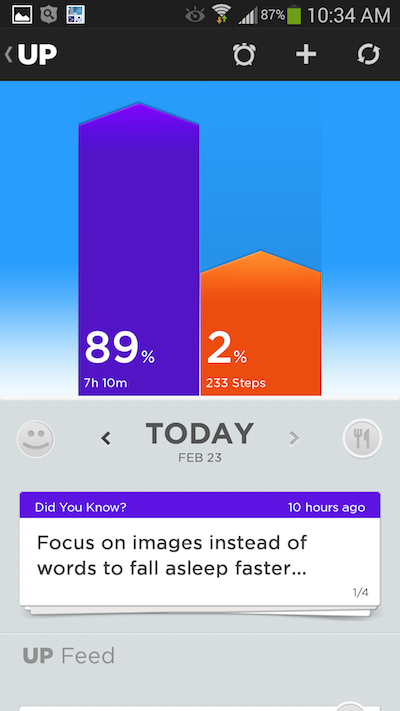 Once you sync up with the phone, you can start looking into the data the Jawbone UP has collected about your activity.  It starts with a basic overview telling you both how many hours you have slept and how many steps you have walked.  It also shows you how you have done in comparison to the goals you have set for yourself.  There is an added bonus of some helpful healthy tips.  Then we go on to more detail: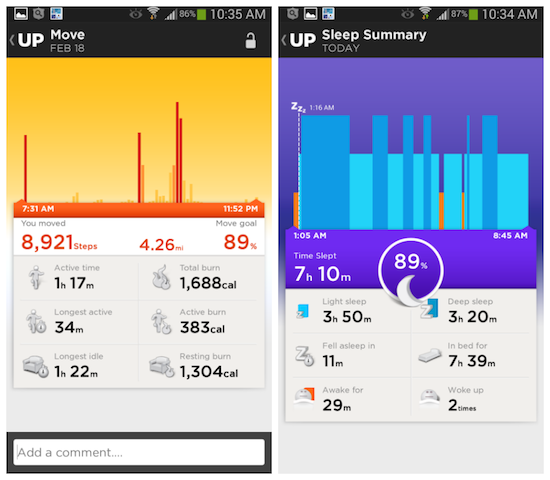 If you want to drill down and see more detailed information, the Jawbone UP has lots more to show you.  For your activity, you can see exactly how many steps you took and how that translates into miles.  It also tells you things like when you were the most and least active, the total time you were active and more.  For your sleep, you can see at what  times during the night you were in deep sleep, if you woke up during the night and how long it took you to fall asleep.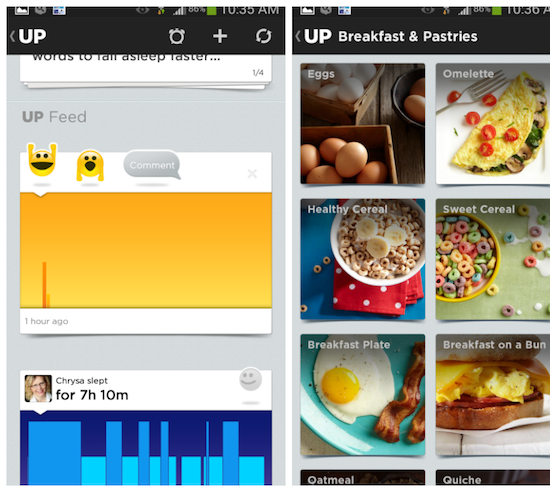 If you want to get even more involved, you can even input your own data.  Each day you can input your mood – anywhere from Totally Done all the way up to Amazing.  You also have the option of inputing and tracking your food.  I haven't gotten to that point yet, but it does look like a helpful feature.
I totally admit that even with the Jawbone UP it has been difficult for me to be active recently.  While I have the urge to get out and rack up a bunch of steps, we have been battling freezing temps (we had 40 days in a row with the temperature being below zero at some time each day) and TONS of snow – we're running out of places to put it in our yard!  So, even getting to the Y has been tricky, BUT I have set myself a new goal of walking the  dog any day the temperature is in the double digits above zero – so those days are increasing!  With the added incentive of the Jawbone UP to get me going, I should be hitting my goal daily in no time!