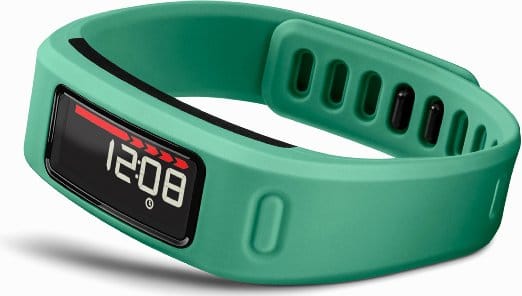 Note from Chrysa: I just noticed that Ashley posted this deal and I have to chime in – – – this is the fitness band I wear and I love it! It's more accurate than other trackers I have worn in the past and it is really comfortable. I also like that it has a display and can double as a watch!
Have you been thinking about getting a fitness tracker? If so, right now we can get a great discount on a popular one. The Garmin Vivofit Fitness Band normally sells for $129.99, but is on sale for only $49.99 – a 62% savings and the BEST PRICE that has ever been offered on Amazon! This model does NOT include a heart rate monitor. The models with the heart rate monitor sell for $169.99 normally but we can pick one up for $89.99 today, so still a really good deal!
Move Bar – Motivates you to be active throughout the day by displaying a red move bar after one hour of inactivity. Additional segments light up for every 15 minutes of inactivity. Just walk for a couple of minutes to reset.

24/7 Wearable – Stylish, comfortable and water resistant2 wristband that is always on and ready to go.

Long battery life – Stays on for more than a year without having to change the battery. Easy-to-read display – View the time of day and your stats right on your wrist.

Achieve your goals – Vivofit learns your activity level and assigns a personalized goal each morning. Count calories – Records calories burned throughout the day including base metabolic rate.

Monitor your sleep – Set the sleep mode when you go to bed to track the quality of your rest.