Game of Thrones is coming to an end, and I have several friends and family members who are hardcore Game of Thrones fans (is there a term for them? GOTters? no clue).
Even with the show wrapping up, I know that the love of Game of Thrones will continue as episodes are watched and re-watched and books are paged through time after time. Here are some Game of Thrones gift ideas for the ultimate GOT fan in your life: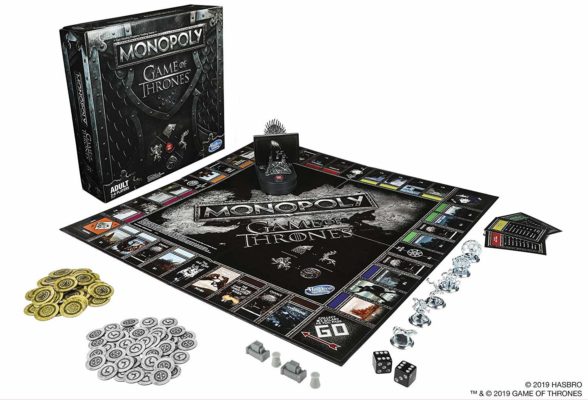 Monopoly Game of Thrones
Pledge your loyalty to a house, buy and trade locations, and build up your holdfasts and castles. It even has a nifty card holder that plays the Game of Thrones theme song.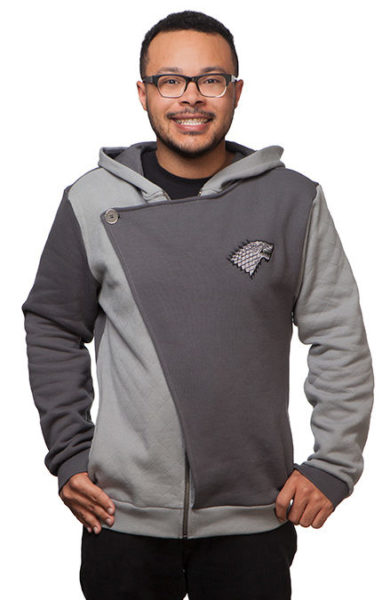 Stark Costume Hoodie
The back of this hoodie looks pretty cool!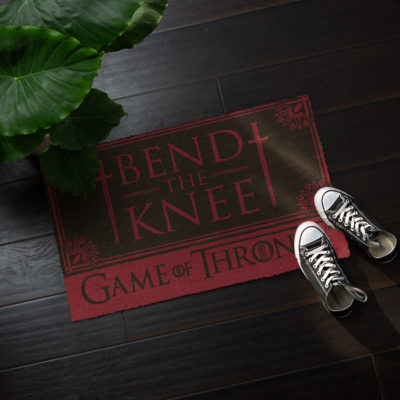 Bend the Knee Doormat
Bend the knee…or at least take off your shoes upon entering.
Beer and Wine Glass Set
Perfect for the couple who share a love of Game of Thrones. Hopefully they won't fight over whose is whose.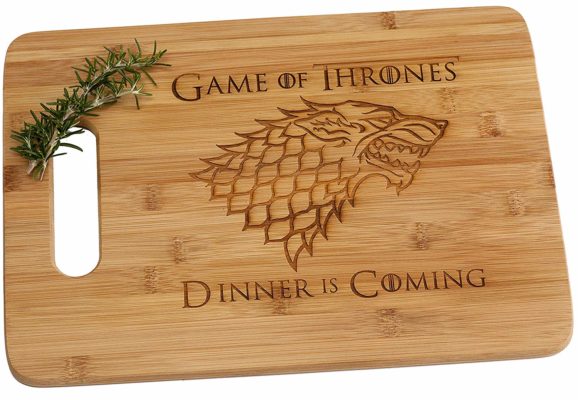 Dinner Is Coming Cutting Board
For the GOT fan who also loves to cook. I love the reference!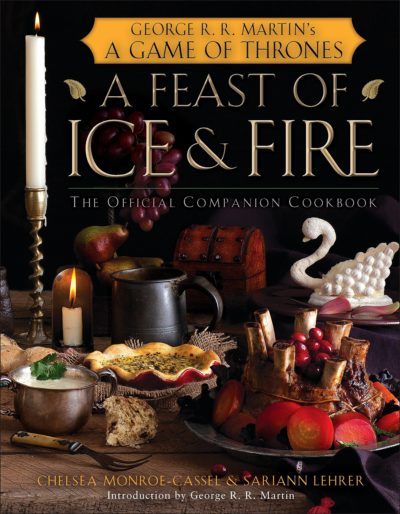 A Feast of Ice and Fire: The Official Game of Thrones Companion Cookbook
This hardcover cookbook includes an introduction by the author of the books as well as more than 100 recipes, divided by region.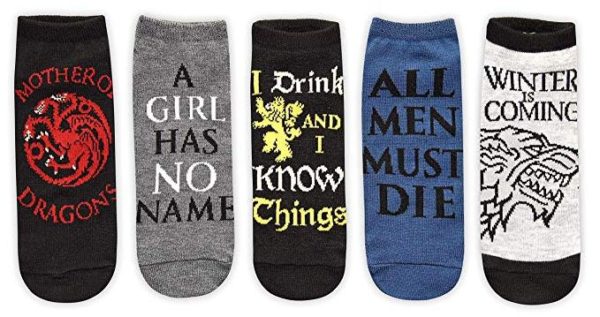 Game of Thrones 5-Pack Women's Socks
These are low cut ankle socks that fit women's sizes 4-10. Keep those toes cozy!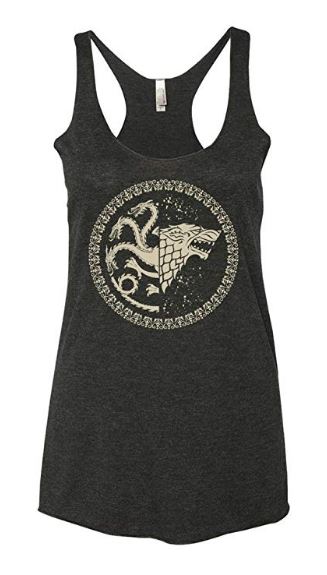 Stark/Targaryen Ladies Tank Top
Available in many different colors, and also in t-shirt form.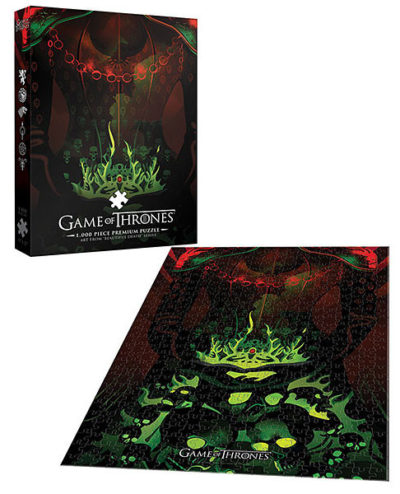 Long May She Reign 1,000-Piece Puzzle
This puzzle features imagery from the Beautiful Death series of illustrations commissioned by HBO to depict every episode of the series.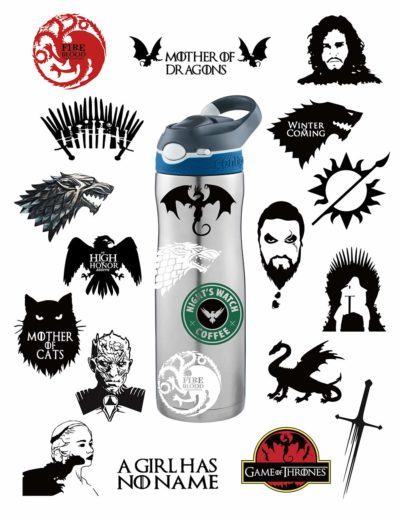 Game of Thrones Stickers
These stickers are removable and are perfect for a laptop, water bottle, or anywhere you want to proclaim your love of GOT.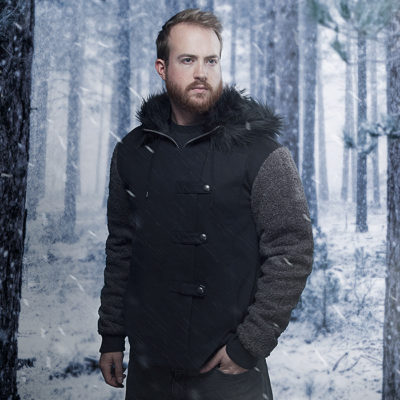 Jon Snow Fur Hoodie
The reference to Jon Snow is subtle enough that this could be worn in cold weather without looking too much like a fanboy. 😉 The faux fur-lined hood unzips down the middle, giving the appearance of glossy black fur across the shoulders, just like Jon Snow's cloak.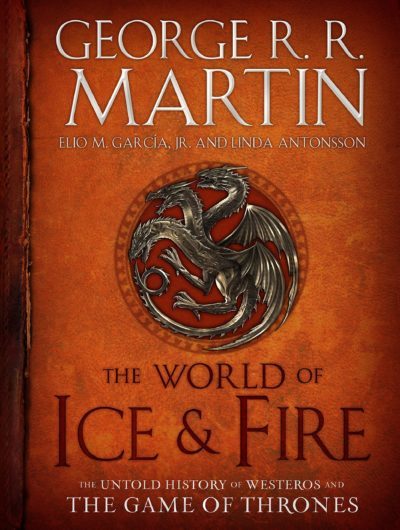 The World of Ice & Fire: The Untold History of Westeros and the Game of Thrones
This prologue to the Game of Thrones book series was written by the author and gives a comprehensive history of the Seven Kingdoms including full-color artwork and maps, full family trees, in-depth explorations of the history and culture of Westeros, and more.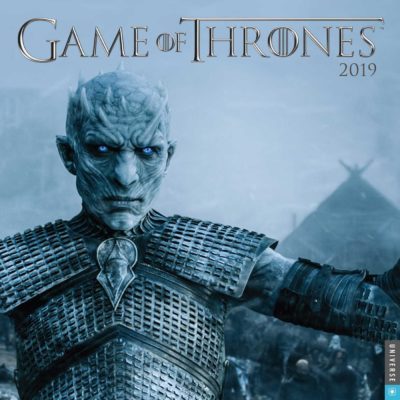 Game of Thrones 2019 Wall Calendar
Display your love of Game of Thrones all year long!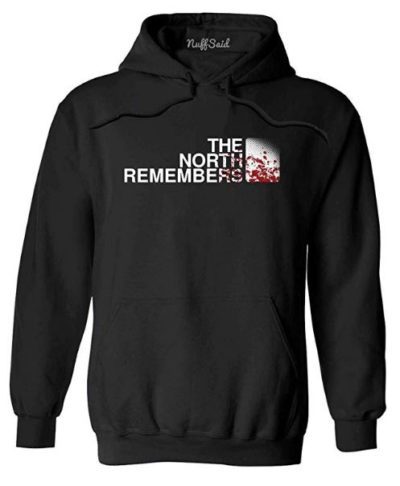 The North Remembers Hoodie
This hoodie has a unisex fit and comes in five different colors. Wear it and see how many people catch the reference!