This is a Sponsored post written by me on behalf of Fresh Step and Meow Mix. All opinions are 100% mine.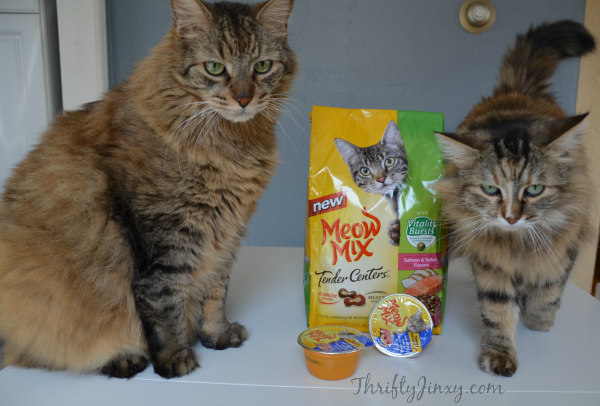 I recently filled you in about the Fresh Step and Meow Mix partnership with products available at Walmart to help us care for our beloved feline friends. As cat owners, we all want our pets to be healthy and making informed choices is the best way to do that. My furbabies and I tried out these offerings and have the details to share with you.
I visited Walmart to pick up some Meow Mix® Tender Centers with Vitality Bursts and Meow Mix® Tender Favorites Real Tuna & Whole Shrimp in Sauce. I was interested to see how my cats liked these new flavors. They were definitely interested and checking out the packages as soon as I brought them home.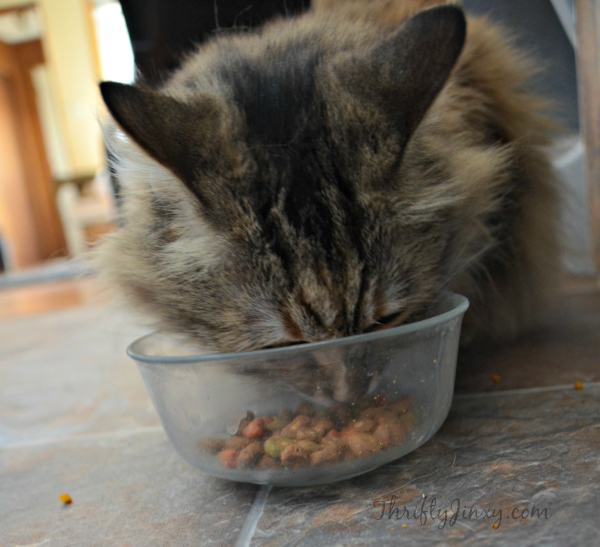 The Meow Mix Tender Centers® Salmon & Turkey Flavors with Vitality Bursts have a meaty center surrounded by a crunchy outside. It gets the name "Vitality Bursts" from a wholesome blend of antioxidants, vitamins, and minerals to help support: healthy immune system (with added vitamin E & Selenium), healthy skin & coat (with omega 3 & 6 fatty acids) and healthy teeth and bone (with calcium & vitamin D). Meow Mix Vitality Busts provides cats with 100% complete nutrition.
You can see Lucky about devouring her Meow Mix®. For Peanut, my big cat, I let him have a little bit each night as a bedtime snack. He always anticipates it and knows the routine that we take the dog out for the last time in the evening and then give him a dog biscuit. Peanut's Meow Mix® is in the same cabinet so as soon as the dog goes out Peanut heads to the kitchen and stands in front of the cabinet until he gets his treat!
There is a wet food option too. Meow Mix® Tender Favorites Real Tuna & Whole Shrimp in Sauce combines real seafood in a savory sauce. What cat doesn't love seafood? The blend of wholesome proteins and vitamins is balanced for 100% complete nutrition for adult cat maintenance.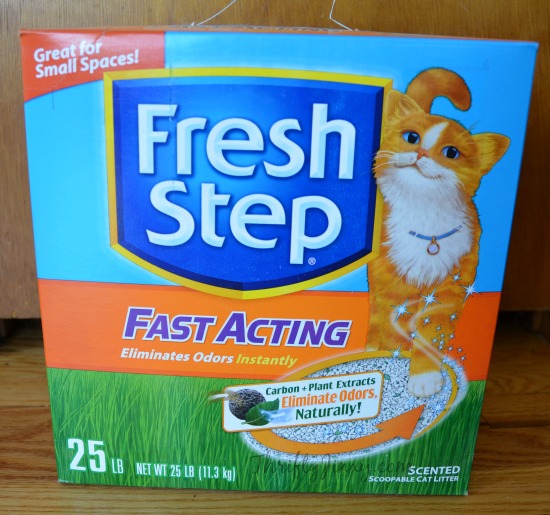 Also at Walmart, I bought Fresh Step® Fast Acting litter. During the promotional period, this litter in a 25 pound size is available ONLY at Walmart! It is fast acting,and uses natural carbon and plant extracts to eliminate litter odor instantly. Since we live in a small house, litter that controls odor is very important to us! An extra bonus is that when you buy Fresh Step Fast Acting at Walmart, you can get Triple Paw Points to add to your account and let you earn awesome cat stuff even faster!