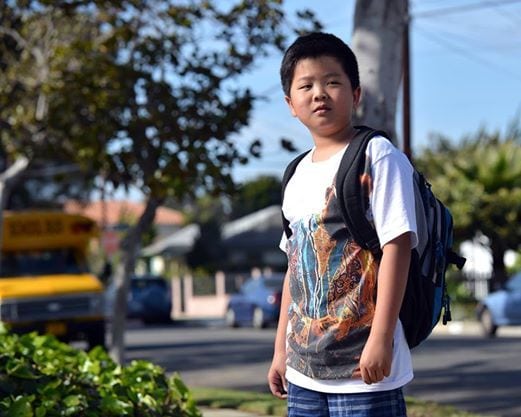 It looks like ABC has skills when it comes to cornering the family comedy market. I have been a fan of Modern Family forever. More recently The Goldbergs has made it's way to the top tier of my "must watch" list. Now along comes Fresh Off the Boat, a hilarious comedy inspired by the book of the same name by Eddie Huang, who also serves as the shows narrator and producer. You can watch it Tuesday nights on ABC at 8pm ET.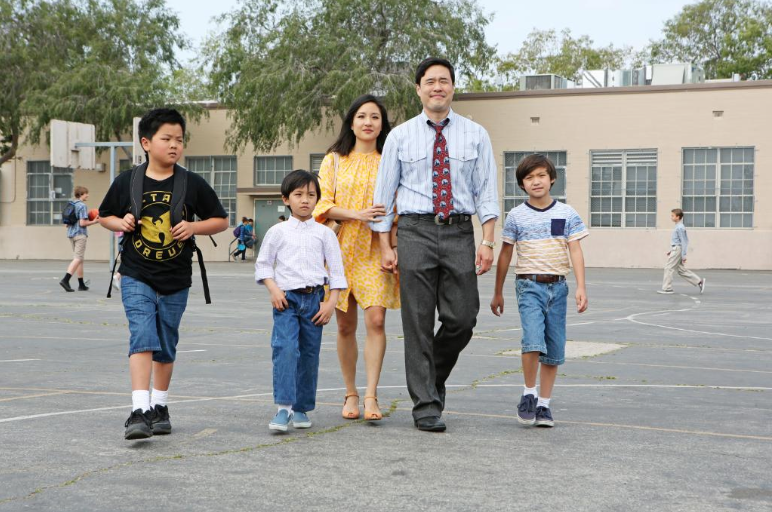 Fresh Off the Boat is set in suburban Orlando in the year 1995 where 11-year-old hip hop fan Eddie has just moved with this family from Washington DC's Chinatown. The reason for the move is that Louis Huang (Eddie's dad) has bought a new restaurant so that the family can pursue the American dream. Eddie's family is rounded out by his scene-stealing mother, Jessica, and his two ADORABLE little brothers, Emery and Evan. Here is an "official" show description from ABC:
It's 1995 and 11-year-old hip-hop loving Eddie Huang has just moved with his family from Chinatown in Washington D.C. to suburban Orlando. They quickly discover things are very different there. Orlando doesn't even have a Chinatown . . . unless you count the Huang house.

Eddie's dad, Louis, has dragged the family to the 'burbs to pursue his version of the American dream, opening Cattleman's Ranch Steakhouse, a struggling western-themed restaurant. Louis thinks that the best way to get customers in the door is to hire a white host to greet them and make them feel comfortable. Eddie's mom, Jessica, has agreed to the move, but she finds Orlando a strange place — from the rollerblading stay-at-home moms, to the hospital-like grocery stores, to the fact that the humidity has ruined her hair.

Meanwhile, Eddie is just trying to figure out his place in this new world, which is proving extremely difficult. When the kids at school make fun of his homemade Chinese lunch, he begs his mom to get him "white people lunch"… aka, Lunchables. Like one of his idols, The Notorious B.I.G, Eddie's a guy with mad dreams — first, get a seat at the table. Second, meet Shaq. Third, change the game (possibly with the help of Shaq). It's a classic immigrant story, seen through the eyes of a first-generation Asian American kid.

Inspired by a true story, "Fresh Off the Boat" stars Randall Park as Louis, Constance Wu as Jessica, Hudson Yang as Eddie, Forrest Wheeler as Emery and Ian Chen as Evan. Eddie Huang provides the voice over narration.

"Fresh Off the Boat" was written by Nahnatchka Khan, who also serves as executive producer. Jake Kasdan and Melvin Mar are executive producers, and Eddie Huang is producer. The series is produced by 20th Century Fox Television.
I have been glued to the commercials for Fresh Off the Boat since they started months ago. It was one of those situations where I kept thinking, "I hope it's good. I hope it's good." After watching the first two episodes last week I was so happy to see that it IS good. The casting of the entire Huang family is excellent and each plays such an important role – which I think is a key to a great family comedy. I actually find it hard to believe that the mid-90s is actually 20 years ago. It is a blast to relive that time period.

My hubby is often a tough critic when it comes to comedies, but he also loved Fresh Off the Boat. He claims its because of the familiar situations/personalities he sees from working with so many Asian friends in NYC. I think that may play a part in it, but Fresh Off the Boat is definitely a show that ANYONE can enjoy.
To stay social with Fresh Off the Boat, follow them on Facebook and on Twitter at @FreshOffABC. #FreshofftheBoat Watch Fresh Off the Boat Tuesday nights on ABC at 8pm ET.