We've got your October viewing all planned out with the Freeform 31 Nights of Halloween Schedule 2020!
Our favorite Halloween Channel, Freeform, is scaring up lots of fun with its annual 31 NIGHTS OF HALLOWEEN celebration! The whole month is filled with thrills and chills as we count down to Halloween.
It's hard to believe that this is the 22nd year! We have loved this tradition since Freeform was originally ABC Family and still do! 2020 will feature lots of favorites like "TheGoonies," "Addams Family Values," "Tim Burton's The Nightmare Before Christmas," "Beetlejuice," and more. Plus, it of course includes the perennial favorite "Hocus Pocus."
Coming to 31 Nights of Halloween for the first time are the new additions of "Hotel Transylvania 2," "Hotel Transylvania 3: Summer Vacation" and "Ghostbusters" (2016).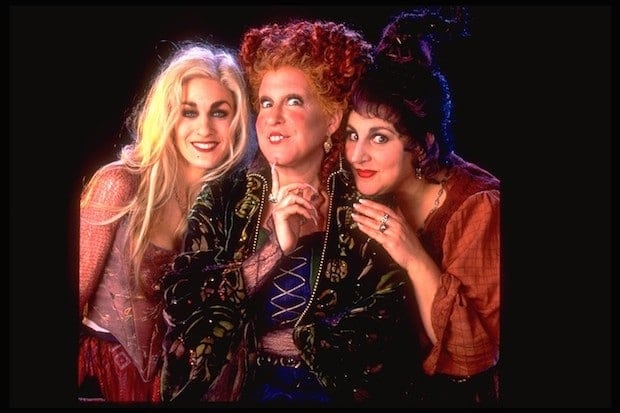 31 Nights of Halloween TV Schedule
(All times listed are Central Time.)
Thursday, Oct. 1
12:30 p.m. EDT/PDT – "Willy Wonka & the Chocolate Factory"
3:00 p.m. EDT/PDT – "Tim Burton's Corpse Bride"
5:00 p.m. EDT/PDT – "Casper" (1995)
7:00 p.m. EDT/PDT – "Hotel Transylvania"
9:00 p.m. EDT/PDT – "Hocus Pocus"
12:00 a.m. EDT/PDT – "Willy Wonka & the Chocolate Factory"
Friday, Oct. 2
11:00 a.m. EDT/PDT – "The Goonies"
1:30 p.m. EDT/PDT – "Tim Burton's Corpse Bride"
3:05 p.m. EDT/PDT – "Casper" (1995)
5:10 p.m. EDT/PDT – "Hotel Transylvania"
7:15 p.m. EDT/PDT – "Tim Burton's The Nightmare Before Christmas"
8:55 p.m. EDT/PDT – "Beetlejuice"
12:00 a.m. EDT/PDT – "The Simpsons" – "Treehouse of Horror"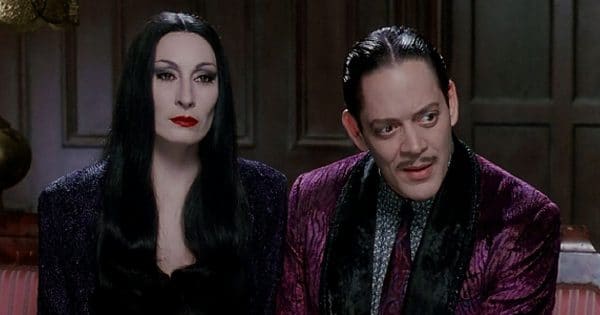 Saturday, Oct. 3
7:00 a.m. EDT/PDT – "Monsters vs. Aliens: Mutant Pumpkins"
7:30 a.m. EDT/PDT – "The Goonies"
10:00 a.m. EDT/PDT – "Ghostbusters" (1984)
12:30 p.m. EDT/PDT – "Ghostbusters II"
3:05 p.m. EDT/PDT – "Beetlejuice"
5:10 p.m. EDT/PDT – "Hocus Pocus"
7:20 p.m. EDT/PDT – "The Addams Family" (1991)
9:25 p.m. EDT/PDT – "Addams Family Values"
11:30 p.m. EDT/PDT – "The Craft"
Sunday, Oct. 4
7:00 a.m. EDT/PDT – "Ghostbusters" (1984)
9:30 a.m. EDT/PDT – "Ghostbusters II"
12:00 p.m. EDT/PDT – "Willy Wonka & the Chocolate Factory"
2:05 p.m. EDT/PDT – "Decorating Disney: Halloween Magic"
3:05 p.m. EDT/PDT – "Casper" (1995)
5:10 p.m. EDT/PDT – "The Addams Family" (1991)
7:15 p.m. EDT/PDT – "Addams Family Values"
9:20 p.m. EDT/PDT – "Hocus Pocus"
11:30 p.m. EDT/PDT – "Sleepy Hollow" (1999)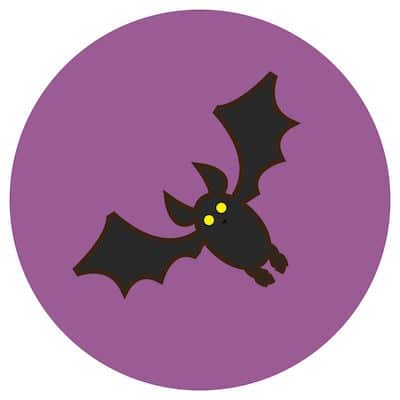 Monday, Oct. 5
11:30 a.m. EDT/PDT – "Casper" (1995)
1:30 p.m. EDT/PDT – "Sleepy Hollow" (1999)
4:00 p.m. EDT/PDT – "Ghostbusters" (1984)
6:30 p.m. EDT/PDT – "Ghostbusters II"
9:00 p.m. EDT/PDT – "Beetlejuice"
12:00 a.m. EDT/PDT – "Boxtrolls"
Tuesday, Oct. 6
11:00 a.m. EDT/PDT – "Charlie and the Chocolate Factory"
1:30 p.m. EDT/PDT – "Ghostbusters" (1984)
4:00 p.m. EDT/PDT – "Ghostbusters II"
6:30 p.m. EDT/PDT – "Beetlejuice"
8:30 p.m. EDT/PDT – "Hotel Transylvania"
12:00 a.m. EDT/PDT – "Tim Burton's Corpse Bride"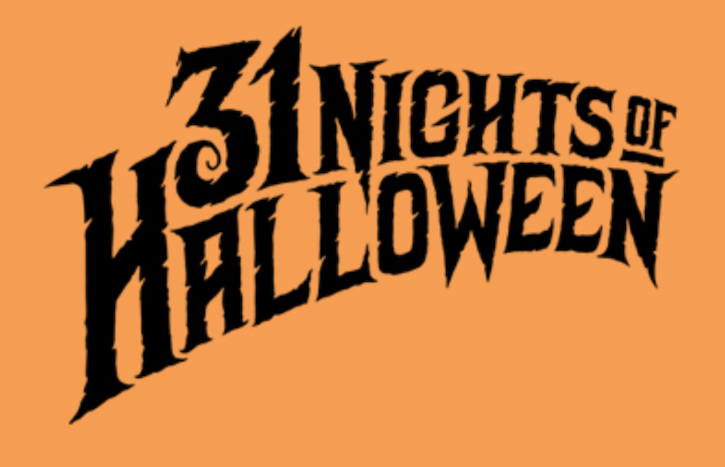 Wednesday, Oct. 7
11:00 a.m. EDT/PDT – "Decorating Disney: Halloween Magic"
12:00 p.m. EDT/PDT – "Tim Burton's Corpse Bride"
2:00 p.m. EDT/PDT – "Matilda"
4:00 p.m. EDT/PDT – "Hotel Transylvania"
6:00 p.m. EDT/PDT – "The Simpsons" – "Treehouse of Horror"
12:00 a.m. EDT/PDT – "Jumanji" (1995)
Thursday, Oct. 8
12:00 p.m. EDT/PDT – "Matilda"
2:00 p.m. EDT/PDT – "Jumanji" (1995)
4:30 p.m. EDT/PDT – "Goosebumps" (2015)
7:00 p.m. EDT/PDT – "The Addams Family" (1991)
9:00 p.m. EDT/PDT – "Addams Family Values"
12:00 a.m. EDT/PDT – "Warm Bodies"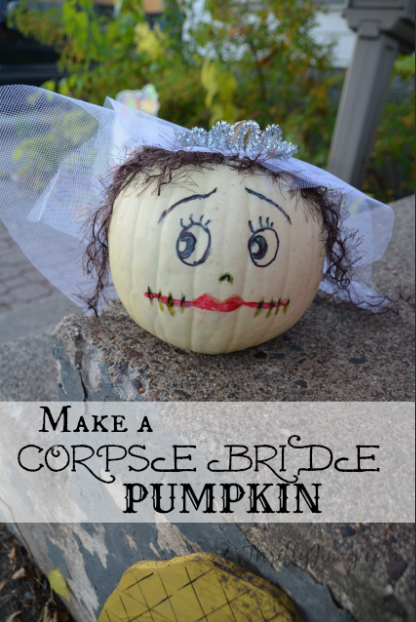 Friday, Oct. 9
11:30 a.m. EDT/PDT – "The Mummy" (1999)
2:20 p.m. EDT/PDT – "Goosebumps" (2015)
4:45 p.m. EDT/PDT – "The Addams Family" (1991)
6:50 p.m. EDT/PDT – "Addams Family Values"
8:55 p.m. EDT/PDT – "Hocus Pocus"
12:00 a.m. EDT/PDT – "The Simpsons" – "Treehouse of Horror"
Saturday, Oct. 10
7:00 a.m. EDT/PDT – "The Mummy" (1999)
10:00 a.m. EDT/PDT – "The Mummy Returns"
1:05 p.m. EDT/PDT – "The Simpsons" – "Treehouse of Horror"
3:35 p.m. EDT/PDT – "Casper" (1995)
5:40 p.m. EDT/PDT – "Hotel Transylvania"
7:45 p.m. EDT/PDT – "Hotel Transylvania 2" – Freeform Premiere
9:50 p.m. EDT/PDT – "Hotel Transylvania 3: Summer Vacation" – Freeform Premiere
12:00 a.m. EDT/PDT – "Tim Burton's Corpse Bride"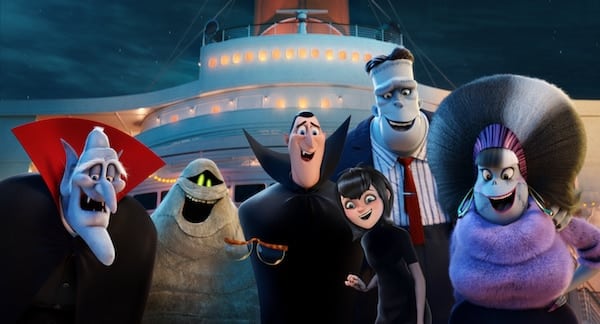 Sunday, Oct. 11
7:00 a.m. EDT/PDT – "The Mummy Returns"
10:05 a.m. EDT/PDT – "Casper" (1995)
12:10 p.m. EDT/PDT – "Tim Burton's Corpse Bride"
1:50 p.m. EDT/PDT – "Tim Burton's The Nightmare Before Christmas"
3:30 p.m. EDT/PDT – "Hotel Transylvania"
5:35 p.m. EDT/PDT – "Hotel Transylvania 2"
7:40 p.m. EDT/PDT – "Hotel Transylvania 3: Summer Vacation"
9:50 p.m. EDT/PDT – "Twitches"
11:55 p.m. EDT/PDT – "Twitches Too"
Monday, Oct. 12
7:00 a.m. EDT/PDT – "The Mummy: Tomb of the Dragon Emperor" – Freeform Premiere
12:30 p.m. EDT/PDT – "Halloweentown"
2:30 p.m. EDT/PDT – "Halloweentown II: Kalabar's Revenge"
4:30 p.m. EDT/PDT – "Scared Shrekless"
5:00 p.m. EDT/PDT – "Shrek"
7:00 p.m. EDT/PDT – "The Addams Family" (1991)
9:00 p.m. EDT/PDT – "Addams Family Values"
12:00 a.m. EDT/PDT – "The Scorpion King" – Freeform Premiere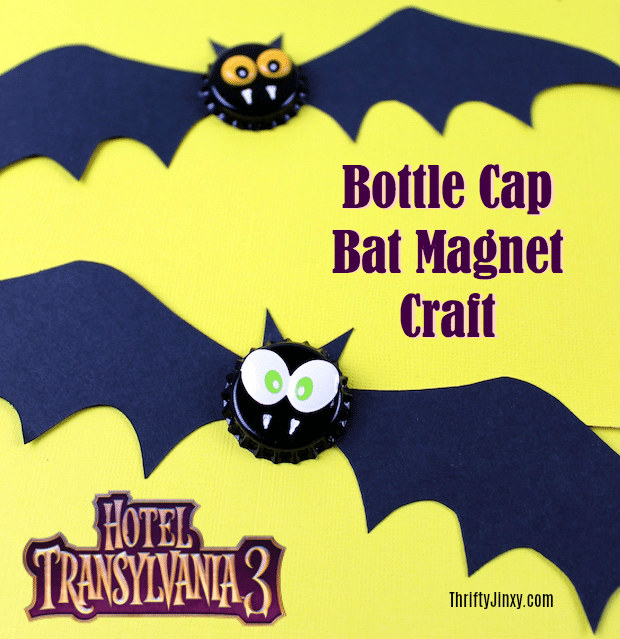 Tuesday, Oct. 13
11:00 a.m. EDT/PDT – "The Goonies"
1:35 p.m. EDT/PDT – "Scared Shrekless"
2:05 p.m. EDT/PDT – "Shrek"
4:10 p.m. EDT/PDT – "The Addams Family" (1991)
6:15 p.m. EDT/PDT – "Addams Family Values"
8:20 p.m. EDT/PDT – "Hocus Pocus"
12:00 a.m. EDT/PDT – "Casper" (1995)
Wednesday, Oct. 14
1:00 p.m. EDT/PDT – "Casper" (1995)
3:00 p.m. EDT/PDT – "The Simpsons" – "Treehouse of Horror"
9:00 p.m. EDT/PDT – "Beetlejuice"
12:00 a.m. EDT/PDT – "Boxtrolls"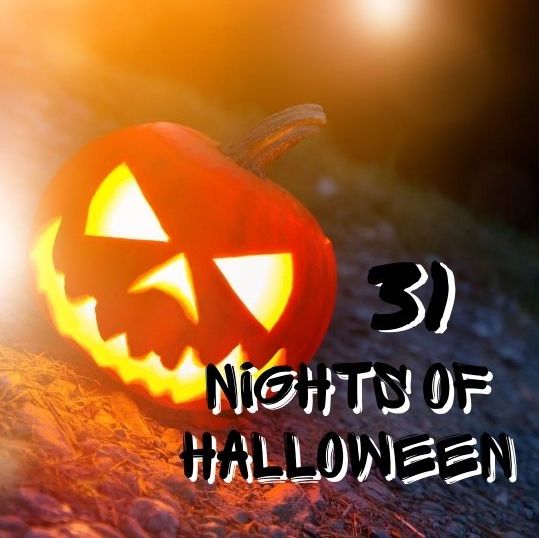 Thursday, Oct. 15
7:00 a.m. EDT/PDT – "Scream 3"
11:00 a.m. EDT/PDT – "Jumanji" (1995)
1:30 p.m. EDT/PDT – "Beetlejuice"
3:30 p.m. EDT/PDT – "Scream"
6:00 p.m. EDT/PDT – "Scream 2"
8:30 p.m. EDT/PDT – "The Craft"
12:00 a.m. EDT/PDT – "Jumanji" (1995)
Friday, Oct. 16
11:30 a.m. EDT/PDT – "The Craft"
2:00 p.m. EDT/PDT – "Matilda"
4:00 p.m. EDT/PDT – "Tim Burton's Corpse Bride"
6:00 p.m. EDT/PDT – "Toy Story of TERROR!" (Disney-Pixar)
6:30 p.m. EDT/PDT – "Monsters, Inc." (Disney-Pixar)
8:30 p.m. EDT/PDT – "Monsters, University" (Disney-Pixar)
12:00 a.m. EDT/PDT – "Toy Story of TERROR!" (Disney-Pixar)
12:30 a.m. EDT/PDT – "The Simpsons" – "Treehouse of Horror"
Saturday, Oct. 17
7:00 a.m. EDT/PDT – "Tim Burton's Corpse Bride"
8:55 a.m. EDT/PDT – "Matilda"
10:55 a.m. EDT/PDT – "Tim Burton's The Nightmare Before Christmas"
12:35 p.m. EDT/PDT – "Ghostbusters" (1984)
3:05 p.m. EDT/PDT – "Ghostbusters II"
5:40 p.m. EDT/PDT – "Beetlejuice"
7:45 p.m. EDT/PDT – "Hocus Pocus"
9:55 p.m. EDT/PDT – "Halloweentown"
12:00 a.m. EDT/PDT – "Halloweentown II: Kalabar's Revenge"
Hocus Pocus

Women's It's-Just-A-Bunch-Of-Hocus-Pocus-Halloween-T-Shirt Shirt

Hocus Pocus Inspired Travel Mug

Men's Straight Outta Salem T-Shirt

Hocus Pocus, Oh Look, Another Glorious Morning,

Women's Halloween Cat Hocus Pocus T Shirt Large Slate

It's Just A Bunch Of Hocus Pocus Pendant Necklace

Women's It's Just A Bunch Of Hocus Pocus Shirt

Women's Another Morning T-Shirt

Sunday, Oct. 18
7:00 a.m. EDT/PDT – ""Willy Wonka & the Chocolate Factory"
9:30 a.m. EDT/PDT – "The Simpsons" – "Treehouse of Horror"
11:00 a.m. EDT/PDT – "Twitches"
1:05 p.m. EDT/PDT – "Twitches Too"
3:05 p.m. EDT/PDT – "Beetlejuice"
5:10 p.m. EDT/PDT – "Hocus Pocus"
7:20 p.m. EDT/PDT – "The Addams Family" (1991)
9:25 p.m. EDT/PDT – "Addams Family Values"
11:30 p.m. EDT/PDT – "Gremlins"
Monday, Oct. 19
11:00 a.m. EDT/PDT – "Matilda"
1:00 p.m. EDT/PDT – "Gremlins"
3:30 p.m. EDT/PDT – "Casper" (1995)
5:30 p.m. EDT/PDT – "The Addams Family" (1991)
7:30 p.m. EDT/PDT – "Addams Family Values"
9:30 p.m. EDT/PDT – "Tim Burton's The Nightmare Before Christmas"
12:00 a.m. EDT/PDT – "Matilda"
Tuesday, Oct. 20
11:00 a.m. EDT/PDT – "Willy Wonka & the Chocolate Factory"
1:00 p.m. EDT/PDT – "Casper" (1995)
3:00 p.m. EDT/PDT – "Sleepy Hollow" (1999)
5:30 p.m. EDT/PDT – "Ghostbusters" (1984)
8:00 p.m. EDT/PDT – "Ghostbusters II"
12:00 a.m. EDT/PDT – "Willy Wonka & the Chocolate Factory"
Wednesday, Oct. 21
11:00 a.m. EDT/PDT – "Sleepy Hollow" (1999)
1:30 p.m. EDT/PDT – "Ghostbusters" (1984)
4:00 p.m. EDT/PDT – "Ghostbuster II"
6:30 p.m. EDT/PDT – "The Simpsons" – "Treehouse of Horror"
12:00 a.m. EDT/PDT – "The Simpsons" – "Treehouse of Horror"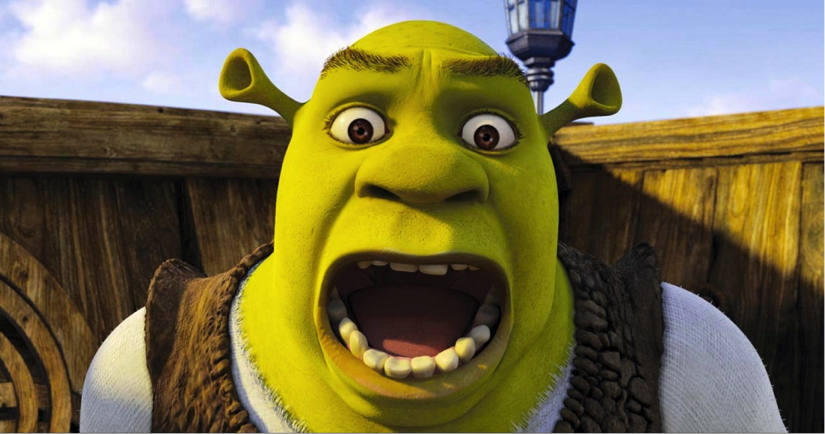 Thursday, Oct. 22
11:00 a.m. EDT/PDT – "Tim Burton's Corpse Bride"
12:35 p.m. EDT/PDT – "Jumanji" (1995)
2:35 p.m. EDT/PDT – "The Mummy" (1999)
5:45 p.m. EDT/PDT – "The Mummy Returns"
8:55 p.m. EDT/PDT – "Hocus Pocus"
12:00 a.m. EDT/PDT – "Tim Burton's Corpse Bride"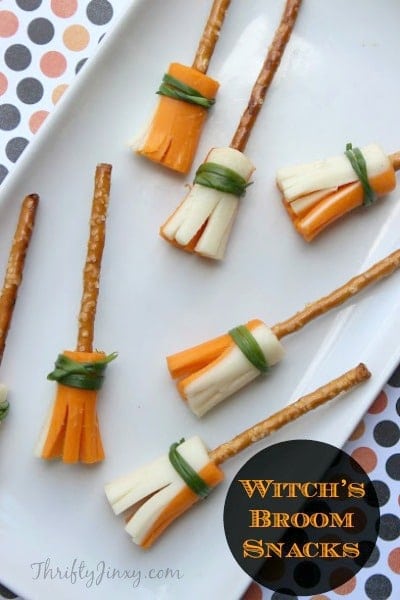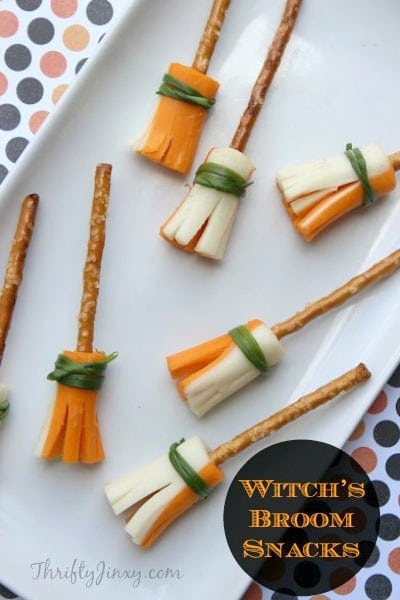 Friday, Oct. 23
11:00 a.m. EDT/PDT – "Jumanji" (1995)
1:30 p.m. EDT/PDT – "Scream"
4:00 p.m. EDT/PDT – "Scream 2"
6:30 p.m. EDT/PDT – "Beetlejuice"
8:30 p.m. EDT/PDT – "Sleepy Hollow" (1999)
12:00 a.m. EDT/PDT – "The Simpsons" – "Treehouse of Horror"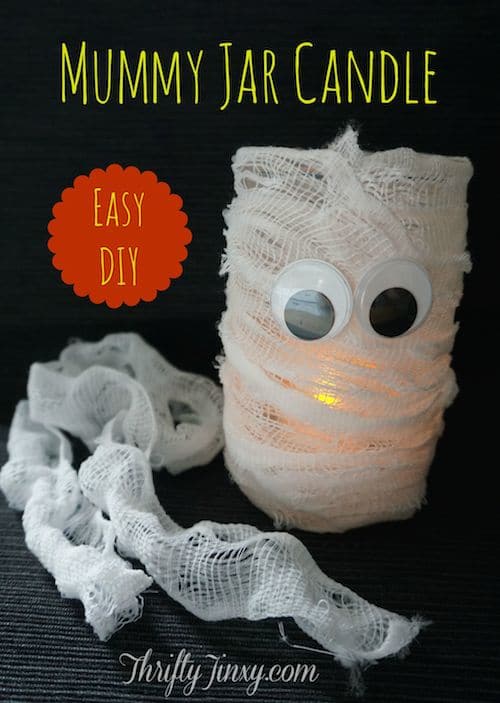 Saturday, Oct. 24
7:00 a.m. EDT/PDT – "Decorating Disney: Halloween Magic"
8:00 a.m. EDT/PDT – "Halloweentown"
10:05 a.m. EDT/PDT – "Halloweentown II: Kalabar's Revenge"
12:05 p.m. EDT/PDT – "Beetlejuice"
2:10 p.m. EDT/PDT – "Sleepy Hollow" (1999)
4:40 p.m. EDT/PDT – "Hocus Pocus"
6:50 p.m. EDT/PDT – "The Addams Family" (1991)
8:55 p.m. EDT/PDT – "Addams Family Values"
11:00 p.m. EDT/PDT – "Ghostbusters" (2016) – Freeform Premiere
Sunday, Oct. 25
7:00 a.m. EDT/PDT – "Tim Burton's Corpse Bride"
9:00 a.m. EDT/PDT – "Ghostbusters" (1984)
11:30 a.m. EDT/PDT – "The Craft"
2:00 p.m. EDT/PDT – "The Addams Family" (1991)
4:05 p.m. EDT/PDT – "Addams Family Values"
6:10 p.m. EDT/PDT – "Ghostbusters" (2016)
9:20 p.m. EDT/PDT – "Hocus Pocus"
11:30 p.m. EDT/PDT – "The Craft"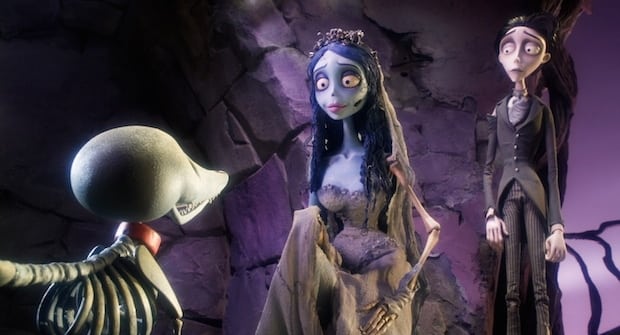 Monday, Oct. 26
11:00 a.m. EDT/PDT – "Tim Burton's Corpse Bride"
1:00 p.m. EDT/PDT – "Casper" (1995)
3:00 p.m. EDT/PDT – "Twitches"
5:00 p.m. EDT/PDT – "Twitches Too"
7:00 p.m. EDT/PDT – "Hotel Transylvania 2"
9:00 p.m. EDT/PDT – "Hotel Transylvania 3: Summer Vacation"
12:00 a.m. EDT/PDT – "The Simpsons" – "Treehouse of Horror"
Tuesday, Oct. 27
11:00 a.m. EDT/PDT – "Casper" (1995)
1:00 p.m. EDT/PDT – "Scared Shrekless"
1:30 p.m. EDT/PDT – "Jumanji" (1995)
4:00 p.m. EDT/PDT – "Hotel Transylvania 2"
6:00 p.m. EDT/PDT – "Hotel Transylvania 3: Summer Vacation"
8:00 p.m. EDT/PDT – "Hocus Pocus"
12:00 a.m. EDT/PDT – "The Simpsons" – "Treehouse of Horror"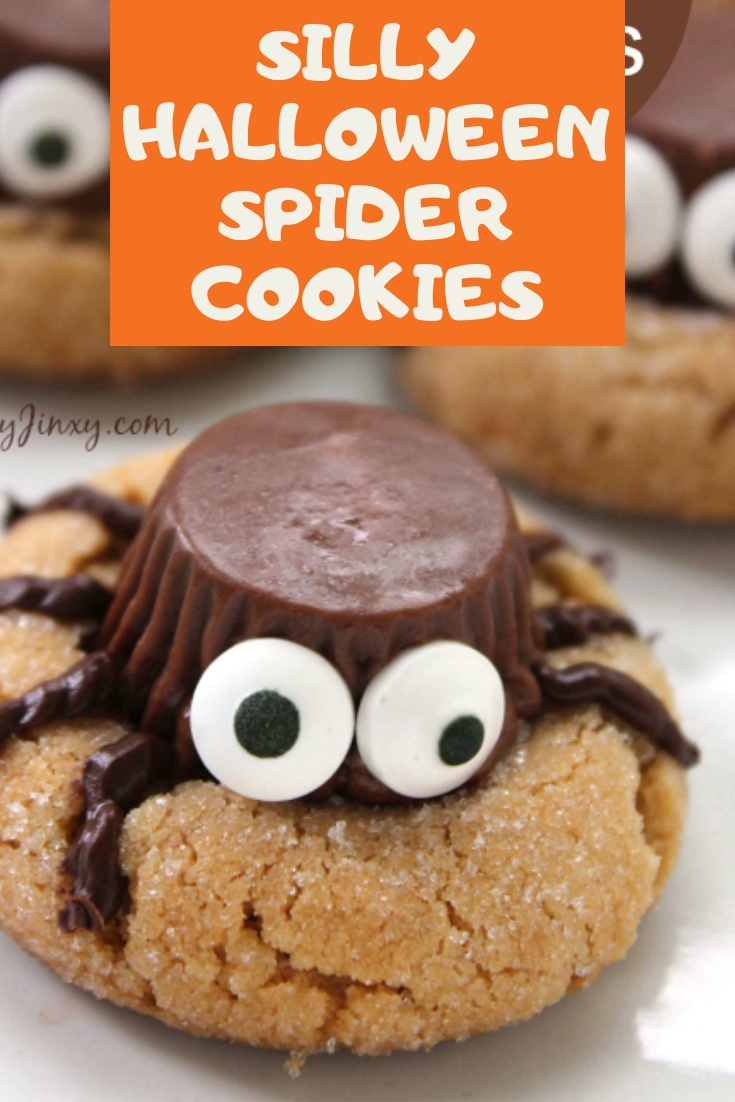 Wednesday, Oct. 28
12:00 p.m. EDT/PDT – "Jumanji" (1995)
2:30 p.m. EDT/PDT – "Tim Burton's Corpse Bride"
4:30 p.m. EDT/PDT – "Matilda"
6:30 p.m. EDT/PDT – "Monsters, Inc." (Disney-Pixar)
8:30 p.m. EDT/PDT – "Monsters University" (Disney-Pixar)
12:00 a.m. EDT/PDT – "The Simpsons" – "Treehouse of Horror"
Thursday, Oct. 29
12:00 p.m. EDT/PDT – "Ghostbusters" (1984)
2:30 p.m. EDT/PDT – "Ghostbusters II"
5:00 p.m. EDT/PDT – "Tim Burton's The Nightmare Before Christmas"
6:30 p.m. EDT/PDT – "Sleepy Hollow" (1999)
9:00 p.m. EDT/PDT – "Beetlejuice"
12:00 a.m. EDT/PDT – "The Simpsons" – "Treehouse of Horror"
Friday, Oct. 30
11:00 a.m. EDT/PDT – "Decorating Disney: Halloween Magic"
12:05 p.m. EDT/PDT – "Sleepy Hollow" (1999)
2:35 p.m. EDT/PDT – "Beetlejuice"
4:40 p.m. EDT/PDT – "Hocus Pocus"
6:50 p.m. EDT/PDT – "The Addams Family" (1991)
8:55 p.m. EDT/PDT – "Addams Family Values"
12:00 a.m. EDT/PDT – "The Simpsons" – "Treehouse of Horror"
Saturday, Oct. 31
7:00 a.m. EDT/PDT – "Twitches"
9:00 a.m. EDT/PDT – "Twitches Too"
11:00 a.m. EDT/PDT – "Halloweentown"
1:00 p.m. EDT/PDT – "Halloweentown II: Kalabar's Revenge"
3:00 p.m. EDT/PDT – "Hocus Pocus"
5:10 p.m. EDT/PDT – "The Addams Family" (1991)
7:15 p.m. EDT/PDT – "Addams Family Values"
9:20 p.m. EDT/PDT – "Hocus Pocus"
11:30 p.m. EDT/PDT – "Ghostbusters" (1984)