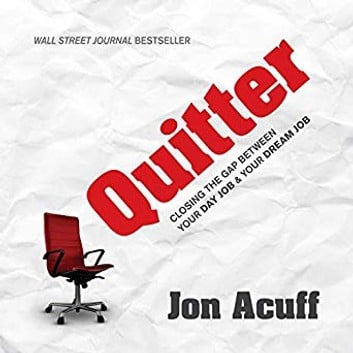 UPDATE: The offer below is no longer available, but you can still get Jon Acuff's Quitter Audio Book HERE.
* * * *
If you listen to the Dave Ramsey show, you have probably heard him mention the best-selling book Quitter by Jon Acuff.
Have you ever felt caught between the tension of a day job and a dream job? That gap between what you have to do and what you'd love to do? All too often, we hear that dreaming big means you quit your day job, sell everything you own, and move to Guam. But what if there were a different way? What if you could blow up your dream without blowing up your life? What if you could go for broke without going broke? What if you could start today? What if you already have everything you need to begin? From figuring out what your dream is to quitting in a way that exponentially increases your chance of success, Quitter is full of inspiring stories and actionable advice. This book is based on 12 years of cubicle living and my true story of cultivating a dream job that changed my life and the world in the process. It's time to close the gap between your day job and your dream job. It's time to be a Quitter.
Right now you can download the audio book version of Quitter by Jon Acuff for FREE!
Thanks Northern Cheapskate