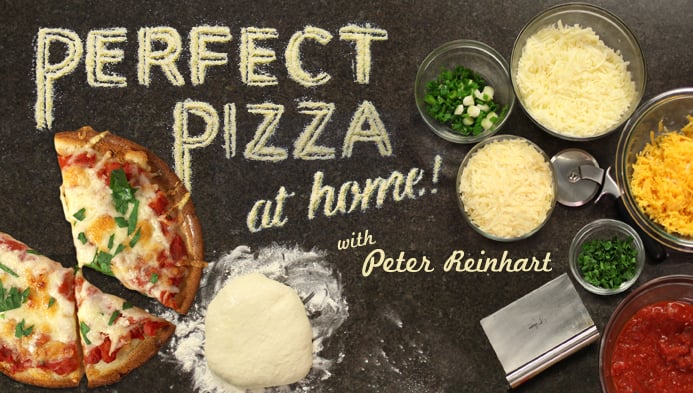 I LOVE good homemade pizza! Now there is a free online course you can take to learn how to make it at home. Craftsy is offering a FREE Pizza Making Mini Class. In this online course you'll learn how to make pizza with baking guru Peter Reinhart.
Stretch your dough and your imagination as Peter guides you through each step of making a pizza. You'll make pizza sauces, consider cheese options and bake five types of dough in your conventional home oven. Impress Italian purists with a slice of your Sicilian-style, homemade pies, provide your gluten-free pizza lovers with mouth-watering meals or cook creative flavor combinations for more adventurous palates. Sign up today for Perfect Pizza at Home to learn the secrets of building and baking "the perfect flavor delivery system"!
There are 6 lessons included in the course:
Lesson 1. Welcome to Your Free Mini-Class
Learn about how FREE mini-classes compare to standard Craftsy classes.
Lesson 2. Introduction
Ponder what makes the perfect pizza with Peter Reinhart and learn about the Craftsy platform.
Lesson 3. Making the Dough
Learn Peter's methods for creating four different dough types.
Lesson 4. Sauce & Cheese
Create different sauce types and learn the best cheeses to use on your pizza.
Lesson 5. Making & Baking Pizzas
Get tips on adding your pizza toppings and baking it in your home oven. Also learn how to make Sicilian pizzas.
Lesson 6. Bonus Lesson: Gluten-Free Pizza
Prefer to eat gluten-free? Learn how to make a tasty gluten-free crust.
Sign up for the FREE Pizza Making Mini Class from Craftsy HERE.
Disclosure: This post contains affiliate links that help support our site with no additional cost to you. See our complete disclosure policy here.