I love all of the fun that comes along with the Halloween season like Halloween parties, spooky decorations, costumes – you name it!! While Halloween fun can run toward the scary, I personally prefer the cute kind of Halloween with non-scary ghosts, witches and semi-friendly monsters. All of these things can make the holiday a lot more fun than spooky!
To get you ready for Halloween, we have a little round-up of some of the fun (and free) printables we have shared both here and at JinxyKids.com. AND, to save you money on the ink you'll need to print these goodies, we have a very special offer from HP! The printables we have to share are:
Halloween Crossword Puzzle
DIY Halloween Banner
Halloween Word Scramble
Halloween Gift Tags and Treat Bag Tags
Halloween-Themed Cupcake Toppers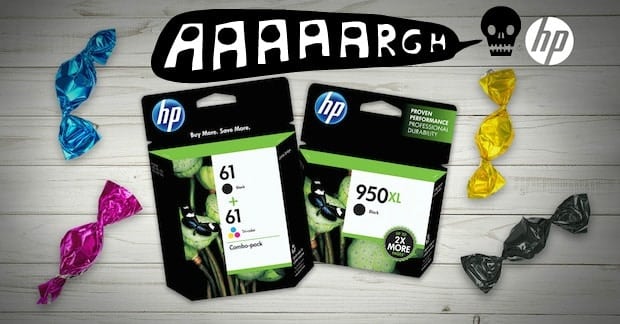 Now for the ink deal! Now through October 9, buy one original HP Ink and get a 2nd cartridge of equal or lesser value for 40% off! This offer is available on the HP website, as well as at retailers such as Staples, Best Buy, Office Depot, and Office Max.
The ink deal from last year is no longer available, but we see there are lots of good prices on original HP Ink at Amazon! Click here to see them all.
Once you get yourself all stocked up on ink, you'll be able to print these Halloween printables and everything else you'll want to get yourself prepared and have fun this Halloween season!