On those super busy weeknights when everyone has been spending the day at work, at school, running errands or just being generally busy, figuring out what to make for dinner can be a burden. While I like to try to plan out our meals ahead of time, that doesn't always happen! In those instances, it's nice to have something on hand that is quick to make for an easy family dinner.
One of my hubby's favorites is ground beef meals, so he was pretty excited to hear that we were going to be having Hamburger Helper for dinner last night. The thing that I was happy about is that there is a new rebate offer to get FREE ground beef when you buy three boxes of Hamburger Helper.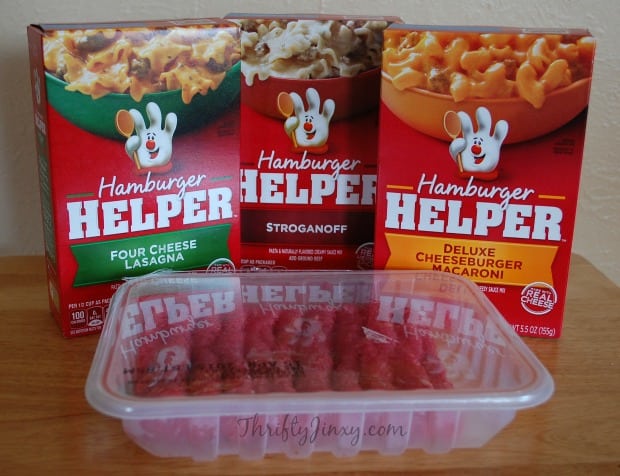 I went to Target and picked up three boxes of Hamburger Helper at only $1.52 per box and a package of lean ground beef for $7.39. Now I'll send in the rebate form (which is valid for up to $8.06) making my final total only $4.56 for everything above!
I let hubby choose which flavor to make first and he chose the Deluxe Cheeseburger Macaroni. I followed the suggestions on the back of the box for "extras" and sautéed 1/2 cup of chopped onion along with the ground beef and then added 1/2 cup of shredded cheese at the end. Next time I am thinking of throwing some green peppers in the mix too.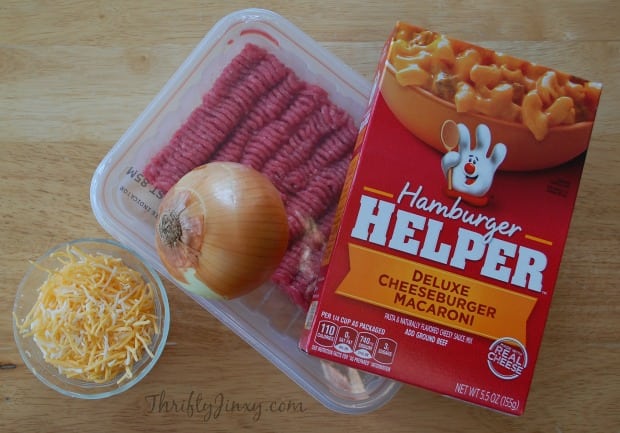 Ready to stock your pantry with Hamburger Helper for those quick weeknight dinners and get YOUR rebate? Just follow the simple instructions below to get yours!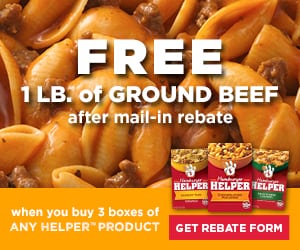 How to get your rebate:
About the Free Ground Beef Rebate:
1. Visit your local grocer, and purchase three Hamburger Helper products and Ground Beef.
2. CLICK HERE and you will see the digital rebate: "Free Ground Beef, when you buy 3 boxes of Helper." Please note that you may also buy Chicken Helper or Tuna Helper.
3. Click on the rebate.
4. Print and mail in the rebate form.