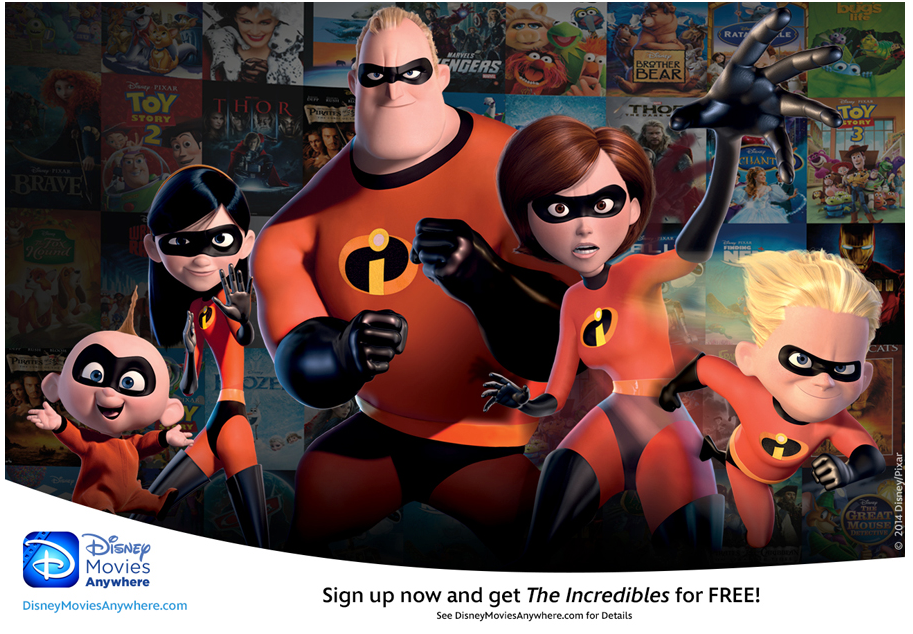 This is pretty cool news for Disney fans – – Disney Movies Anywhere, Disney's all-new digital movie service and app, has arrived and it's free!  All you have to do is connect it with your iTunes account.
Disney Movies Anywhere is a simple, streamlined way to manage and enjoy your digital collection of Disney, Pixar, and Marvel movies on multiple devices. Plus, for a limited time, you can get a FREE digital copy of Disney•Pixar's The Incredibles when you sign up and connect your iTunes account.
Disney Anywhere is super cool because it will collect all your eligible Disney digital entitlements – whether you redeemed them from a Digital Copy code or purchased them in iTunes – so you can have access to them on your iPhone, iPad, iPod touch, and Apple TV, as well as on your personal computer (Mac and Windows machines).
The Disney Movies Anywhere App is available for free from the App Store on iPhone, iPad and iPod touch or at www.appstore.com/disney. Sign up is also available through the Disney Movies Anywhere website.