Once you get back into the daily grind of a school schedule and routine, things can sometimes get a bit monotonous. To shake things up a bit and add a bit of joy to your child's day, here are a few creative ways to spruce up their packed lunches.
Mix It Up
Keep a variety of snacks and easy grab and go items on hand that your children love. Even if you stick with a sandwich most days, you can easily add variety with the side items that you add.
Bento Box
Instead of the usual sandwich and fruit, try a bento box or homemade Lunchable of sorts. Add crackers, slices of cheese, pepperonis and a couple other finger foods that your child enjoys to their lunchbox.
Cookie Cutters
You can still get creative with the regular sandwich routine with cookie cutters. There are special sandwich shape cutters out there, but often cookie cutters work just as well. It only adds seconds to your lunch packing routine to cut your children's sandwich into fun shapes.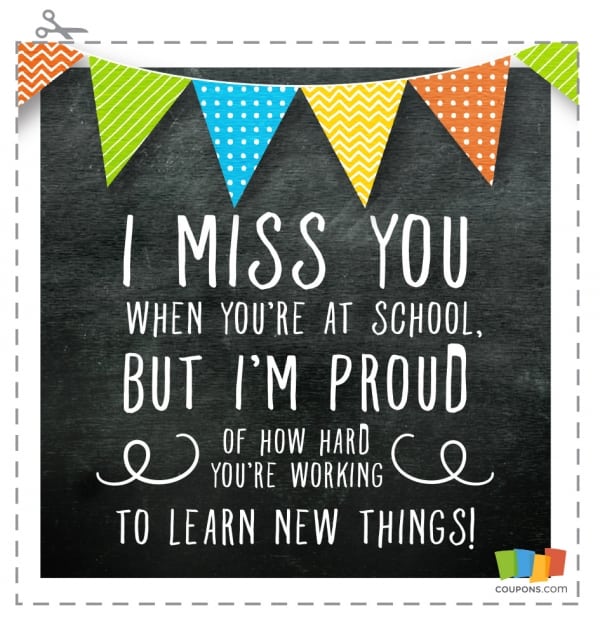 Love Notes
Add sweet love notes to your child's lunch. It will be a sweet mid-day surprise to let them know you are thinking of them and anxiously waiting to spend the afternoon together. Coupons.com has a great online magazine – The Good Stuff. They have some adorable printable bookmarks and school lunch notes available for free right now!
There are lots to choose from and they are adorable and colorful and the perfect addition to your child's lunchbox. Just head over here to check them out and print them for free.
Reader Giveaway: Thanks to The Good Stuff by Coupons.com you can enter below for a chance to win a $300 Amazon gift card! That surely would go a long way to help with Back to School essentials or save it for Christmas gifts and Holiday items! Good luck!