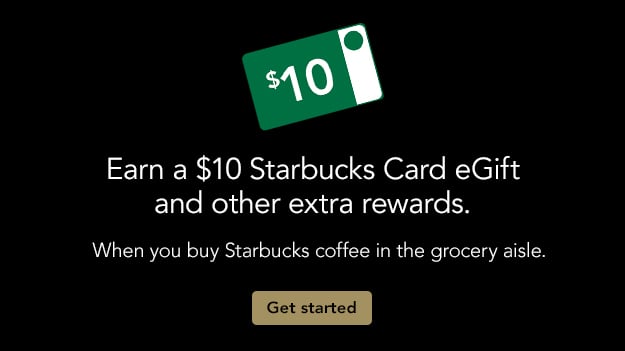 If you buy bags of Starbucks at your local grocery store, then this deal is for you!  You will earn a $10 Starbucks eGift Card once you buy four bags, plus other goodies along the way!   All you have to do is find the star codes on the packages you purchase and enter them online at Starbucks Rewards through October 19, 2013..  This is what you will get with each code:
1st code: Bonus Star
2nd code: Free tall brewed coffee redeemable at participating Starbucks Stores
3rd code: Free food item redeemable at participating Starbucks Stores
4th code: $10 Starbucks Card eGift
They even have a printable coupon for $2 off any two bags of Starbucks coffee to get you started.  You can also get this printable coupon for $1.00 off Starbucks Discoveries Cafe Favorites.
Thanks Bargain Briana