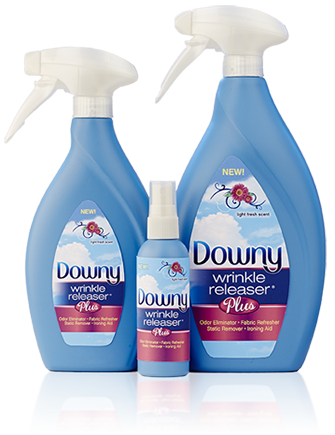 When it comes to laundry and clothing in our household, two things are true. My husband is an ironing fanatic. I am NOT! That being said, I still hate wrinkly-looking clothing. I just equally hate dragging out the iron, waiting for it to heat up and then actually ironing the item I want to wear. Especially since I have that chronic habit of always running late, it's such a hassle when I need to leave 10 minutes ago and the shirt or dress I wanted to wear is all wrinkly!
But this doesn't have to be a hassle any more. I can grab my outfit, check for wrinkles and spritz them away with Downy Wrinkle Releaser Plus. I'm finding it particularly helpful for items I store in my tiny closet that get smashed together and wrinkled due to lack of space.
But Downy Wrinkle Releaser Plus also does a whole lot more. Besides its ability to eliminate my ironing problem, "The Wonder Bottle" has 100 other uses around for home and traveling. Clothing isn't the only thing that gets wrinkled. Just think about those nice tablecloths you take out for special occasions or your fabric holiday decorations. They always come out of storage looking all wrinkled. A spray of Downy Wrinkle Release Plus is a quick-fix solution.
Wrinkles aren't the only thing Downy Wrinkle Releaser Plus helps with. A little spritz can also remove odors and freshen up fabric, whether it be furniture, pet beds, children's car seats – you name it! We have lots of pet beds around here with so many pets and it really does help freshen them up. That means I can stretch the time before washing, which is a big bonus because many of these beds don't hold up well to repeated washing.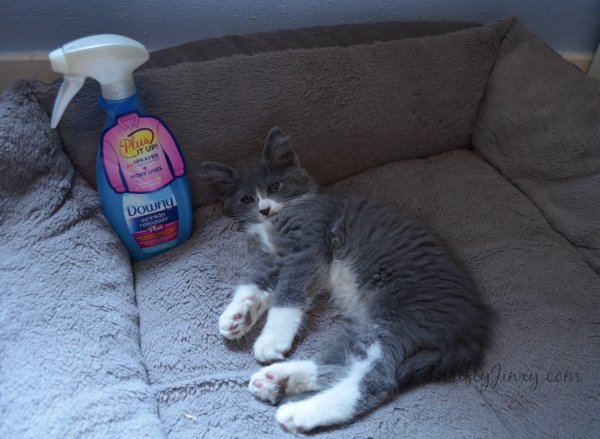 Another place that ironing is often a necessity, but a big pain, is on the road! When I travel I usually try to take my clothes out of the suitcase right away and hang them in the hotel closet, but that usually isn't enough to get rid of the wrinkles. Downy Wrinkle Releaser Plus is also available in a travel sized bottle, which means you can tuck it in your suitcase and not have to worry about figuring out a new iron in every hotel room you visit. Oh, and the bottle is 3 oz, which means you'll be able to take in your carry-on bag.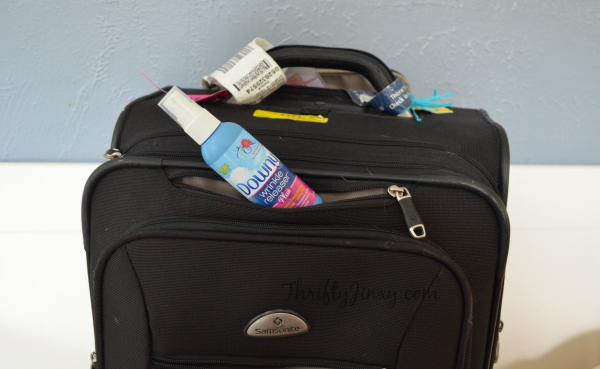 And if you are the type of person who is still going to iron anyway (like my husband), Downy Wrinkle Releaser Plus is better than plain ol' water for helping you iron and it doesn't leave that residue that you get from starch. Plus it also serves another duty as a static cling eliminator. Truly multi-purpose!
Wondering how this all works? The spray trigger on this new bottle for Downy Wrinkle Releaser Plus was specially designed to deliver a finer mist onto your fabrics with a broader coverage to reduce drying time. It works to eliminate wrinkles by coating fabric fibers with silicone that allows them to relax and slide apart instead of being frozen in a crease. All you have to do is spray, smooth and tug. Then let your fabric dry for wrinkle-free, fresh-smelling results.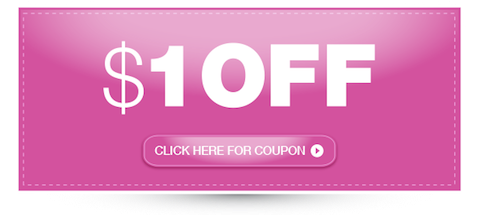 Deal & Coupon: Head to Target from now until August 23rd because Downy Wrinkle Releaser Plus is on special! Two 1000ml bottles are just $10 (regularly 13.98). Plus you can use the $1 off coupon from DownyWrinkleReleaserPlus.com making your final savings over 35%.
Do you need Downy Wrinkle Releaser Plus to fight wrinkles, odors, static or all of the above?