Late last night I found out that our realtor was going to swing by this morning to pick up some paperwork regarding a rental property we're selling. Normally that wouldn't be a big deal and I would just meet her at the door with the paperwork – easy peasy. BUT, she hasn't seen our house since we remodeled last year and with her being a realtor, I KNEW she would want to see it. That meant I had to straighten up the house and vacuum up the pet fur. Ask any German Shepherd owner and they will tell you that they shed a lot. Add four cats into that mix and we have way too much pet hair in our house on a daily basis.
So, I was really dreading putting my work aside and taking time to do that when I remembered – I have a brand new shiny Samsung Motion Sync Bagless Upright Vacuum. That changes the whole story!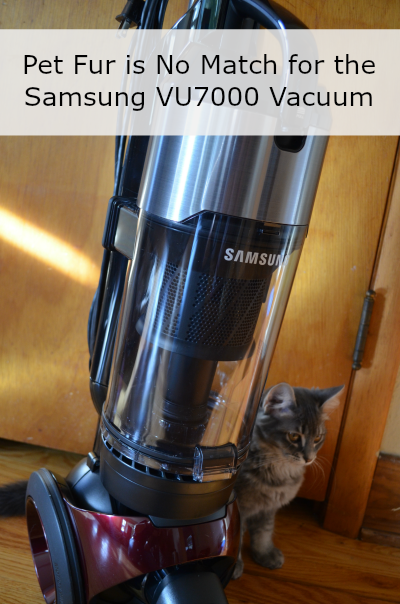 I have only had the Samsung Motion Sync Bagless Upright Vacuum for a few weeks now, but have already appreciated the benefits of my shorter and more efficient vacuuming sessions. The number one feature that I love on this vacuum is the Multi-Surface Cleaning feature that lets it easily transition from vacuuming carpets with the brush roll rotating to stopping the rotation for hard floors with just the touch of a button. In our new house we have lots of hardwood floors and only a few large area rugs. This ability to so quickly switch between surfaces makes the job a lot easier.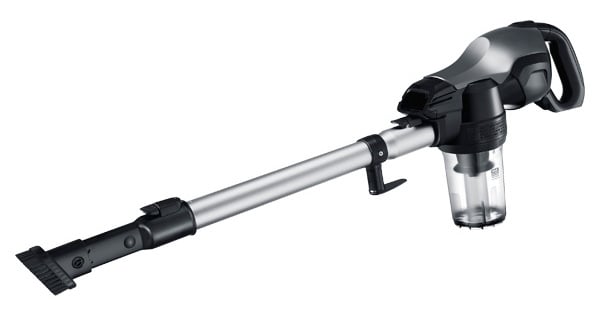 The next thing I love is the detachable handheld vac. It is actually built in as the handle for the vacuum cleaner. You just press a lever and remove the vac to clean in those little places you can't easily reach. There is no cumbersome hose and it has its own separate motor. There is even a little dusting brush built right into it that can be slid into place. That means it's always there when you need it.
One of my pet peeves with some vacuum cleaners is that it is really hard to empty them once they are full. I was pleasantly surprised to find that both the main unit and the handheld vac are super easy to empty. For the handheld it's basically a quick twist off of the canister and dump. For the main unit, the one-touch bagless dust bin opens with the push of a button and then slides easily back into place.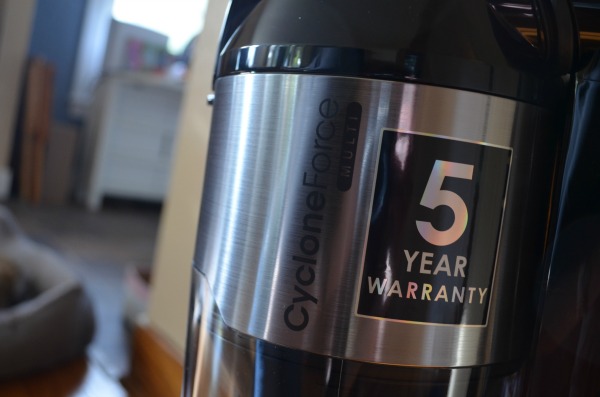 And it's not just easy to use, there are all kinds of things that make it clean really well too. It uses strong centrifugal forces in all 9 cyclonic chambers to deliver powerful suction and it filters more than 99% of fine dust and debris. The filter on the Samsung Motion Sync Bagless Upright Vacuum is also unique. Rather than the mesh type of foam filter you find in most bagless vacuums, it has a sponge type foam filter. It captures more dust and only needs a quick rinse with water to clean it. The vacuum also features advance HEPA filtration, which earned it certification as asthma and allergy friendly by the Asthma and Allergy Foundation of America.
Find out more at Samsung.com!