FabFitFun Subscription Box Review
Want to know a few things that I LOVE?  I love surprises, getting things in the mail, trying new products that celebrities even use, and attempting to live a healthy lifestyle.  Once I discovered the FabFitFun Subscription Box, I realized that I could get all of those things I mentioned that I love in just one delivery, four times a year.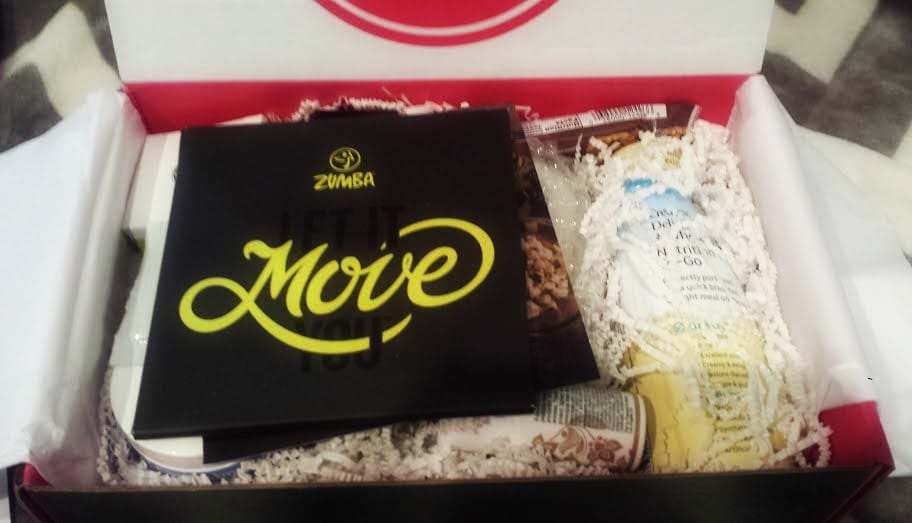 FabFitFun is a quarterly subscription service that sends you the latest in beauty and fashion, fitness, and wellness every season.  The box is curated by Guilana Rancic and the FabFitFun team, and each season is guaranteed to have $225+ worth of full sized product!  I absolutely LOVE that they don't send you those little one-time use sample size products, but rather full size products that you can enjoy again and again.  While this subscription box IS on the pricier side ($49 per box), you only receive a box four times a year, and each box is guaranteed to be at least four times the value of what you paid (my Winter Box added up to $383.59!).  Plus, it only breaks down to around $16 per month.
Want to get a FabFitFun box for yourself?  The Spring Box is getting ready to launch within the next few weeks.  Click here to sign up and use the promo code NEW5 to save $5 off your first box!
Here's what I received in my first FabFitFun box (Winter 2014):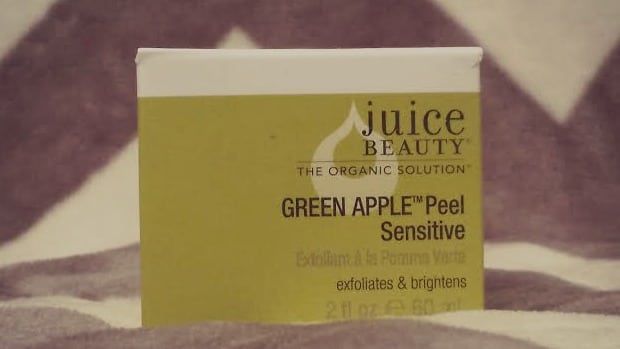 Juice Beauty Green Apple Peel Sensitive (Retail $39) – Green Apple has always been one of my favorite scents.  It reminds me of those caramel apple pops I would eat when I was little 🙂  I love peels, but don't usually like the smell.  Peels are usually strongly scented of chemicals, or a fruit that I don't especially care for such as peach, but I really love the scent of this one.  It is made of a certified organic formula and helps to reduce fine lines and wrinkles while also lightening the darker spots on your face.  It's like a spa visit in your own home!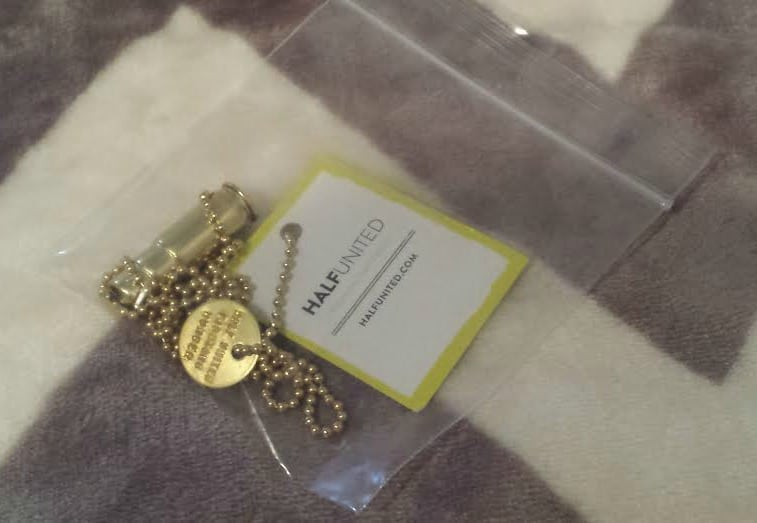 Half United Fighting Hunger Necklace (Retail $34) – When the company purchased this necklace and gave it to me, it provided a week's worth of food to a child in need!  I love the style of this necklace.  It is made from three recycled bullet casings and has a rustic feel to it, while it also shows your bold stance against the problem that 925 million people are starving each day.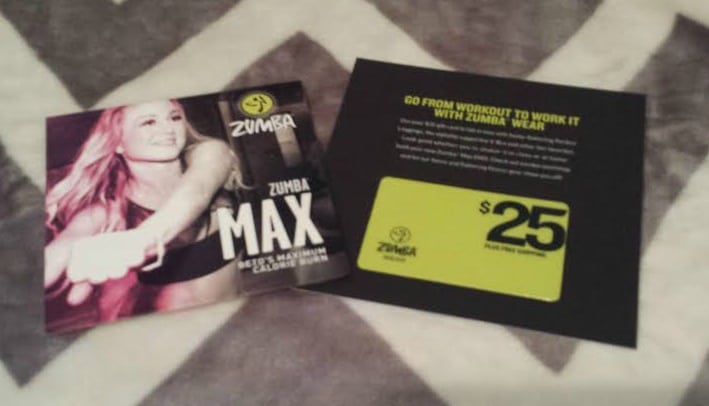 Zumba 60-minute DVD "Max" and $25 Gift Card (Retail $55) – One thing that I HATE is working out.  I don't like treadmills or elipticals… but dancing is something I can get into.  Zumba classes keep rising in popularity and are a fun way to get a workout in.  This DVD is a one-hour workout led by the famous creator of Zumba, Beto.  In addition to the DVD, they also sent me a $25 gift card for the Zumba website to get some gear PLUS they are giving all FabFitFun members free shipping.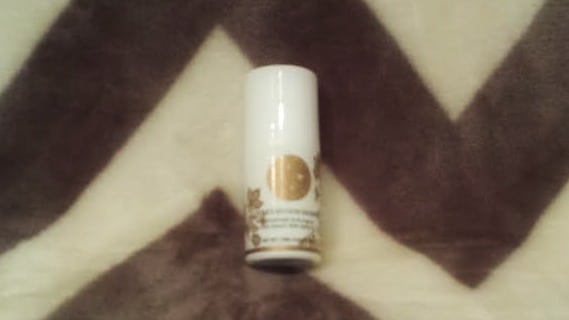 Passport To Beauty Tibetan Goji Berry Intense Anti-aging Eye Serum with Retinol (Retail $88) – The goji berry has been praised for years as being a power beauty food.  Passport to Beauty has made an Anti-aging Eye Serum using the goji berry.  It reduces fine lines and wrinkles, stimulates collagen and elastin and restores your eye area.  This is perfect for me because I have VERY sensitive eyes and the surrounding areas are very delicate as well.  This is great for the harsh winter weather!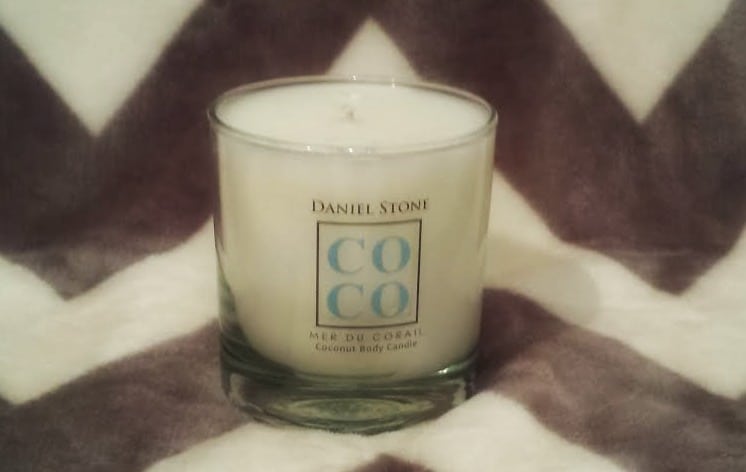 Daniel Stone COCO Candle (Retail $42) – I really enjoy burning candles, especially during a bubble bath or while I read a good book to relax.  I was so excited to try this candle (hello, a $42 candle sounds SUPER luxurious!) and I wasn't disappointed in it at all!  This candle is made of a natural coconut wax, so not only is the smell amazing, but it also provides a very clean burn and doesn't release any toxins into the air.
yourMinerals Assorted Eye Shadow Duo (Retail $44) – This eye shadow duo is so different that any eye shadow duo I've seen before, because you actually mix your own!  They ship you two hand-packed pigments that you can mix for whatever color you wish.  It is made out of natural products, perfect for even the most sensitive skins!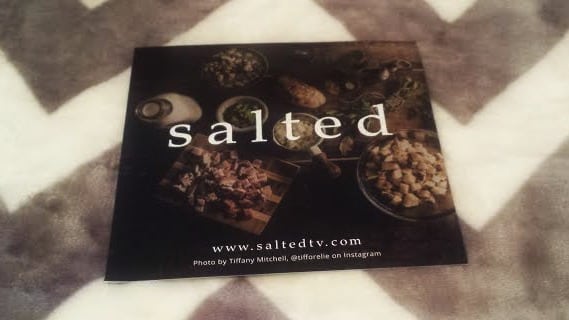 Salted 3 Month Membership (Retail $29.97) – Have you ever wanted to take a cooking class?  Salted brings the cooking class into your own home.  This service offers online cooking tutorials, similar to Netflix.  They offer you a promo code to get 3 months of membership for free.  How fun!  I can't wait to cook up some gourmet meals for my husband.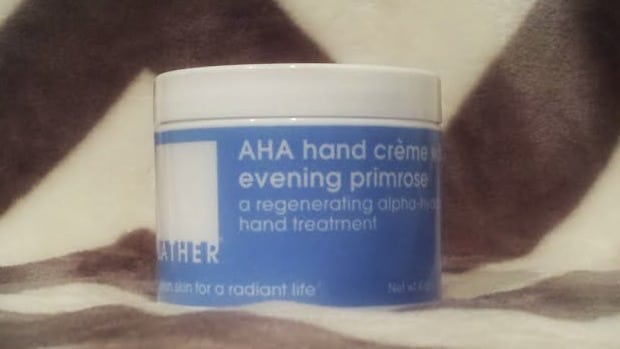 Lather AHA Hand Creme with Evening Primrose (Retail $30) – My hands get SO DRY during the winter months, which then leads to cracks and cuts.  I LOVE this hand creme.  It rathers really well without feeling greasy.  It contains alpha hydroxy acids that actually help your cells renew.  The scent has chamomile in it, which is so relaxing.  I love this hand creme and I'm so excited it was in the box.  I never would have paid $30 for a hand creme before, but now I'd consider re-purchasing it in the future!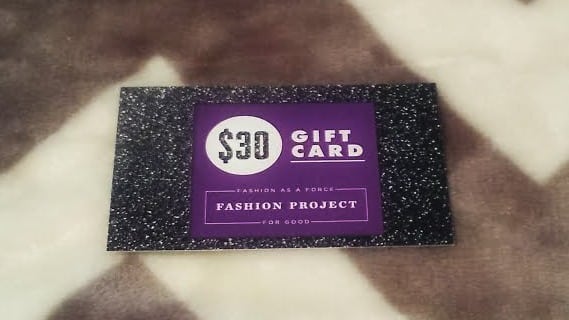 $30 Fashion Project Gift Card with Free Shipping (Retail $18) – I LOVE LOVE LOVE this item!!!  My favorite brand of purse is kate spade new york.  I absolutely won't carry anything less.  This gift card is for Fashion Project, which is where you can shop pre-loved designer bags, clothes, and shoes.  I spotted kate spade new york bags on this site, and after applying a $30 gift card the price was SO LOW!  I still haven't pulled the trigger on one because I can't seem to decide 🙂  Another great thing about Fashion Project is they give a portion of each purchase to charity.
The box also included a few sponsored products, which are items that companies paid FabFitFun to have included.  I received an Organic Valley Organic Balance Milk Protein Shake valued at $2.99, a pack of Justin's Classic Almond Butter valued at $0.63 (which actually WAS delicious) and a Special K Snack Bar valued at $2.62.  None of these values were totaled in the value of the box, which was $383.59!
I paid just $49.99 for my FabFitFun box and received $383.59 in products!  I'm looking forward to the Spring Box release in just a few weeks.  It isn't too late for you to sign up!  Get FREE shipping and save $5 with code NEW5.  The Spring Box is getting ready to launch within the next few weeks.  Click here to sign up and use the promo code NEW5 to save $5 off your first box!