To me, one of the highlights of summer is spending a lazy family day (or two or three) at the beach. We love to swim, take long walks, picnic, lounge and play in the warm sand, then plunge back into the cool ocean water again. Before you load up the car and head out the door, make a packing list – and check it twice. You won't want to interrupt your precious beach day to hunt down a store, or even end the day early because you forgot something essential. Here are a few of my top tips for a perfect day at the beach.
Everything You Need For Your Day at the Beach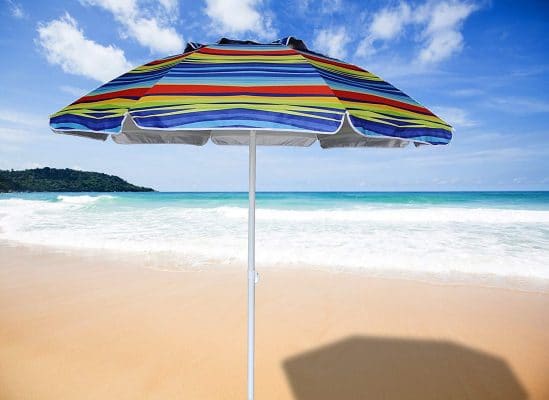 1. Stay Cool
Stay cool and protect your family from too much sun exposure with a few simple products. Bring plenty of sunscreen (and reapply as directed) and protect your eyes and upper body with a pair of sunglasses and a hat. Throw some shade by bringing your own pop-up beach canopy, tent or umbrella (these are PERFECT if you're bringing a baby or toddler to the beach). I also love to pack an inexpensive battery powered fan; I especially like the ones that are attached to a water bottle so you get some delicious mist along with the cool air. Lastly, look into products that cool you off by lowering your body temperature when you get them wet, including hats, shirts, and bandanas.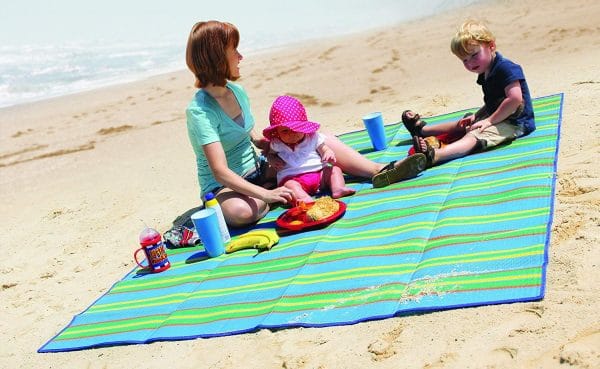 2. The Comforts of Home
Of course you'll need to bring beach towels and a beach blanket for picnicking, but don't stop there. Backpack chairs are great if you will be doing a lot of walking or have a lot to carry.  I like to stretch out and read a magazine or book at the beach, so I got myself a beach lounger.  I love the kind that can be adjusted to different angles so I can sit up if I want to read, or I can lie flat when I want to sunbathe or take a nap. I love my beach lounger; the only downside is that now everyone in my family wants one, too. This year I'm going to surprise everybody by picking up a couple of inflatable beach sofas. These pack up small but allow you to stretch out and do some serious basking!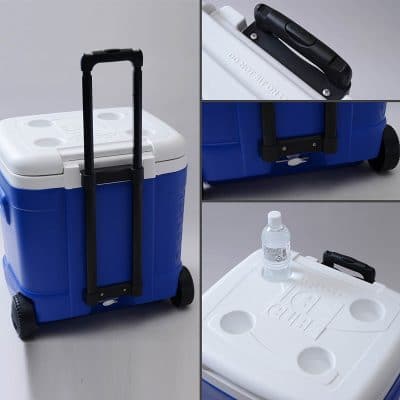 3. Food and Drink
Even if you go to the snack bar for ice cream cones and cool drinks, your family will eat healthier (and cheaper) if you pack your own food and drinks. We bring lots of sandwiches, water, fruit, and healthy (mostly) snacks – and no matter how much we bring it always seems to get eaten. Invest in a heavy duty cooler to keep everything nice and cold. My advice is to splurge on one with wheels, especially if you have kids and lots of bags to haul. You might even be able to find one that has a seat built into the top, or one with cup holders.  Pack plenty of ice or ice packs, water bottles, and extra snacks because a day at the beach will make everyone thirsty and very, very hungry.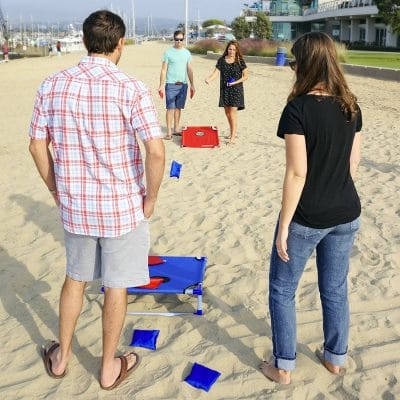 4. Fun in the Sun
We love to play beach games, and always pack a football, a frisbee, and/or a volleyball set. Our latest favorite is smash ball, which is kind of like beach tennis or ping pong. There are countless other beach games, like bean bag toss, for example – or get creative and come up with some of your own invention. The younger kids will enjoy just playing in the sand, so be sure to pack some shovels and pails (along with a mesh bag that won't track sand back to your car). We've been having a blast with a sand castle sculpting kit, and have created some impressive beach palaces!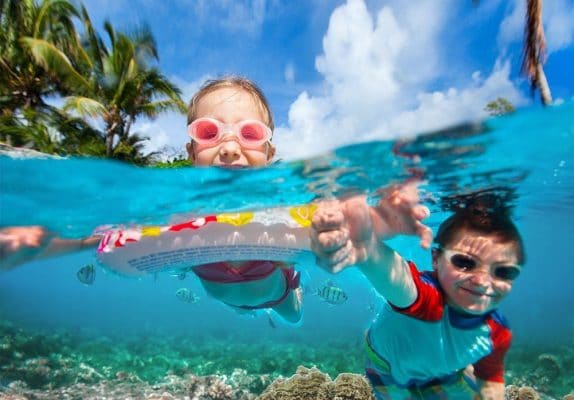 5. Splish Splash
By far the best part of the beach is the water. Get some floaties for your little ones, and pool noodles, kickboards, skim boards or other flotation toys for everyone else. Be sure to pack goggles and snorkels so everyone can explore the magical world beneath the waves. Don't forget the underwater camera!