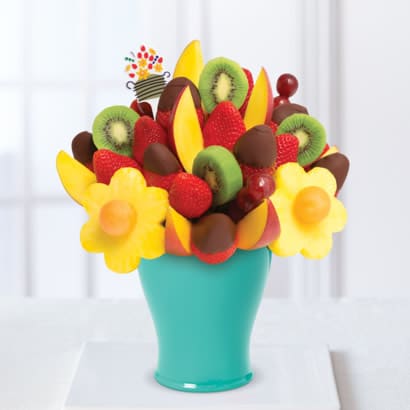 Looking or the perfect gift for someone who is impossible to buy for? Want to make a splash with a fabulous hostess gift? Edible Arrangements may have exactly what you're looking for. Edible Arrangements® offers bouquets made fresh with premium fruit arranged in a variety of stunning displays. You can pick up a yummy and beautiful bouquet at one of their 1010 stores worldwide, or order online or via phone.
This year, Edible Arrangements is debuting a new, seasonal collection of Edible Arrangements holiday-themed designs. They have lots of special arrangements, including those accented with chocolate dipped fruit! They also have festive bouquets accompanied by cute teddy bears and bright holiday balloons.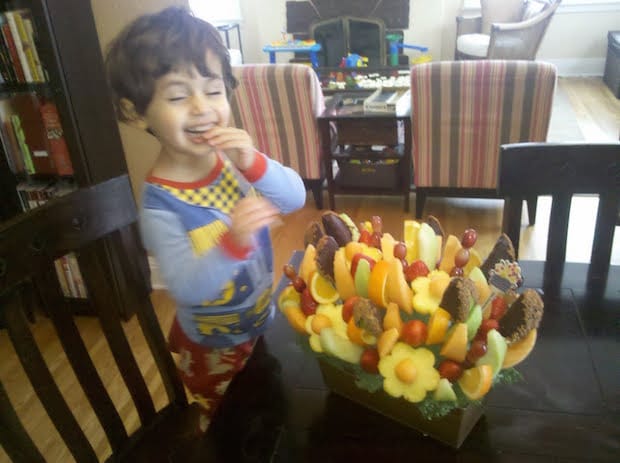 To order, visit EdibleArrangements.com and place your order online or locate a store near you. You can also order via phone at 1-877-DoFruit.
We were lucky enough to get to sample one of Edible Arrangements wonderful creations – the Fruit Festival® Cinnamon Chocolate Apple Wedges®. I have heard of their bouquets for years but had never actually sampled one. The fruit was beautifully arranged and super fresh. It really is a fun, healthy gift idea. It's more practical than flowers in that you can actually EAT it and it I have to say I love the addition of the chocolate dipped fruit. My 2-year-old nephew LOVED it! He kept going back to it all day and had the grapes wiped out in no time. (Sorry for the bad picture, I didn't realize how poorly it turned out until I posted it, but you can still see how happy he is with it!