I use nonstick cookie sheet liners for almost everything I bake in the oven. They are so easy to use and eliminate the step of greasing a baking sheet. I also love them for frozen foods like chicken fingers or fries because nothing sticks to the pan when you use them. They are also WAY easier to wipe off than scrubbing cookie sheets with baked on food.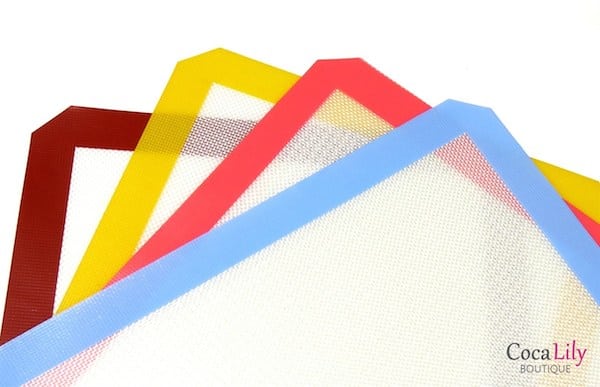 Today Jane has REUSABLE NONSTICK COOKIE SHEET LINERS from CocaLily on sale for only $9.99 each. Here are the details:
These reusable ,nonstick, cookie sheet liners are perfect for all your baking needs. Place anything on them such as vegetables, cheese, pizza, cookies, breads, etc and enjoy taking your food off your pan with ease. These also help maintain the integrity of your cookie sheet and do not need to be greesed . They are flexible, reusable, made from silicone, and able to withstand temperatures of 45 degrees to 475 degrees. This means they can go in the fridge, microwave, and oven. They also can be easily cleaned with soap and water. In addition, these mats provide an excellent surface for rolling out dough. They are approximately 16 1/2 by 11 5/8 inches and fit perfectly in a cookie sheet pan.
You can choose from the colors of yellow, pink or blue on the edges. Shipping is $2.99 for the first item and $2.00 for each additional item.
Once you start using these liners I swear you will never want to cook without them again! ORDER HERE