As you probably know, October is Breast Cancer Awareness Month. As we near the end of the month, you may have seen lots of pink products and heard breast cancer awareness slogans, but have you really stopped to think about it and BE aware?
For many of you, I am sure you have. Breast cancer is a terrible disease that has affected so many lives. The majority of us know someone who has had breast cancer – whether it be a family member, friend, neighbor or co-worker.
I have both breast cancer victims and breast cancer survivors in my life. My husband lost his Mom to breast cancer when he was only six years old. I don't have to tell you how devastating that is for a child or how that devastation can continue to manifest itself during someone's life. My aunt also died from breast cancer when my cousin was a pre-teen, leaving her without her mother to guide her through her teen years and beyond. Thankfully, there are also some breast cancer success stories like my sister-in-law who is over 15 years cancer-free and also my aunt who beat the disease.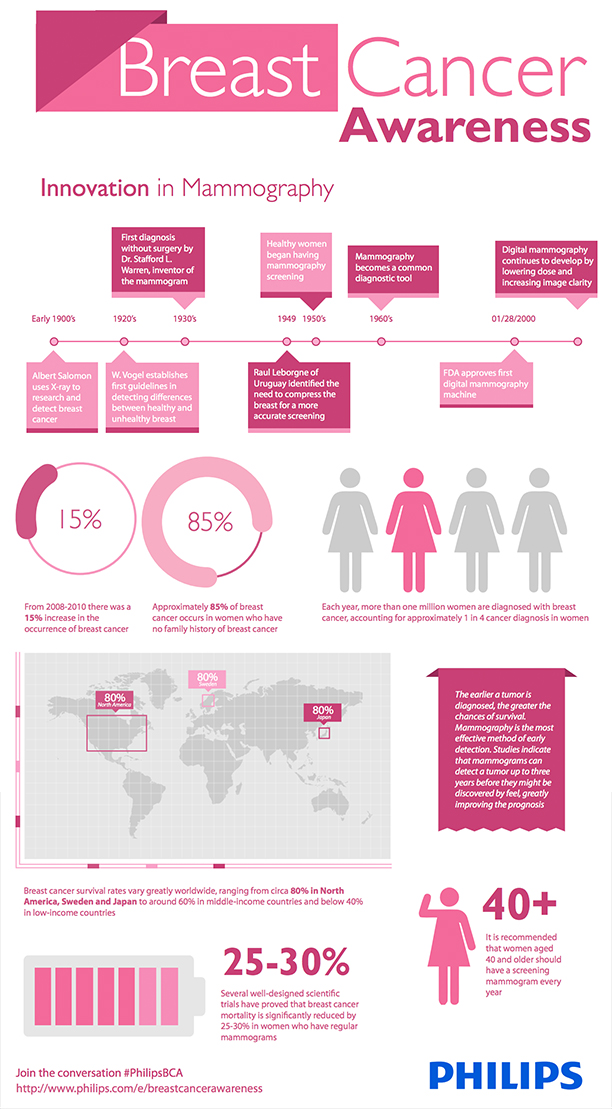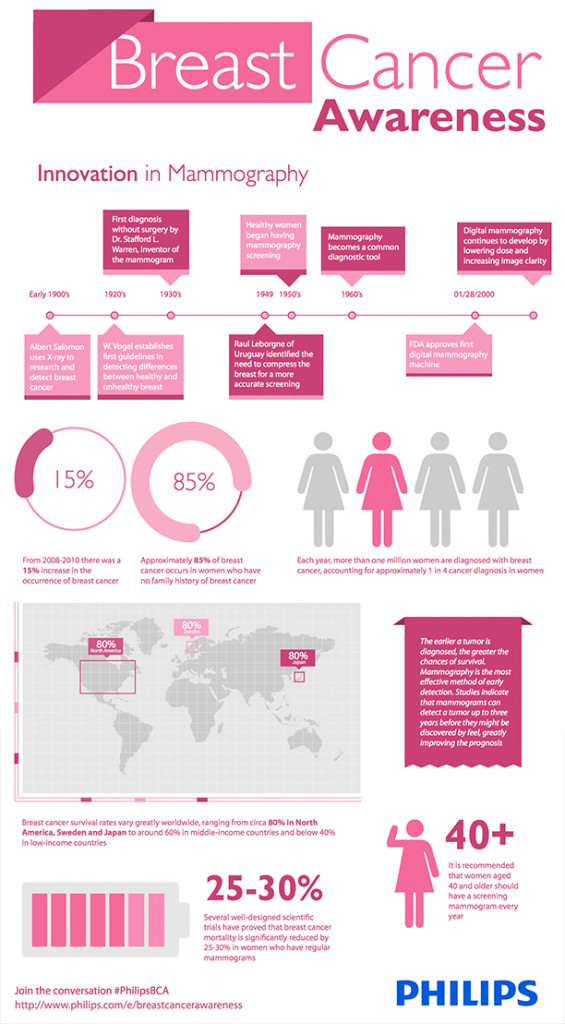 The goal for Breast Cancer Awareness is to create many more happy success stories and early detection can help make them happen. Mammography is the most effective method of early detection. Studies show that mammograms can spot tumors up to three years before they might be detectable by feel, greatly improving the prognosis. Early detection of breast cancer also means a wider range of treatment options, including less aggressive surgery and adjuvant therapy (source : Breast Cancer Society). When detected early, the five-year survival rate for breast cancer is 98 percent.
Even though the facts are clear, only half of U.S. women ages 40 and older got an annual mammogram last year (Medco Health Solutions Inc.). There are lots of reasons that women do not get their mammograms as they should. Some of the most common excuses are:
"I'm concerned it will hurt."
"I'm worried about radiation."
"Breast cancer doesn't run in my family."
"I don't want to get bad news."
"I'm just too busy."

Philips wants to see an end to the excuses and is collaborating with clinicians and researchers to deliver the highest level of personalized care to women – especially those touched by breast cancer. Their low-dose, advanced breast screening and targeted, image-guided diagnostic and treatment solutions are specifically designed to be comfortable, accurate and tailored to the unique needs of women. Some details from Philips:
Micro Dose Mammography – High image quality, low dose

Philips Micro Dose mammography provides outstanding images at an 18 to 50 percent lower radiation dose compared with other full field digital mammography systems,1,2,3,4 with an average dose reduction of 40 percent*. The significantly lower dose levels are derived from the unique Philips Micro Dose photon counting detector technology – a direct way to capture individual X-rays without conversion steps, significantly reducing additional noise.

The key advantage for patients is the lower dose offered by the Micro Dose mammography system. Women's breasts are sensitive to radiation, and it is therefore crucial that the mammography equipment exposes women to as little radiation as possible. Micro Dose is tailored for high-volume breast cancer screening where a large number of healthy women are examined on a regular annual or bi-annual basis. The state-of-the-art ergonomic design, with warmed, curved breast support, enables clinicians to perform the examination in less than five minutes, and provides outstanding patient comfort. Built with both patients and clinicians in mind, as many as 15 four-image examinations per hour can be performed, while the ergonomic design helps reduce the risk of work-related, repetitive strain injuries to technologists.
To learn more about Micro Dose Mammography, visit: https://bit.ly/MicroDose