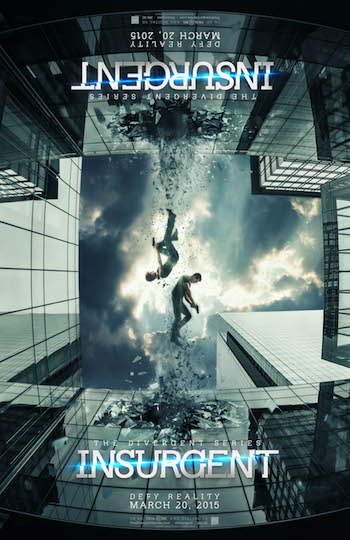 THE DIVERGENT SERIES: INSURGENT Super Bowl Trailer
A brand new trailer for THE DIVERGENT SERIES: INSURGENT will air during the Super Bowl Pregame tomorrow, but you can watch it right here! PLUS, we just found out that advance tickets will go on sale on Wednesday, February 25 – almost a month before it hits theaters nationwide in 2D, RealD, Digital 3D, AND IMAX® 3D on MARCH 20, 2015! Tickets will be available for showtimes starting at 8 PM on Thursday, March 19, as well as for special double feature screenings of "Divergent" followed by "The Divergent Series: Insurgent."
As an added bonus, each advance ticket purchase transaction for INSURGENT in the first 24 hours on Fandango, MovieTickets.com, AMCTheatres.com, and Cinemark.com will receive a download of the blockbuster first installment of the "Divergent" franchise. PLUS, Lionsgate has partnered with Fandango to offer more than 50,000 additional gifts with purchase for ticket transactions with 24-hour flash sales each following week leading up to release. Prizes include downloads from the "Divergent" book series, exclusive tracks from the film's soundtrack, and more.
Check out THE DIVERGENT SERIES: INSURGENT Super Bowl Trailer:
THE DIVERGENT SERIES: INSURGENT hits theaters nationwide in 2D, RealD, and Digital 3D on MARCH 20, 2015!