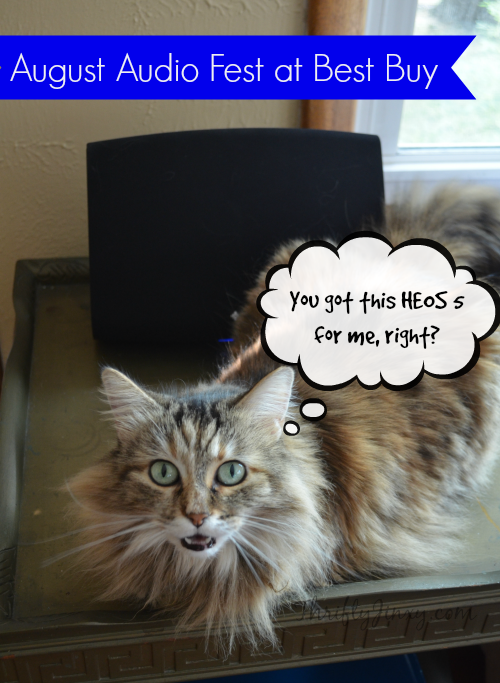 Summer is winding down, but the music has just been cranked up with August Audio Fest at Best Buy now through August 30th! Best Buy is helping you to enhance your home entertainment experience and upgrade your sound with additional components, speakers and headphones.
August Audio Fest is a whole month of deals, audio specials, events & more. Visit your local Best Buy store to test and try the latest & greatest in audio – from portable Bluetooth speakers and headphones, to home theater solutions and car audio. They have the best selection of audio products. Just head out for a visit and let Best Buy teach you how to upgrade your sound to LOVE THE WAY YOU LiSTEN.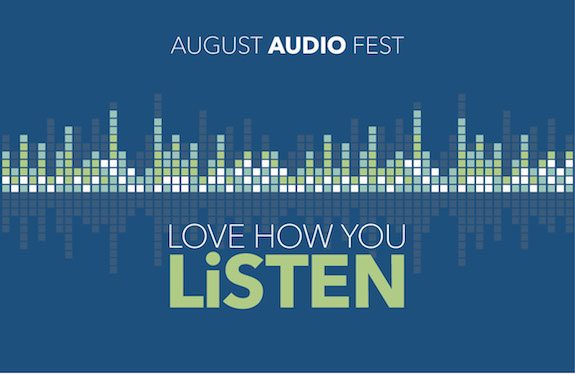 HEOS by Denon is a Wireless Multi-Room Sound System comprising a family of great-sounding music players for your whole home. With HEOS, you have the choice to enjoy your favorite streaming music services, internet radio or your own music collection with incredible audio quality.  It's easy to set-up and there is a free app to control them from your iOS or Android phone or tablet.
Product Features Include:
FREE HEOS APP
Multi-room capable
Stream music stored locally on your iOS or Android smartphone or tablet
Stream from your favorite music service such as Spotify, Deezer, Tunein or Napster
HEOS5 is ideal for medium to large rooms such as dining rooms, larger bedrooms, offices or smaller living rooms. The HEOS3 ($299.98) is ideal for smaller rooms, such as bedrooms or bathrooms, and are easy to move around the home. The HEOS7 ($599.98) is ideal for large spaces, such as living rooms, great rooms; etc.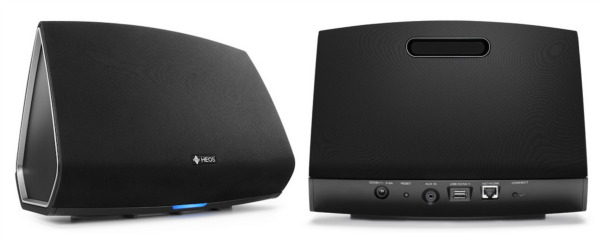 Review:  While my cat Lucky thought the HEOS might be for her, it was actually intended for my husband, Mario, who is the audio junkie in our house.  He took over this HEOS review on his own.  Thanks, honey!  
I have been looking for a replacement to my old stereo which is big and clunky. It had an 110 disc cd changer which I don't use anymore. I had to use an auxiliary connection to play music off of my phone. Since it was stationary I raised the volume to hear my tunes while I was in a different room. Chrysa isn't a fan of Iron Maiden so that option died quickly. So my awesome old fashioned loud stereo collects dust and has now become furniture.
Chrysa, seeing an opportunity to remedy a great injustice, presented me with the HEOS 5 wireless speaker by Denon. She said now I can take my music with me from room to room and if I like it enough we can get more and strategically stage them in sections of the home or garage. Wait – what? Did she say more? Okay lets see what this baby can do.
On first impression, it is very easy to set up. Open the box, plug it into a power source, download the HEOS App (via Apple IOS or Android) connect it to my Galaxy note 3 via the included aux cable. Follow the app instructions and viola its ready for tunes.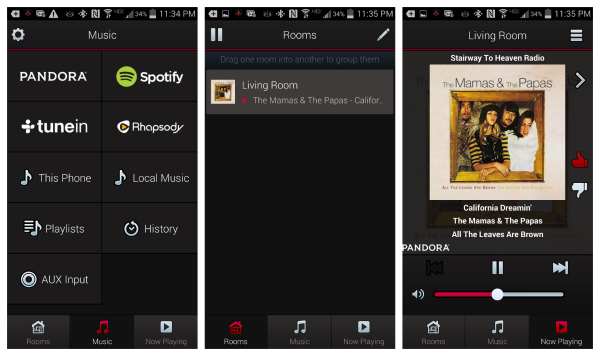 The sound quality is excellent, the design and look of the speaker is appealing to me – modern, not gaudy. Since my home has a lot of outlets its not a big deal for me to move around from room to room when I have a project to do from the seemingly endless honey-do list. I especially enjoyed taking it to the garage.  I just wished the power source didn't need the old fashioned laptop-type brick to give it life.
Two things I wished the Heos 5 had:
1: Bluetooth!! How can a product that uses a mobile device such as an Android or Iphone to set up initially not have Bluetooth?
2: If you don't have Bluetooth, then make sure your app has the ability to play podcasts.
There is a large market out there that utilizes either feature or both in tandem. If HEOS wants a piece of that pie they should consider option number one or at the very least option 2.
The HEOS app does have a wired option. You can connect the supplied auxiliary cable to your Andriod or Apple IOS device and that will allow you to play your podcasts. It gets the job done, but I'm not impressed since this is a wireless speaker.
All in all, despite its glaring Bluetooth flaw I enjoy this product and find myself working with its shortcomings as I find its sound quality better than any other portable device I own. Hopefully there will be an update to the Heos App to incorporate more apps. If so, the Heos 5 would get 2 thumbs up from me.