There are no school photos for dogs and cats. SO, the chances of having an "official" portrait or your pets aren't very high. That's why the idea of a custom pet watercolor sounds like such a great idea! Pets are a part of our families and their image can have a place of honor on your wall with a beautiful custom watercolor, handmade using digital technology and watercolor. It is printed on archival paper with archival inks and can be personalized.
The process starts with good, sharp quality photos of your pet. Their site offers good tips for how to get one like photographing your dog or cat against a plain background is best. Once they get a good photo, they digitally recreate your pet in watercolor and use REAL watercolors to help give detail. You will be given the chance to choose your background or other style elements. Your proof will be sent over once it is finished (5 business days). Once approved, it will be printed and shipped.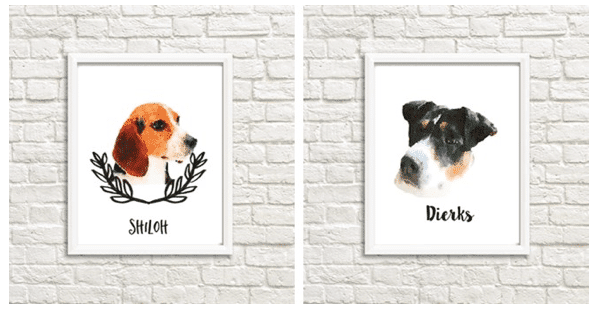 Details: They print on 60# white archival paper. Each print is 8×10 and comes with a thin white border around it for matting purposes. You will be sent a proof before printing to ensure you are in love with your watercolor.
These custom watercolors are usually $24.99, but through 10/24 only you can get one for only $9.99! Shipping is $3.49 for the first item and $0.49 for each additional item. A custom pet watercolor would make such a wonderful holiday gift for any pet lover. I know I would be thrilled if someone gave me one of my dog or cats – HINT HINT!