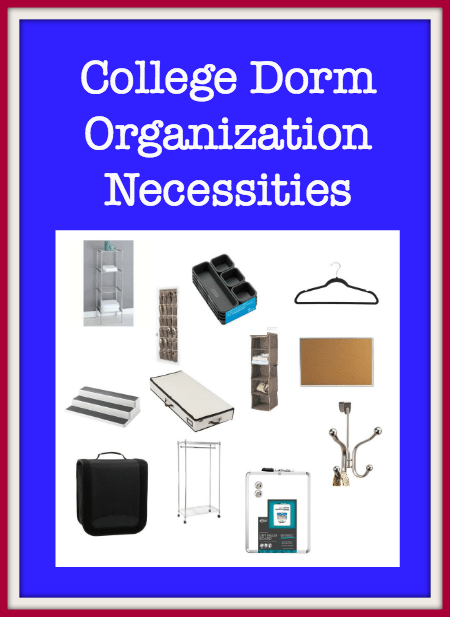 It's almost time to head back to campus, or for freshmen – to campus for the first time!
For most young people, moving into a dorm room is the first time that they have really been on their own and fully responsible for themselves.
There is no mom or dad checking in to make sure the room isn't a totally mess. And keeping things neat and NOT a mess can be tricky in a tiny dorm room! There is no family hall closet or basement storage to keep all those extras you normally have in a house. That means organization is all the more important!
Before heading to campus is the time to figure out all of the college dorm organization necessities. Keeping things organized means less distractions when trying to study, less chance of getting to class late because of searching for misplaced items, and just an overall more comfortable living area.
Check out this handy list of items that will make dorm life more organized.
College Dorm Organization Necessities

Organize It All Metro 4-Tier Shelf (16984)
$34.95
Chrome finish
This shelf is great for small spaces and provides lots of storage in a small footprint. Its stylish, modern look fits well in any dorm room and can store towels, toiletries, notebooks, and more.

Madesmart Interlocking Drawer Organizer Bins
$10.44
Madesmart Granite 8 Piece Interlocking Bin Pack
(2 – 9.3″ X 6.3″ X 1.9″/ 3 – 9.3″ X 3.1″ X 1.9″/ 3 – 3.0″ X 3.1″ X 1.9″)
This modular design in a granite finish is perfect for storing all those little odds and ends that easily get lost and jumbled. It's great for binder clips, pens, paperclips, safety pins – anything small. You can also mix and match for any drawer size and storage need.

AmazonBasics Velvet Suit Hangers – 50 Pack
$24.99
It's hard to keep a small closet organized when tops and sundresses keep sliding off their handers. The black velvet surface and notched shoulders of these hangers are designed to prevent slipping. The ultra slim profile maximizes space in your closet and the sturdy design can hold up to 10 pounds if you want to double things up.

Whitmor 6351-1253-JAVA Fashion Color Organizer Collection Over-the-Door Shoe Organizer, Java
$12.34
Shoes are a must, but they can take up a lot of storage space and also be a big mess! This space saving over the door hanging shoe storage has 24 roomy pockets made with fFashion colored fabric on a sturdy metal frame. It hangs on standard inside doors.
18 x 64 inches

Universal 36 x 24 in. Natural Cork Bulletin Board with Aluminum Frame
$27.47
Keep important papers handy and store those little scraps you don't know what to do with on a bulletin board. They're also fun for decorating! This one is made of durable cork material on an aluminum frame and includes mounting hardware.
Dimensions: 36W x 24H inches

Copco 2555-0188 Non-Skid 3-Tier Cabinet Organizer, 15-Inch
$7.99
Small things like cosmetics and toiletries can be easy to overlook when they are all stored on the same level. This organizer offers three levels of storage for easy viewing and stays in place with non-skid pads. It's also easy to clean if you DO use it for makeup.
3-1/2-Inch high by 8-3/4-inch deep by 15-inch wide

Rubbermaid Configurations 3-Handle Lowe-Profile Box, 42-inch, Natural (FG3F19DWNATUR)
$18.31
Since storage is at a premium in a small dorm room, be sure to take advantage of that under the bed space!! This low profile clothing storage box is designed for easy transport. It has cedar inserts for stable, long-term storage. It's easy to clean with a stain resistant lining. It has 3 handles for easy access and transportation

InterDesign Axis Over Door Quad Hook, Satin
$15.97
Hooks are super handy for items you use every day like backpacks and jackets. This one hangs on the back of your room or closet door. This hook is strong and made of durable steel.
5.5″ x 4.75″ x 7.25″

AmazonBasics Nylon CD/DVD Binder (400 Capacity)
$30.46
If you haven't gone fully digital with your music and movies, you'll have to keep those CDs and DVDs organized. It's easy to do with this binder that holds 400 CD/DVD Discs.

AmazonBasics Garment Rack with Top and Bottom Shelves – Chrome
$49.99
If you don't have a closet or if you only have a tiny one, a garment rack is a helpful option for storing your clothes. This one is easy to assemble in less than 15 minutes with no tools required.

Board Dudes 11″ x 14″ Metalix Magnetic Dry Erase Board, Colors May Vary
$8.76
Every dorm room needs a dry erase board! This one has a large, easy-to-use and maintain writing surface in a plastic frame.

Whitmor 6351-1234-JAVA Fashion Color Organizer Collection Hanging Accessory Shelves, Java
$14.52
If you do have space in a closet, but DON'T have drawer space, these space-saving hanging accessory shelves can be helpful. These five roomy shelves hang on a sturdy metal frame.