I always see these cute little peppers in the store but am never sure what to make with them besides just eating them as is or with a yummy veggie dip. SO, I was super glad to come up with another way to put them to use.
One of my favorite dishes to make is stuffed peppers. Normally I make them the traditional way with rice, ground beef and sauce. This time we wanted to try something different. These bacon & cheese stuffed sweet peppers were a huge hit – even the kids liked them! They usually won't eat the traditional-style stuffed peppers!
These cute little guys make a perfect party appetizer, lunch, game day food or side to a big Italian meal!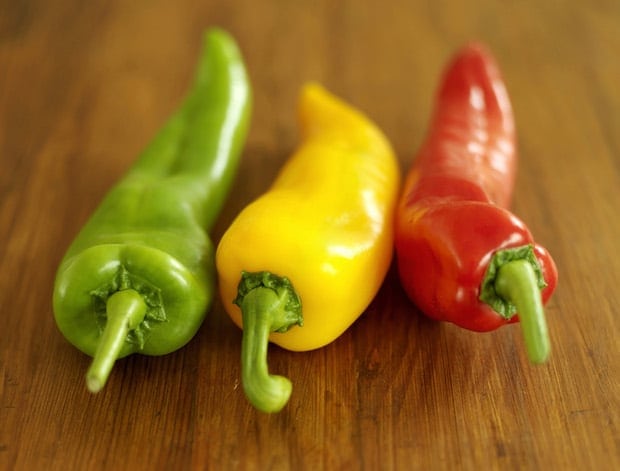 Cheesy Stuffed Sweet Peppers with Bacon Recipe

Ingredients:
8 Small Sweet Peppers
1 Cup of Ricotta Cheese
1/2 Cup cooked crispy bacon, crumbled
1/2 Cup shredded mozzarella cheese
2 tablespoons grated parmesan cheese (shaker cheese is fine!)
1 Medium egg (if you only have large eggs whisk it up and only pour half the egg into the ricotta)
1 teaspoon Italian blend seasoning ( or a pinch each of rosemary, thyme, oregano, basil)
1 small clove of garlic minced, or a pinch of garlic powder
Olive oil
pinch of salt & pepper
McCormick Italian Seasoning

Bertolli Extra Virgin Olive Oil

Kraft, Parmesan, Grated, 8 oz

Salt and Pepper Shakers with Matching Stand

AmazonBasics 3-Piece Baking Sheet Set

AmazonBasics Silicone Baking Mat – 2 Pack

Instructions:
Preheat the oven to 400
Cut the tops of the peppers, remove the ribs & seeds
In a medium bowl, beat (by hand) the egg into the ricotta
Add the mozzarella, parmesan, bacon, seasonings and garlic, Mix.
Spoon the mixture into each pepper
Lay them on a cookie sheet that has been drizzled with olive oil
salt & pepper
Roast on 400 for about 15 minutes
Cook time may vary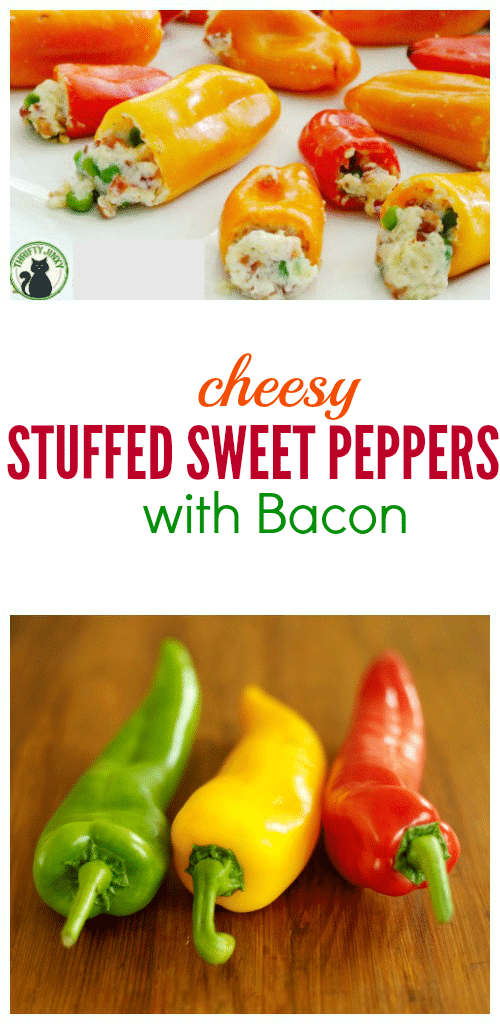 Cheesy Stuffed Sweet Peppers with Bacon Recipe
Ingredients
8 Small Sweet Peppers
1 Cup of Ricotta Cheese
1/2 Cup cooked crispy bacon, crumbled
1/2 Cup shredded mozzarella cheese
2 tablespoons grated parmesan cheese (shaker cheese is fine!)
1 Medium egg (if you only have large eggs whisk it up and only pour half the egg into the ricotta)
1 teaspoon Italian blend seasoning ( or a pinch each of rosemary, thyme, oregano, basil)
1 small clove of garlic minced, or a pinch of garlic powder
Olive oil
pinch of salt & pepper
Instructions
Preheat the oven to 400
Cut the tops of the peppers, remove the ribs & seeds
In a medium bowl, beat (by hand) the egg into the ricotta
Add the mozzarella, parmesan, bacon, seasonings and garlic, Mix.
Spoon the mixture into each pepper
Lay them on a cookie sheet that has been drizzled with olive oil
salt & pepper
Roast on 400 for about 15 minutes
Cook time may vary
https://thriftyjinxy.com/cheesy-stuffed-sweet-peppers-bacon-recipe/