Christmas Cards Waiting to be Opened
Can you believe it will be Christmas in only a few days?!? In the flurry of the season, it's always nice to take a break for a few moments, collect your thoughts….and of course enjoy delicious treats. This week, I made a plan to do that and also to spend a little time creating a homemade craft gift to celebrate the season.
December is always a TOTALLY CRAZY month for me. Not only is there all the hubbub of holiday preparation, but it is also by far the busiest months for both Thrifty Jinxy and my other home business (we're talking 3-4 times as busy as other months). Then, to top it all off, this year we also bought a new house, closing on December 11th. Yes, totally crazy. I haven't even opened my Christmas cards yet. They are still sitting in a stack, waiting for a time when I can sit down, RELAX, and enjoy opening them.
One of my favorite parts of the holidays is Christmas baking and Christmas crafts. The sad part is that I am usually in such a rush I don't do much of it. But I really make it a point to set aside a little bit of precious time to do something "Christmassy" – – it only comes once a year, right? So, I was happy to take on the task of trying Starbucks Holiday Blend and Artisan Fresh Pie from Sam's Club, and then pairing it with my own DIY craft project to make an awesome holiday gift! Woo hoo!
Artisan Fresh Pie at Sam's Club
The first thing to do was to head to Sam's club. I have looked through their bakery before, but never took a good look at the Artisan Fresh pies. That was a mistake on my part, because they all looked awesome! They actually looked beautiful – like something that was made by hand. They are all made right in the Club itself, so that really makes the "Fresh" part of the name true-to-life.
Starbucks Holiday Blend Display (Sorry for blur – the line was moving!)
I then set off to find the Sam's Club Starbucks Holiday Blend Coffee. I did find it in the hot beverages aisle, but as I was leaving the store, I also noticed that they had a special display set up right near the exit – I almost missed it!
When I got home, the really fun part began – trying the coffee and pie!!! Brewing up the Starbucks Holiday Blend sent a wonderful scent into the kitchen. The sense of smell is a fabulous thing! Mario got to try the Starbucks first.
Sampling Starbucks Holiday Blend
The Starbucks Holiday Blend really DOES taste "Christmassy". It has complimentary notes of ginger, pumpkin, cinnamon, nutmeg, orange and cloves – all the things that go into your favorite holiday baked goods. This is the first time we bought Starbucks coffee for brewing at home, but it looks like it will now make its way onto future shopping lists!
As you can see below, it definitely got the "seal of YUM" from Mario! You can find out more about Starbucks Holiday Blend here.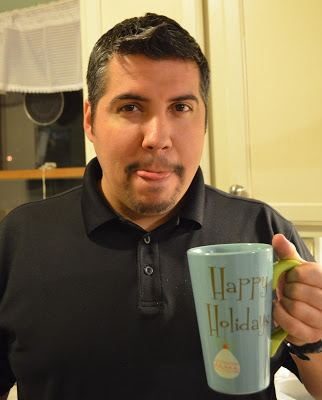 It was now time to add the Sam's Club Artisan Fresh Apple Lattice Pie into the mix. As I mentioned earlier, this is a beautiful pie! The lattice work across the top is so decorative and gives you a peek at the gooey apple filling inside. And it was just as delicious as it looked! The crust is nice and flaky and on the thick-side, which is how I love it. Once we paired the pie with the coffee, the spice-related notes of the Starbucks Holiday Blend really shone. It made a great combination!
Sam's Club Artisan Fresh Apple Lattice Pie
Next it was on to my craft project!!! The plan was to make a homemade present to accompany the gift of Starbucks and Artisan Fresh Pie. Since the smells of the coffee and the pie were so wonderful, I decided to continue on the scent path by creating Homemade Holiday Spice Potpourri. Follow along below for instructions.
Materials:
Fresh Oranges
Pine Cones (natural or scented)
Star Anise
Cinnamon Sticks
Whole Cloves
The first step is to dry the oranges. Preheat the oven to 225 degrees. Slice them approximately 1/4″ thick, as shown above. Then place a baking rack on top of a rimmed pan or cookie sheet and lay out the oranges in a single layer. Bake approximately 3 hours or until mostly dry, turning every 45 minutes. The oranges will continue to dry after they come out of the oven, so they don't have to be completely dried out when you're finished.
Dried Oranges
Then it's time for the fun part of mixing up your own potpourri concoction! Using the selection of dried spices, add them in with the dried oranges to make a combination to fill your gift recipient's home with wonderful scents. I didn't list specific amounts of the ingredients above, because any combination is fine and you can create your own favorite blend. You can also use wood chips if you have trouble finding pine cones.
Holiday Spice Potpourri
To package the potpourri for gift giving, I bought holiday-patterned take-out boxes from the craft store. My family will share in the joy of the Starbucks Holiday Blend coffee and Sam's Club Artisan Fresh Apple Lattice Pie when we get together this celebrate and each of the ladies will have a cute box of potpourri to top it off!
Disclosure: I am a member of the Collective Bias® Social Fabric® Community. This shop has been compensated as part of a social shopper insights study for Collective Bias™. #CBias #SocialFabric