While we have lots ot love about steak 'n Shake, my favorite thing is the shakes! And what's even better is when you can get a great deal on them. Here are a couple of ways how.
Steak 'n Shake 1/2 Price Happy Hour
On weekdays from 2:00 to 4:00 it's half price Happy Hour at Steak 'n Shake! That means you get all shakes and drinks for half price. What a great deal!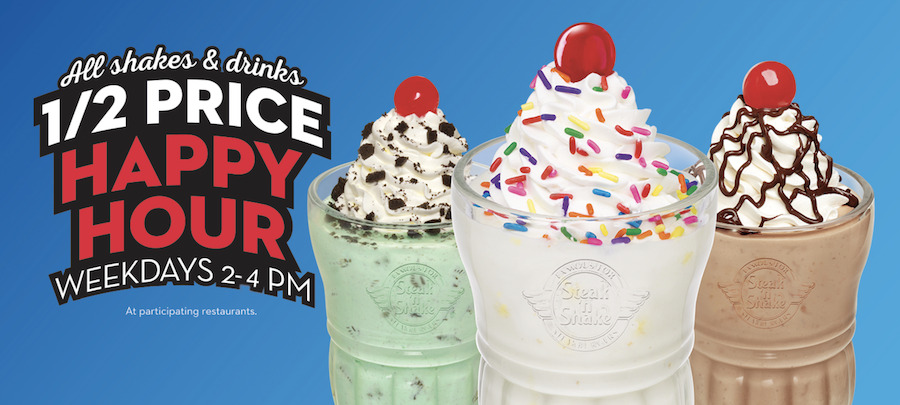 Steak N Shake Rewards Club
When you sign up for the Steak 'n Shake Rewards Club, you receive a FREE shake just for signing up! Once you're a member, every time you spend $50 you earn a $5 reward to spend on future purchases. Plus you'll get exclusive member deals.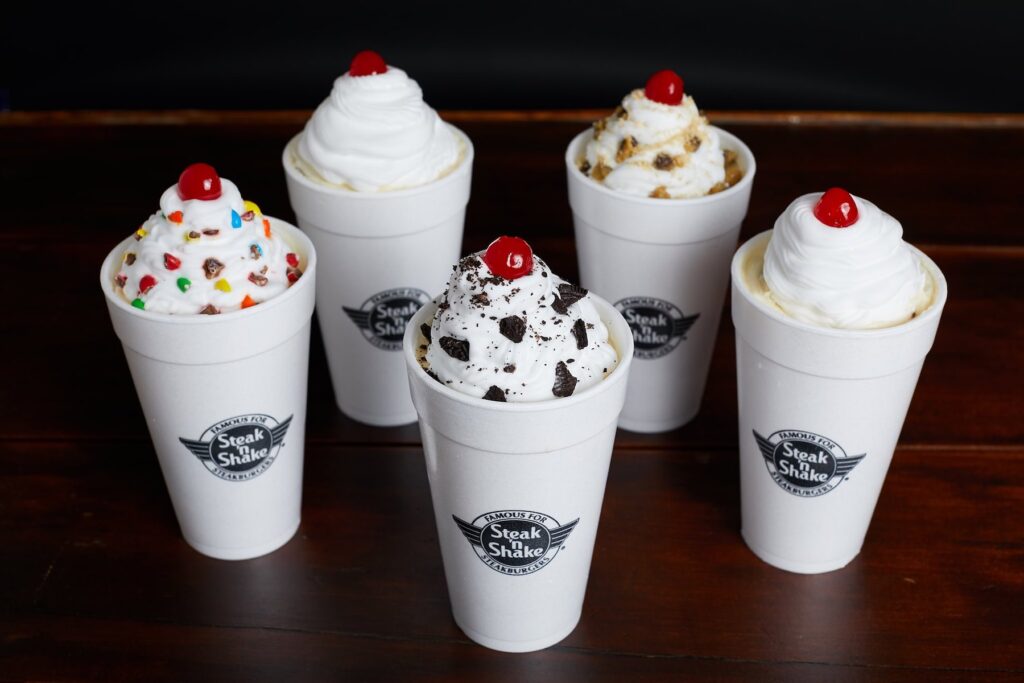 Steak 'n Shake Flavors:
Steak 'n Shake has been hand-making delicious shakes since 1934. Each one is made with real ice cream and fresh milk, topped with whipped cream and a cherry.
There are LOTS of different flavors to choose from including:
Snickers
Cotton Candy
Chocolate Chip Cookie Dough
OREO Mint
OREO Cookies 'n Cream
Birthday Cake
Butterfinger
KitKat
Reese's Peanut Butter
Reese's Chocolate Peanut Butter
Reese's Peanut Butter Cup
M&M's
Nutella
Classic Vanilla
Classic Chocolate
Classic Strawberry
Classic Banana
An 80th birthday is a BIG milestone! That is the birthday that Steak 'n Shake is celebrating this year. That is 80 wonderful years filled with Steakburgers and hand-dipped milk shakes! To celebrate, they are inviting ALL of us to a birthday party for the record books.
From coast to coast, Americans are invited to gather at their local Steak 'n Shake to help achieve the GUINNESS WORLD RECORDS® title for the "Largest Birthday Sing-Along" and partake in the limited-time Birthday Cake Milk Shake.
That means that YOU are invited to gather at your local Steak 'n Shake locations for the first-of-its-kind record attempt, which will involve more than 20,000 participants. By participating you will not only hold a place in Steak 'n Shake history books, but also get to enjoy half-price Birthday Cake Milk Shakes during the attempt.
Where: All Steak 'n Shake locations
When: 12 p.m. CT / 1 p.m. ET on Saturday, June 7
Special Offer: Receive a FREE Birthday Cake Milk Shake on your next visit when you buy $10 or more in gift cards through 6/30.
For a complete list of Steak 'n Shake locations in your area, visit www.steaknshake.com or www.facebook.com/steaknshake.