This is a sponsored post written by me on behalf of Triad. All opinions are 100% mine.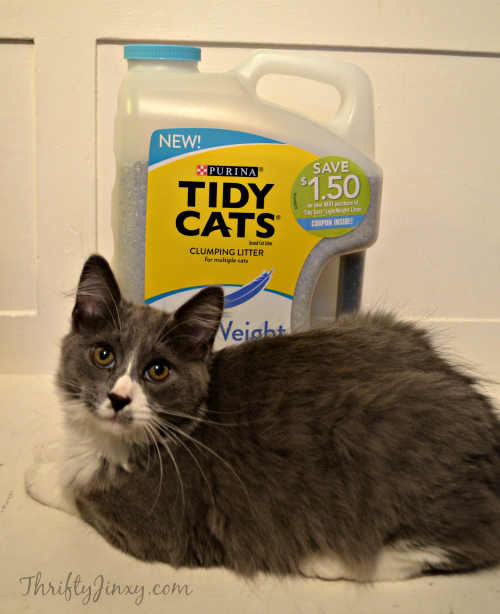 So, I told you about our two new kittens last month. They are getting SO BIG NOW!  It's amazing how fast little kittens can grow. We were just gone for five days and I swear they almost doubled in size while we were gone. While I love our new kittens a ton, the one thing I'm not as happy about is double the litter box duty. With twice as many cats, it's even more important for me to make the litter box routine easy.
Non cat-lovers don't understand the importance of good cat litter.  But, us "crazy cat ladies" (and you crazy cat guys too) know that quality litter can make you and your kitties happy.  Now there are two new choices with Tidy Cats® Occasional Cleaning® and Tidy Cats® Lightweight Litter Instant Action™ both available online at Walmart.
I picked up the Tidy Cats® Lightweight Litter Instant Action™ and like what I see so far. It is SO MUCH easier to tote around this litter. It's half the weight of regular litter, but does the same job. And the Instant Action part means that it is fast clumping and odor trapping for fast, strong odor control. It makes really tight, but really light clumps so it's super easy to scoop. Oh, and I like that it's 99.9% dust free, so there is NO cloud of litter dust in the air!
Also new is Tidy Cats® Occasional Cleaning®. It lets you go longer between litter box cleanings with an extra layer of long-lasting odor control. It's super absorbent and also 99.6% dust-free. Would you like to have your cat featured on the Purina Pet Park website online at Walmart? Submit a photo of your cat via Instagram with the hashtag #KittyOccasions. You can show how happy they are with their new litter for a chance to have your entry used by Purina.