Earth Day is coming up on April 22, 2016, so it is time to start thinking of ways to take action to improve the environment.  Did you know that Earth Day is an annual event, celebrated on April 22, on which events worldwide are held to demonstrate support for environmental protection. It was first celebrated in 1970, and is now coordinated globally by the Earth Day Network, and celebrated in more than 193 countries each year.  [Wikipedia]
A lot of us think that Earth Day activities are limited to planting trees, collecting recyclables, and donating clothing, but Best Buy has an interesting take on ways to celebrate.  Take a look around your home.  Has it been a while since you've updated your appliances?  There have been so many advancements over the past few years in regards to home appliances.  A lot of the older models are not very eco-friendly, while newer models labeled "Energy Star Appliances" can make a huge difference on your carbon footprint.
Have you seen the Energy Star label on appliances lately?  If you're like me and were wondering what it meant, here are just a few of the facts you can count on when you seen appliance with this label:
It uses less energy.  Energy star dryers use 20% less energy than standard dryers.
It uses less water.  In fact, a full-sized Energy Star washing machine saves 3,000 gallons of water per year or more!
Washers built before 2003 are NOT very energy efficient and can costing you around $180 more a year to operate than an energy star washer.
Energy star dryers use sensors instead of a timer so that it will shut off automatically when your clothes are dry.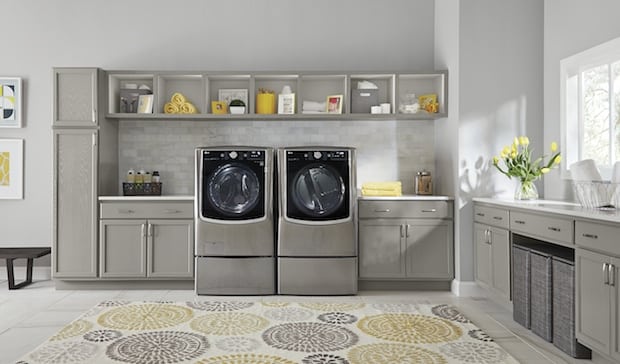 Best Buy has the latest in energy and water efficient appliances from entry-level to premium to help you save time and money.   They invite you to learn more about the Energy Star and the LG Twin Wash and Sidekick Laundry Pair this Earth Day!Here are a few of the facts that really jumped out at me about their new appliances, but make sure to stop their Earth Day page for even more information:
The LG Twin Wash
The innovative LG TWIN Wash is all about efficiency, helping you get more clothes cleaner in less time.  It has what is called TurboWash 2.0 (which just sounds super efficient) which can save you up to half an hour on large loads.  If you average 2 large loads a day, that is an extra hour back into your schedule!  It has an LED control panel for easy controlling, an angled door that makes it easier to load and unload, and more!
The Sidekick Laundry Pair
If you already have an LG front load unit, the Sidekick can actually pair with it!  This means you can toss in a small load of laundry (like that shirt you forgot to wash for work) without having to fill up the huge laundry machine to do it.  You can also use it at the same time as your main washer, giving you the ability to wash two totally different loads of laundry at the same time – likes reds AND whites!  It is small and discreet, and looks just like a pedastool for your washing machine.  Your friends and family won't even know it is there, although you'll probably want to show it off since it is so neat!
Stop by your local Best Buy today and upgrade your appliances and take advantage of the nice promotions they are offering.  They will deliver your appliance purchase of $399 or more for FREE, plus you can get 18 months financing on major appliances or 10% rewards (usually they only offer 5%, so this is a great perk!) plus 10% back in grocery purchases.