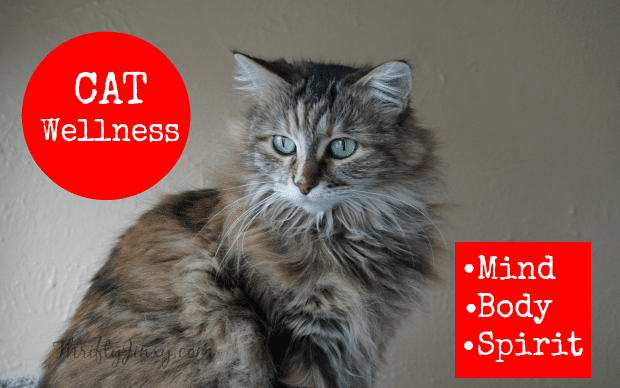 When it comes to our own wellness, there are three parts to consider: Mind, Body and Spirit. We want to exercise our mind to keep sharp and aware, our body to keep physically healthy and our spirit to nourish our spiritual side. When it comes to our pets, it's not too different. While the spiritual side for cats might be more of a stretch (I don't know many cats who go to church or practice yoga), the way to keep their minds and bodies healthy are pretty similar to what we need to do for our own!

Cat Wellness – Keeping Our Furry Friends Healthy
1. Mind

I know that my cats are always happier, and more well-behaved, when they are able to exercise their mind frequently. For us, that means fun and challenging toys! They like what I call "peek-a-boo" toys where a ball, toy mouse, etc. will hide inside a toy and they need to figure out a way to either make it move or get it out. My Sammy also especially likes lasers! His newest toy randomly shoots a beam around the room for 15 minutes at a time. It's fun to watch him try to figure out where it is going next.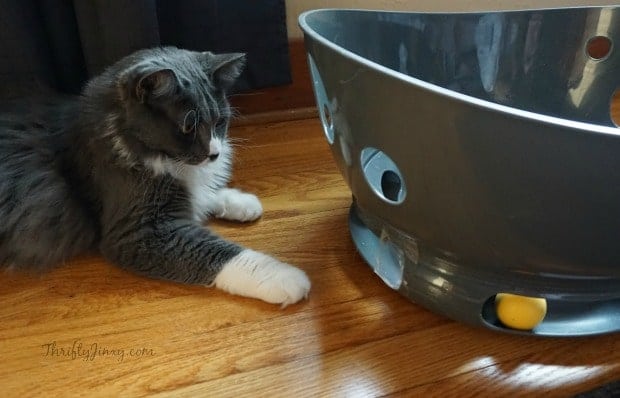 2. Body

Those toys also help keep our cats active! I like to add in the classic feather on a string toy that gets them running and jumping. But exercise isn't the only part of keeping their body healthy – food plays a big role. You want to choose a high quality food that puts lots of GOOD things in while keeping the BAD things out. Wellness Natural Pet Food has two great options with CORE Grain Free Dry Formula and CORE Grain Free Air Dried.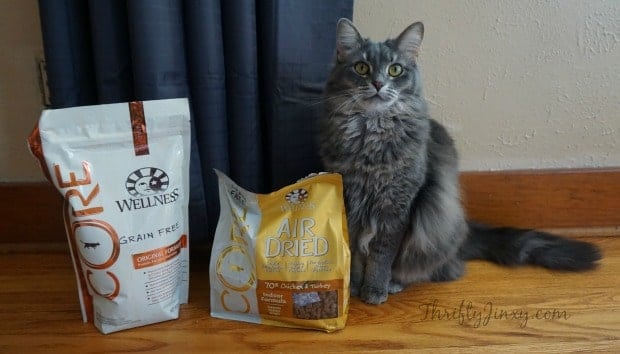 CORE Grain Free Air Drie Grain-free CORE Original helps support your cat's optimal health and digestion with turkey, chicken, whitefish, herring, salmon oil and cranberries. It is nutrient-dense and enhanced with antioxidants and probiotics. It also obviously tastes good because my cats love it! Grain-free CORE Original has no meat by-products or fillers and no grain, corn, soy, wheat-gluten or artificial preservatives, colors or flavors. It DOES include fish and flax omega blend for healthy skin and coat.
Grain-free CORE Air Dried Indoor is an ultra-digestible cat food with 70% of delectable protein ingredients in every tender and moist bite. It's a protein-rich meaty topper, treat or complete, balanced meal that can help support your cat's optimal health. It supports healthy weight for less active cats with an indoor lifestyle like mine and supports whole-body health with omega fatty acids, glucosamine and chondroitin. It has no meat by-products or fillers and no grain, corn, soy, wheat-gluten or artificial preservatives, colors or flavors. And while it may not be an intended use, my dog gets really jealous when he sees the cats eat this food so I let him have it as a little treat on top of his food. It's his favorite treat.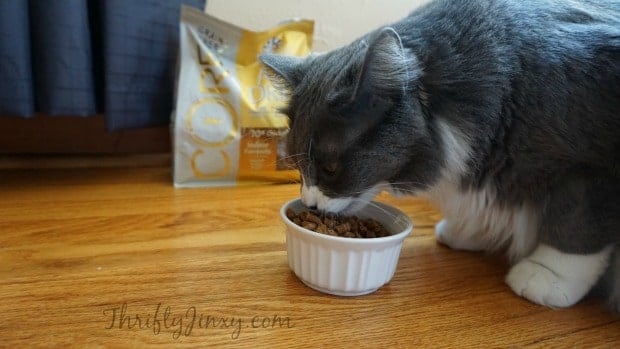 3. Spirit

While "cat spirituality" is definitely different from humans, they do thrive with human connections and attention. Each of my three cats wants different things from me. While my little Cleo loves to curl up and snuggle in my lap whenever I'm on the couch or reading in bed, my Sammy prefers watching me work at my computer (and occasionally battling the mouse cursor on my screen). However they look for it, I know that human connection is another important part of keeping them happy and healthy.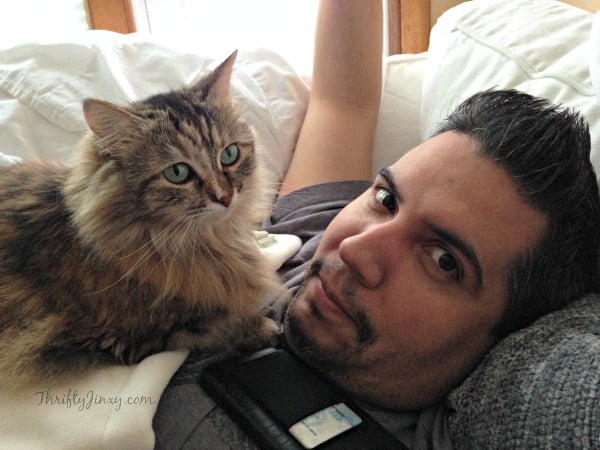 Our cats are a BIG part of our lives and their health and wellness is an important priority. All the effort that goes into maintaining it is more than returned through the love, laughs and cuddles they provide to us!