The pull of home is strong. We may move away and start new and happy lives, but that pull is always there. This is the central theme in BROOKLYN, a beautiful, rich and mesmerizing film based on the novel by Colm Tóibín.
About the film:
BROOKLYN tells the story of Eilis Lacey (Saoirse Ronan), a young Irish immigrant navigating her way through 1950s Brooklyn. Lured by the promise of America, Eilis departs Ireland and the comfort of her mother's home for the shores of New York City. The initial shackles of homesickness quickly diminish as a fresh romance sweeps Eilis into the intoxicating charm of love. But soon, her new vivacity is disrupted by her past, and Eilis must choose between two countries and the lives that exist within. The film is directed by John Crowley from a screenplay by Nick Hornby based on the novel by Colm Tóibín. The film also stars Domhnall Gleeson, Emory Cohen with Jim Broadbent and Julie Walters. The film is produced by Finola Dwyer & Amanda Posey. The filmmaking team includes director of photography Yves Bélanger, production designer François Séguin, set decorators Jennifer Oman and Louise Tremblay, editor Jake Roberts, music by Michael Brook, and costume designer Odile Dicks-Mireaux.
To put it simply, I LOVED this movie. The star of the film, Academy Award nominated Saoirse Ronan, as Eilis Lacey, had a lot to do with that. She captures the screen. Her story echoes that of so many young people who immigrated into the US from Ireland in the 1950s. Work was terribly hard to find in Ireland so, like millions of others, Eilis (which is pronounced "Ay-lish") leaves on a ship for America, knowing that she may never return home again.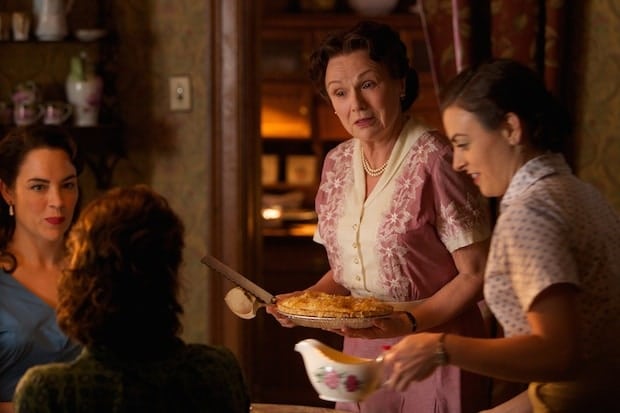 Once Eilis arrives in New York, it is a totally new and foreign world and we feel her pain as she battles homesickness and tries to adjust to her new life. In the boardinghouse where she lives, run by Mrs. Kehoe (played by Julie Walters), Eilis gains insight into the do's and dont's of American life from her fellow boarders.
And then there is the romance. Eilis meets Tony – a local Italian boy. Tony's family adds some warmth and humor to the film, particularly Tony's little brother Frankie (played by James DiGiacomo) who is hilarious! – You'll spot him in the trailer above.
There was so much I loved about BROOKLYN that I figure a bulleted list might be the easiest way to share a list of 10 things that made the movie one I am anxious to see again:
1. Amazing period costumes
2. A fresh look at the immigrant experience
3. The talented Saoirse Ronan
4. Beautiful cinematography
5. Those Irish accents! (Love Tony's Brooklyn accent too!)
6. Insight into the life of a single woman in the 1950s
7. The hilarious James DiGiacomo as Frankie
8. Romance
9. The Music – great soundtrack with score by Michael Brook
10. I cried – Not that I like crying, but if a movie makes me cry it has succeeded.
For another glimpse at the film, the short, powerful piece below sheds some light on the emigration aspect of BROOKLYN through clips from the film and interviews with Saoirse Ronan, Colm Toibin, and others.
BROOKLYN is now playing in select theaters nationwide. Find a theater here.
Connect with BROOKLYN on social media:
Twitter: @foxsearchlight
Facebook: https://www.facebook.com/BrooklynMovie
Instagram: https://instagram.com/foxsearchlight/