While many think the Keurig is for coffee-fanatics alone, that's not the case. While Mario is the coffee-drinker around here, I prefer other hot beverages, especially tea. BUT, now the Keurig can also be used to make your favorite cold beverages!!
While at BlogHer in Chicago last month, I had the opportunity to try new Brew Over Ice K-Cup® packs.  These spiffy little devils let you easily make your own iced coffee or other iced drinks at home.  You just pop them into your brewer as with a regular K-Cup, but then brew it into a full cup of ice.  The flavor in the cups is especially concentrated, so that once it melts some of the ice in the cup, it still gives you the full flavor that you're expecting.
There are lots of varieties of flavors from brands like Green Mountain Coffee® , The Original Donut Shop™, Snapple, Celestial Seasons, Caribou Coffee and more.  My very favorite flavor is the Snapple Lemon Iced Tea.  It's both delicious and very refreshing.  It's true that the flavor really does hold up with the melted ice.  Genius!!
Ready to try it yourself?  Watch a short video and then grab a printable $2 off Brew over Ice coupon.  Plus you can also enter the Brew Over Ice Sweepstakes for a chance at the $10,000 grand prize or one of their daily instant win prizes.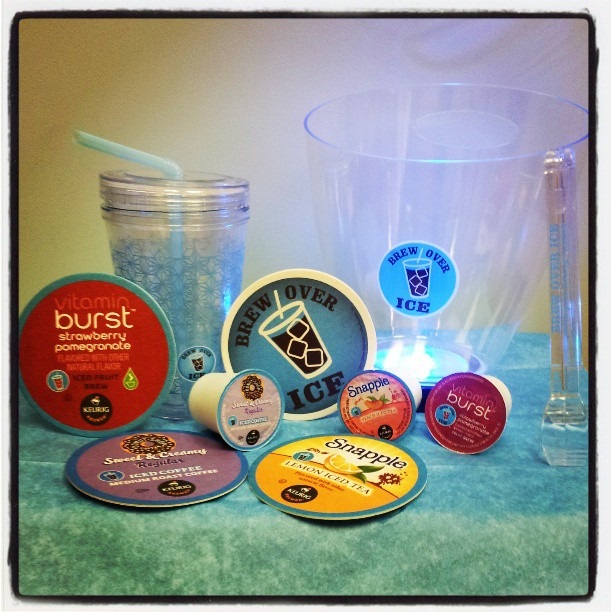 Reader Giveaway:  One lucky Thrifty Jinxy reader will win a Brew Over Ice prize package containing 3 Brew Over Ice K-Cup® samples, a Brew Over Ice tumbler, 4 Brew Over Ice coasters, plus a Brew Over Ice light-up ice bucket and tongs.  To enter, just complete the entry form below by 11:59pm ET on 9/5/13.  Good luck!