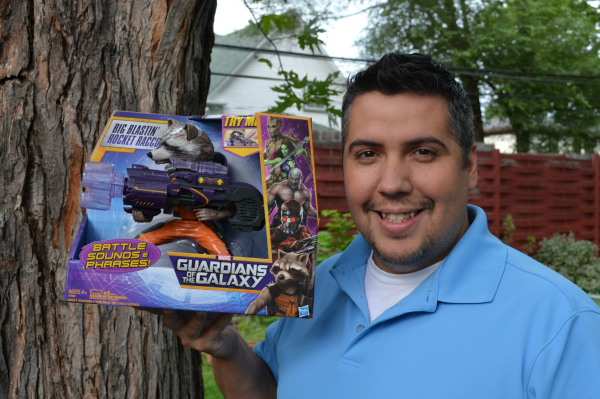 When I write about toys, it's usually my nephew who is the lucky one to try out the new stuff. BUT my husband makes it very clear that when the toys involved are Transformers or MARVEL that he gets the first crack at them! Hasbro has lots of new, fun toys that fall into this category, so he is feeling a bit lucky. We recently got a big box of some of the latest and the first one he claimed was the Big Blastin' Rocket Raccoon.
We both LOVED Guardians of the Galaxy and Rocket Raccoon was one of our favorite characters so we were both interested in seeing what this toy could do. Here is the "official" product description:
The Guardians of the Galaxy need all the help they can get to save the cosmos from destruction, and this is just the raccoon for the job! This incredible electronic Rocket Raccoon figure has a spinning blaster that lights up in the heat of battle. When you press the button on his leg, the blaster fires, and you can choose the battle sounds you want to hear! The intergalactic action will be epic with your Big Blastin' Rocket Raccoon figure!

Figure comes with blaster.

• Awesome electronic Rocket Raccoon figure
• Comes with spinning blaster
• Blaster fires when you press the button on the figure's leg
• Select battle sounds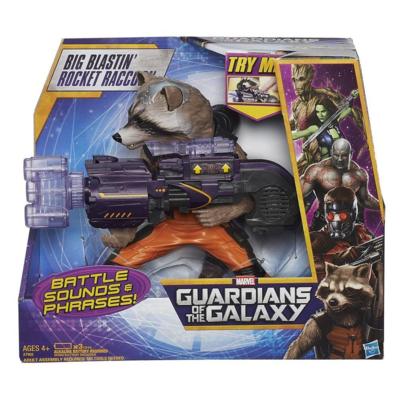 Kids will definitely have fun with this toy. My nephew has more than once eyed it longingly hoping that he could have it and I have had to say, "No, that's Uncle Mario's."  (Which is hard to do!) But there is a reason that it is Uncle Mario's. It is awesome for a collector and that is why he still has it in the box!  It really is cool how you just press a button and Rocket says some of his catch phrases from the movie and then lets the blaster fire! The blaster spins, lights up in different colors and vibrates like crazy!
Even our little kitten got in on the fun.  Check her out as we show you the Big Blastin' Rocket Raccoon in action: