I have gotten super frustrated with phone charging cables being way too short. Actually, sometimes they're only about a foot too short, but that one foot can make a huge difference. So, when I saw this deal last month for a 10 Foot High Speed Armored Charge Cable for only $7.99 with FREE shipping. I decided to give it a shot!
I'm really glad I did. I ordered the iPhone cable (it's also available in Android and USB-C) and it's awesome. Super long and super strong, which is important because my cats LOVE to chew on my phone cables and this one is pretty much cat-proof!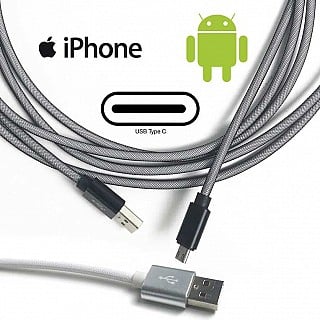 One thing you'll want to be aware of is that the color selection is random. I love the color of the cable I got (it's an awesome light purple/lavender color), but if you're particular about color choice then this may not be the deal for you.
One option is that if you buy 3 or more cables, then they are only $6.99 each – still with free shipping. I don't know for a fact, but I'm thinking you would likely get 3 different colors so you could choose your favorite and let friends or family use the others (great gift idea or stocking stuffer).
I have seen similar cords online and in stores and they are usually super expensive. $7.99 is an awesome deal!
You can see the cord in action here:
More about these Extra Long Charging Cables:
You don't settle for short, fragile cords any longer! These 10 foot long cords allow you freedom of movement when you're plugged in! And these cords aren't fragile and prone to knotting up like others because they have a protective polymer webbing making sure these cables stay in great shape even when you're not so nice to them. The USB connector and charge port sides are made from sturdy metal which not only looks great, but keeps these cords strong where they typically end up getting damaged. Available in iPhone, Android and the new USB-C connectors. You will randomly receive one of the pictured colors.
Product Features
10 Foot Armored Charge Cables
Available in iPhone, Android and USB-C
Protective polymer webbing making sure these cables stay in great shape even when you're not so nice to them
USB connector and charge port sides are made from sturdy metal
10 foot long cords allow you freedom