What's a gift that anyone with a sweet tooth can enjoy? Delicious chocolate gifts – especially a gift that looks as sweet as it tastes!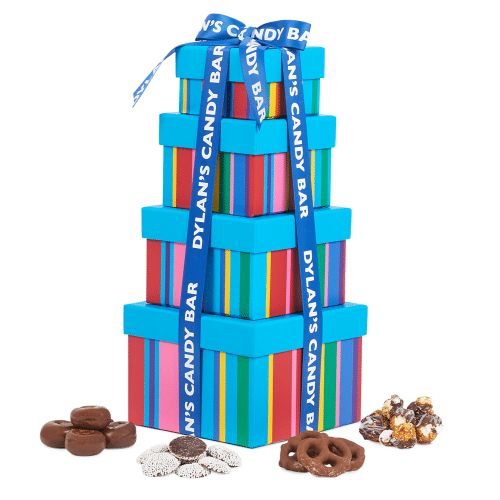 We're headed into that spring season where we have lots of occasions for gift giving where it can be really hard to know what to buy! First up we have Mother's Day, which is then quickly followed by Father's Day, graduations, bridal and baby showers. Spring can be really busy! When you're not sure what type of gift to get, I always like to fall back on the fact that pretty much every likes food and that's where candy gifts come in and I recently found the best chocolate gift!
Dylan's Candy Bar makes awesome candy towers filled with all kinds of yummy sweet treats. They were awesome to send me the Chocolate Sweet Treat Tower and I'm so glad they did! The 12″ high tower is comprised of four bright and colorful boxes (the Dylan's Candy Bar style is always bright and colorful!) with each box filled with a different chocolate treat: Vanilla Clodhoppers, Chocolate-Covered Pretzels, Dark Chocolate NonPareils, Chocolate-Covered Oreos. Each treat is amazingly delicious, but those chocolate-covered Oreos just can't be beat!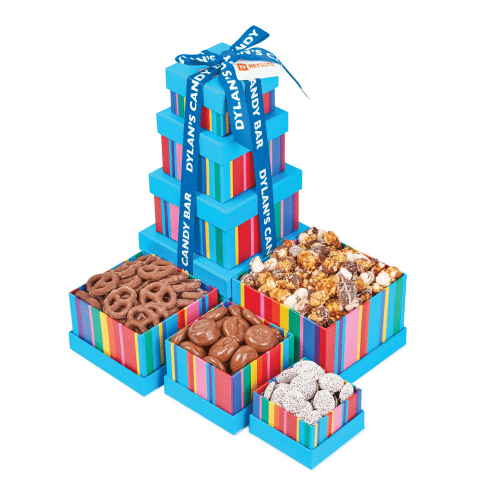 This chocolate tower makes a great gift for mom, dad or the graduate in your life. It's also fun for spring baby showers as it looks adorable stacked on the dessert table until it's time for your guests to dig in.
While I personally love the chocolate tower, there are other Dylan's Candy Bar gift towers to choose from as well including both chocolate and non-chocolate candies. The Ultimate Sharing Sweet Treat Towers are comprised of six boxes and are even better for that baby shower sharing I referenced earlier!
Dylan's Candy Bar Coupon Code:

Right now you can order your tower (or any other products) at a discount! Take 20% off your order at DylansCandyBar.com when you use code SWEET2018 at checkout to save through 5/15/18. You also get FREE SHIPPING on orders over $25 every day!