My husband and I have been looking at houses for a few months now. The house-hunting process is fun, if not a little intimidating! We want to be sure that the house we move into is the right fit for ourselves and for our family (yes, we have five kids…and yes, that definitely limits our options).
One big consideration for me personally as we look at houses is the kitchen. I want something big enough that I can move around freely, but not so huge that it takes over the house. We've also talked about upgrading our new-to-us kitchen once we move in so that it really is the perfect fit for us.
I have to admit that the microwave in my current kitchen is a frequently-used appliance. Whether I'm making a quick breakfast, heating up leftovers, or defrosting meat for dinner, the microwave gets a lot of use! But it's evident that food cooked in a microwave doesn't always turn out as tasty as one might like.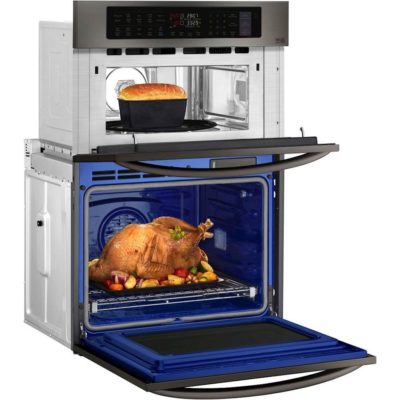 The LG Combination Double Wall Oven takes the speed of a microwave and combines it with the even cooking of convection, the instant heating of Infrared Heating, and the unparalleled performance of steam and puts it all together in one nifty appliance.
The TurboCook speed oven (upper oven) skips preheating with Infrared Heating and a 2-in-1 convection microwave that produces oven-quality results two to four times faster than a conventional oven. AND the lower can aid in cooking with True Convection and steam assist while you bake or roast your favorite dishes. Of course, you can use LG's SmartThinQ technology to control key oven features from anywhere, at any time!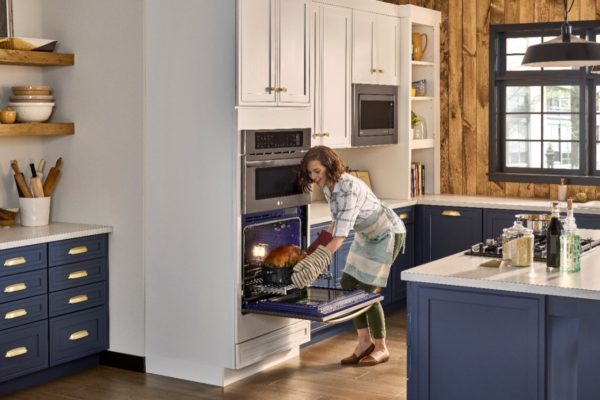 Features include:
Cut Cook Time in Half
With LG's TurboCook Speed Oven, you get the hustle of a microwave with the quality you expect from a convection oven. Bake whole chickens, potatoes, pizzas and more – no preheating required. With speeds two to four times faster than a traditional oven, you'll have more cooking flexibility and more time to enjoy your meal.
Cook with Confidence
True Convection delivers precise heat for crisp, delicious food. Bake with the greatest of ease with LG's True Convection oven. LG's convection technology evenly distributes continual precise heat so food is delicious on the inside and crisp on the outside.
Style That Changes Everything
LG Black Stainless Steel Series brings luster to kitchen spaces. It elevates the traditional stainless steel look that has become the standard in today's homes with a satin-smooth, warm and sophisticated finish unlike any other – for a timeless expression that pairs beautifully with any style or color of surrounding cabinetry.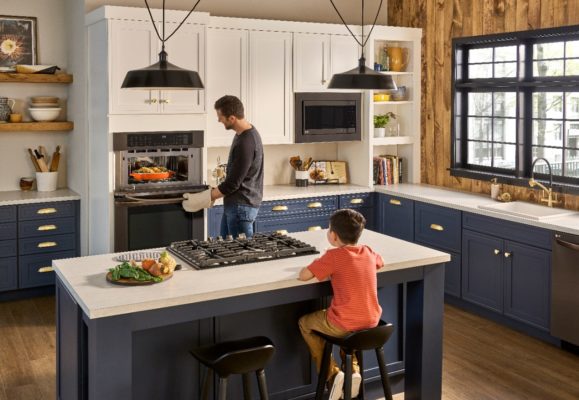 Best Buy LG Kitchen Package Special Offer
Now you can take your kitchen's style and capabilities to the next level with the LG Combination Double Wall Oven and other LG appliances. You'll love LG's cutting-edge appliance technology and variety of sophisticated finishes that can complement your existing cabinetry. Buy a 5-piece LG Kitchen Package at BestBuy.com and save $500 on the total package now through 3/6/19.