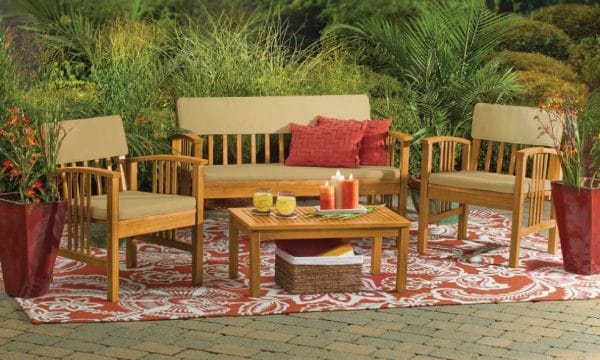 This warmer weather is getting me in the mood for spring – I can't wait! If you're looking for some new deck or patio furniture, here's a great deal on a beautiful, highly rated set! This 4-Piece Westerly Acacia Wood Deep Seating Chat Set is on sale for $149.99 at BedBathandBeyond.com – that's $100 off!
Please note that there is a $30 shipping surcharge for this particular item. However, if you can hunt down a 20% off coupon (check your snail mail or sign up for email offers, you can drop the price to $119.99 (+ shipping, of course) which would cover the cost of the shipping surcharge.
This set gets fantastic reviews – 4.6 stars from 200+ customers! It includes a cushioned loveseat, two cushioned chairs, and a coffee table. Create a relaxing lounge area in your backyard to enjoy the beautiful weather headed our way soon.