Are you or your kids part of a local team or organization? If so, hurry on over to enter the Baymont Home Hospitality Contest for the chance to win $10,000 for your team/group PLUS 1 Million Wyndam Rewards Points! Besides the grand prize winner, there will be 8 regional finalists eligible to win $2,000 and 200,000 Wyndam Points!
Check out the video below to hear Greg Giordano, Vice President of Brand Operations for Baymont Inn and Suites tell us about the 2014 winner of the Baymont Home Hospitality Contest.
One question I always get asked when checking into a nice hotel is if I want to sign up for their rewards programs. Normally, if it's a hotel I'm not familiar with or don't frequent on trips I politely decline and accept my room card before going on to enjoy my stay, how ever brief or lengthy it may be. There are a few choice hotels that I do subscribe to and you might recognize some of them: Days Inn, Travelodge and Hawthorne. These 3 hotels, Baymont Inn & Suites, and many more, including Wyndam Hotels and Resorts, are all a part of The Wyndam Hotel Group.

The worlds largest and most diverse hotel group, Wyndam boasts a family of approximately 7,650 hotels in over 70 different countries. I mentioned Travelodge and Days Inn before but Wyndam also works with Baymont Inn and Suites, Ramada, Super 8 and so many more. The Wyndam family is so large that you've probably stayed with them at one of their many locations and or resorts and not even known it!
The Wyndam Rewards program is a free to join royalty program that lets you earn and redeem points at over 7,000 hotels in more than 50 countries. With so many different locations to choose from how could you not want to take advantage of a program that rewards you for simply staying in a place that you already love?
Some great rewards you can cash in on include:
Free Nights. Whether you're dreaming of sandy white beaches or exotic foods you can use the points you've racked up starting at as low as 5,500 points.
For as little as 2,200 points you can start enjoying gift cards to you favorite restaurants and retailers like Home Depot, Red Lobster and Olive Garden.
Rewards with every stay. Starting for as low as 250 you can earn yourself some serious awards that include travel accessories and music downloads. It doesn't get any better that that.
Connect with Baymont Inn & Suites on
Facebook
 to make sure you never miss an update from your hotel destination experts!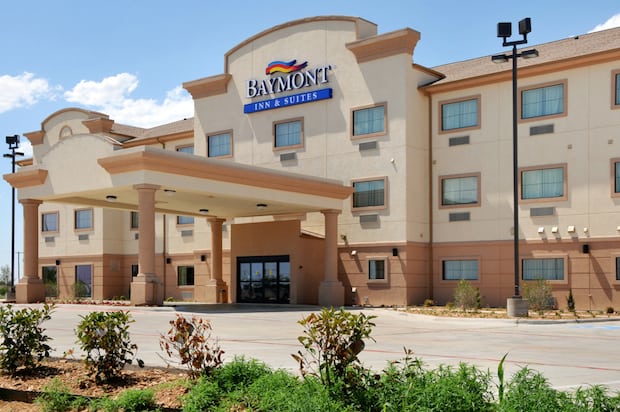 Reader Giveaway:  One lucky Thrifty Jinxy reader will receive 15,000 Wyndham Rewards points! The points are good for a one-night stay at most Baymont Inn & Suites locations, or can be put toward a stay at any of Wyndham Hotel Group's brands. To enter, just complete the entry form below by 11:59pm CT on 4/27/15. Good luck!