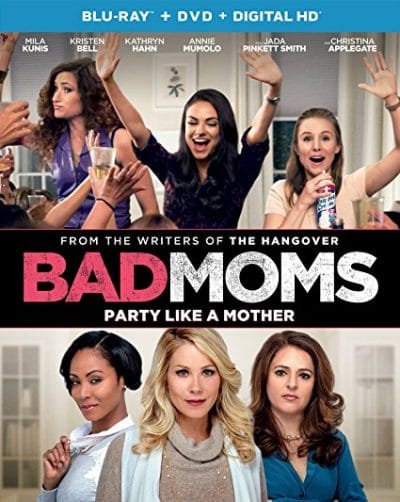 I'm sure you're not a bad mom, and your mom probably isn't, either…but you might still be interested in getting Bad Moms on Blu-ray/DVD/Digital for just $5 right now on Amazon! Even better, this is not an Add-on item so you can order it all by itself and get free shipping if you're a Prime member.
Here's what this movie is all about:
In this outrageous comedy from the writers of The Hangover, Amy (Mila Kunis) has a seemingly perfect life – a great marriage, over-achieving kids, beautiful home and a career. However she's over-worked, over-committed and exhausted to the point that she's about to snap. Fed up, she joins forces with two other over-stressed moms (Kristen Bell and Kathryn Hahn) on a quest to liberate themselves from conventional responsibilities – going on a wild, un-mom-like binge of long overdue freedom, fun and self-indulgence – putting them on a collision course with PTA Queen Bee Gwendolyn (Christina Applegate) and her clique of devoted perfect moms (Jada Pinkett Smith and Annie Mumolo). See the movie that critics are cheering as "…a funny, giddy, sentimental laugh-in…" – Manohla Dargis, The New York Times.
As always, prices on Amazon can change quickly and without notice. Head to Amazon to grab it at this low price!