I love to cook!  I guess you can probably tell that already by how may recipes I share.  So, when it comes to tech, I love to check out all the different apps that can give me inspiration in the kitchen and help with some information and guidance along the way.  There are hundreds (probably even thousands) of cooking apps out there, but these are just a few of them that I think are pretty awesome.  All of these apps are available for both iOS and Android devices.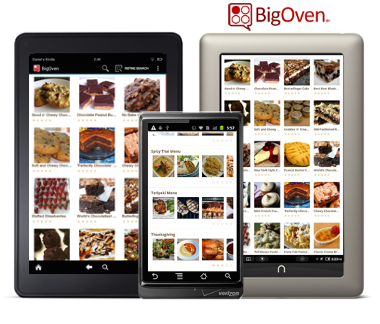 BigOven:  This cooking app is similar to many other apps out there, but what makes it stand out is that it is FREE!  It has over 250,000 recipes, along with a menu planner, grocery list and more.  My favorite feature is that you can enter 3 ingredients and it will tell you what recipe you can make using those ingredients.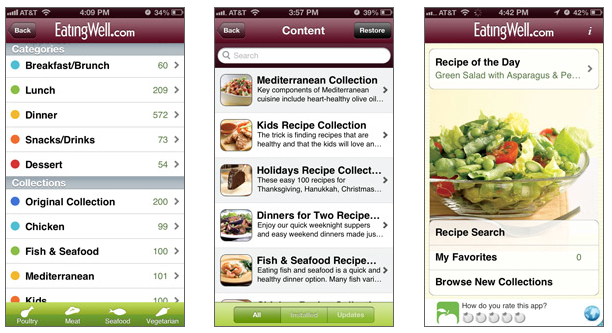 Healthy in a Hurry: This is another app related to a magazine that I love – Eating Well. Unlike many cooking apps, everything in EatingWell's "Healthy in a Hurry" Recipe App is HEALTHY! While the number of recipes is lower, only about 200, it has a nice variety from appetizers to breakfasts to deniers sot desserts. All the recipes are loaded right into the app so you don't have to have internet access when using it.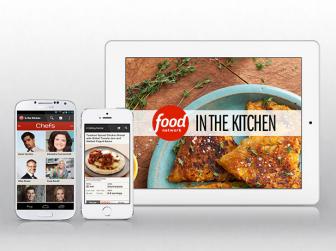 Food Network in the Kitchen: I love Food Network (and Food Network magazine), so I'm glad they have an app! It has thousands of recipes from our favorite Food Network chefs like Alton Brown, Giada De Laurentiis, Rachael Ray, Bobby Flay, Guy Fieri and more. There are even helpful Recipe and How-To Videos for select recipes. You can search for recipes by your favorite chef or by ingredients. This is another FREE app.
Perfect Produce:  This is another app that can help you cook and eat in a more healthy way because its focus is all about the fruits and veggies.  Perfect Produce tells you what to look for when buying fruits and vegetables to choose the perfectly ripe items and then also tells you how to store, handle and prepare it.  The app offers ccess over 450,000 tried-and-true recipes, categorized by your fruit or vegetable of choice.  You'll also find complete nutrition information for every piece of produce in the app.  While this app costs $1.99, you should be able to recoup that quickly by making your produce last longer and not wasting it by tossing spoiled veggies!

Do you have any favorite cooking apps?