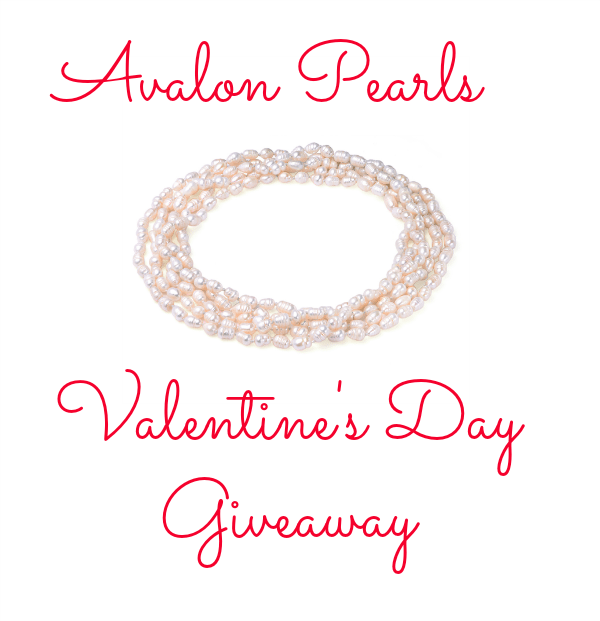 What is at the top of your Valentine's Day wish list? Have you shared those wishes with your sweetie? Sure flowers and chocolates are nice, but they don't last! On the other hand, jewelry is a gift that lasts for a loooong time and will be remembered year after year. And what kind of jewelry is more romantic than pearls?
For hundreds (maybe thousands?) of years, pearls have been regarded as a symbol of unblemished perfection. That is probably why they are worn by so many brides on their wedding day. They also have a timeless elegance and for ages been the perfect compliment to a formal dress or to add a touch of class to even a simple outfit of jeans and a fitted t-shirt. Pearls are very versatile, especially since they are available in so many colors and styles.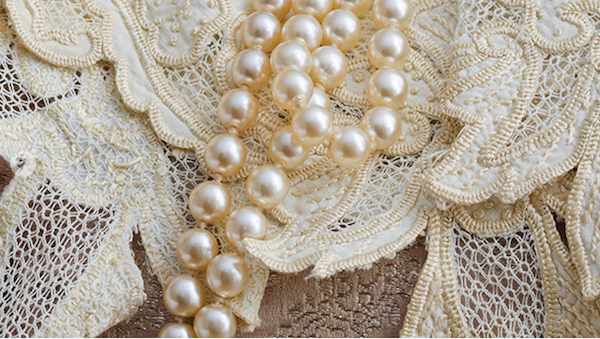 Just in time for Valentine's Day we have a special giveaway from Avalon Pearls.
A little bit about Avalon
Avalon, meaning apple, was the city where King Arthur first retrieved Excalibur his legendary sword and where he later went to heal his wounds from the famous battle of Cammlan.
Avalon Pearls jewelry represents strength, courage, and perseverance. In the same way, King Arthur was able to draw upon Avalon's allegorical powers every woman wearing Avalon pearls will carry its energy.
Avalon Pearls jewelry is the best quality pearls. They are certified by the Gem Institute of America, a grading system that guarantees the quality of the pearls. The best quality pearls are rated AAAA downward to A.   The company makes sure that all pearls meet a general quality standard to make sure they exceed the quality of their competition.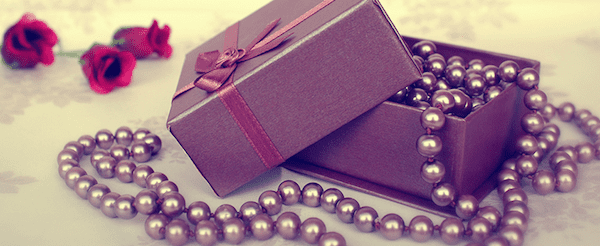 Avalon Pearls allowed me to browse through their web site to select a prize for our reader giveaway. I spent a LONG time browsing through their web site because they have so many fabulous choices. You can select pearls by jewelry style (i.e. bracelets, necklaces, earrings), pearl type or pearl color. I finally chose this Freshwater Pearl Necklace that is a 100″ continuous necklace. I love it because there are so many different ways you can wear it. You can style it as one long strand, in several loops around your neck or make lots of loops and wear as a bracelet. It is made of off round, white freshwater pearls, baroque in shape.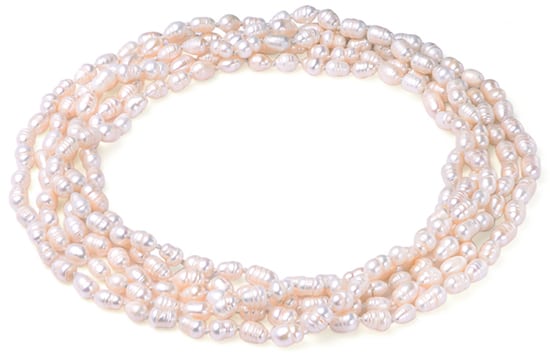 Special Offer: Avalon Pearls is giving away either free earrings with a purchase AND free shipping for orders totaling over $50.  The Free Earring Promotion is for earrings that cost up to $29.98 ( the value of the 6.5-7mm stud earrings).
If you decide you would rather receive the value of the pearls,  $29.98, towards your purchase – Avalon Pearls will be happy to credit your purchase for $29.98.  Again – if your purchase is $50 BEFORE the credit of $29.98 – you will receive FREE SHIPPING.
Reader Giveaway: One lucky Thrifty Jinxy reader will win the 100″ Continuous Freshwater Pearl Necklace from Avalon Pearls . To enter, just complete the entry form below by 11:59p ET on 2/18/15. Good luck!