Being a bit on the "tech junkie" side in our home, we have a lot of electronic devices. I have to say though, that this is due much more to my hubby than to me. I tend to use whatever device is charged and available, while he is a bit more particular about having just the right device for the right occasion.
I totally understand where he is coming from. There are a lot of times when the screen on your smartphone is just too small to do things like enjoy a movie or read an ebook comfortably. Then there are the times when a laptop or full size tablet aren't easy to carry around or fit into a purse. You know that whole Goldilocks situation of too small, too big, just right? Well it seems like the ASUS MeMO Pad 7 LTE is just right. And it's not just the size that rocks – it has lots of other great features too.
Check it out as hubby takes it out of the box:
Last year we told you all about the ASUS MeMO Pad 8. This newer version has lots of the same features we liked about that earlier model, but it has come a long way in a year! One of the main differences is that it is LTE-enabled, making it easy to take your entertainment on the go.
And that entertainment is delivered with a lot of power thanks to its Quad Core Intel® AtomTM processor, something not common in a tablet this size. The combination of this processor with the LTE network means you get super smooth video playback and fast web browsing.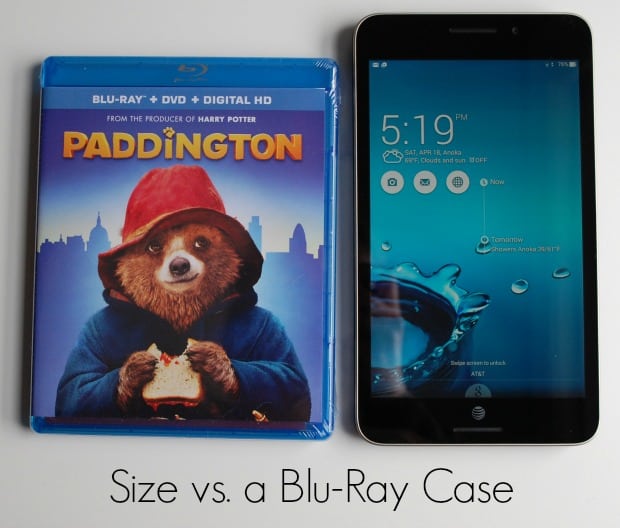 Another improvement we noticed on the ASUS MeMO Pad 7 LTE is the speakers. The dual front facing speakers makes the sound easy to hear and you can use AudioWizard software to make the sound even more vivid.
Do you like to take photos? Who doesn't? You can take lots of photos with the ASUS MeMO Pad 7 LTE and its front-facing 2-megapixel camera and 5-megapixel rear-facing camera with autofocus. There are some cool special features on the camera too. They include:
Time Rewind – With Time Rewind, the rear-facing camera starts automatically recording images two seconds before and one second after pressing the shutter button to snap 31 images
for you to choose from.
Always in Focus – The camera detects changes in the scene or image and will automatically focus to keep the subject within the frame clear and sharp.
Selfie – The rear-facing camera automatically detects the pre-set number of faces within a frame, counts down, and takes a 3-shot burst.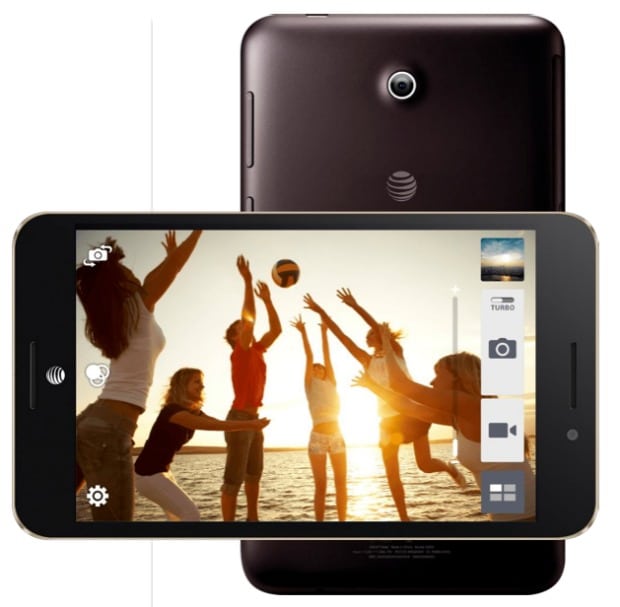 And again, since the ASUS MeMO Pad 7 LTE has such a convenient size, it is perfect to carry around to snap pictures at the moment they happen. All this convenience is making the ASUS MeMO Pad 7 LTE a regular in hubby's back pocket!
The only drawback we have found so far is that the power button to turn on the screen is a bit hard to find and difficult to do in a hurry and, since it is on the back of the bezel, it's hard to do with one hand. It could benefit from a "home" button to easily turn on the screen. And that whole "one hand turn on" wouldn't be such an issue if it weren't for the big positive of the ASUS MeMO Pad 7 LTE that it is otherwise so easy to use as a one-handed device. It fits neatly into your hand, which makes it ideal for things like reading eBooks in bed.
Oh, and I can't forget to mention the battery life. It's awesome!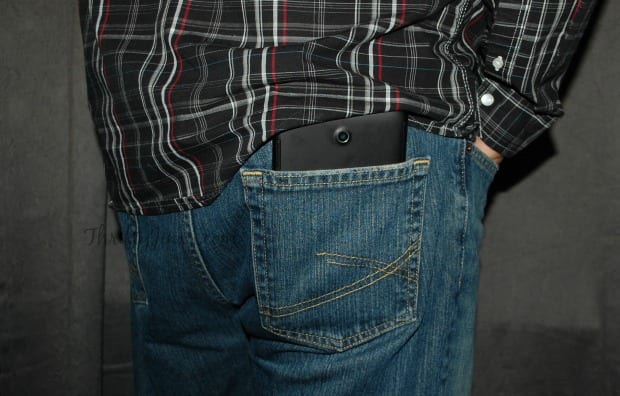 If you're a specs kinda person, here are all the nitty gritty details:
Technical Specifications
CPU
1.3GHz Quad Core Intel® AtomTM processor
Graphics
Imagination Technologies PowerVR G6430
Display
7-inch 1280×800 LED Backlit HD IPS+
400 nits brightness, 216 PPI, 7.25mm bezels Scratch-resistant glass with anti-fingerprint coating
Operating System
Android 4.4. Kit Kat with ASUS ZenUI
Memory
1GB LPDDR3 @ 1600MHz
Storage
eMMC 16GB
MicroSD Card Support (up to 64GB)
Connectivity
802.11 a/b/g/n with WiFi Direct Bluetooth 4.0
Camera
Front: 2MP, 720p video
Rear 5MP auto-focus, 1080p video
Audio
Front-facing stereo speakers (2 x 1.5 watts)
Interface
Micro-USB 2.0
Battery
Li-polymer 3950mAH non-removable battery Use time: up to 10.5 hours
Standby time: up to 11.5 days
Color
Dark Chocolate
Dimensions (L x W x H)
194.3 x 108.9 x 9.8mm 7.6 x 4.29 x 0.39in
Weight
300g 10.5oz
Learn more at ASUS.com!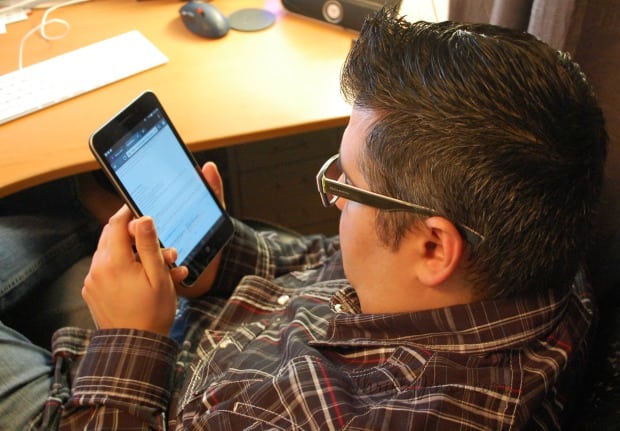 Reader Giveaway: One lucky Thrifty Jinxy reader will win their own ASUS MeMO Pad 7 LTE! To enter, just complete the entry form below by 11:59pm ET on 4/28/15. Good luck!