Fans of the Annie Oakley TV show can now watch the entire series on DVD!
This is kind of a dorky story, but I remember back when I was about 11 or 12 my parents went with their friends to see a performance of "Annie Get Your Gun" and while they were at the theater, we stayed their friends' house.
All of us kids waiting for our parents knew the name of the play they were seeing, but we had no idea what it was about or who Annie Oakley was, so we decided to make up our own play based solely on the title. Needless to say, it had nothing to do with Annie Oakley, but I do remember that it made our parents laugh a lot.
For something more entertaining than our childhood play, Annie Oakley fans will want to relive the iconic 1950s Wild West adventure with the "Annie Oakley" Complete TV Collection on DVD for the first time as a full set from Cinedigm.
The series, starring Gail Davis – who played Annie Oakley, was nominated for an Emmy in 1955. Davis was hailed by renowned western actor Gene Autry as "the perfect western actress".
The series also stars Jimmy Hawkins ("Pettycoat Junction") and Brad Johnson (Counterspy, Bedtime for Bonzo).
It is considered to be one of the first television shows to successfully portray a woman as independent, with courage, dignity and honor. "Annie Oakley" is based on the legendary sharpshooter of the same name and originally aired from 1954 to 1957.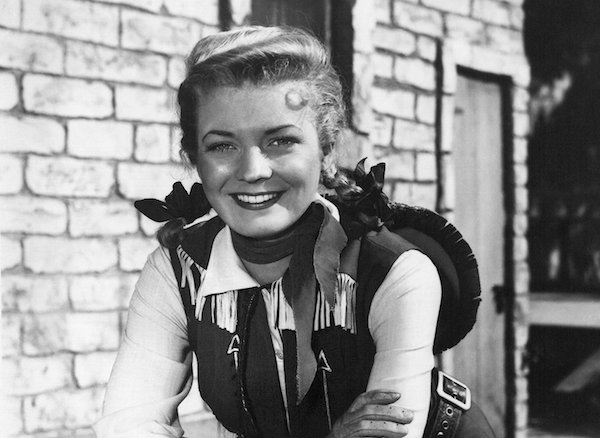 Annie Oakley is set in the frontier town of Diablo, AZ, and follows the adventures of Annie and her sidekick, deputy sheriff Lofty, as well as her mischievous little brother Tagg, as they clean up the streets of their quiet city by rescuing law-abiding neighbors and arresting outlaws.
An 11 disc set featuring every episode from the show's three seasons and a collectible booklet, the "Annie Oakley" Complete TV Collection is packed with bonus features, including a never-before-seen documentary about Gail Davis, photo galleries featuring 100s of photos from Gail Davis' personal collection, the original TV pilot starring Billy Gray (from Father Knows Best) as Tagg and more.