So it still FEELS like summer, but the calendar tells us it will soon be fall and that means it's time to get our fall wardrobes ready!! A great transition shoe from the sandals of summer to the knee-length boots of winter is the ankle strap bootie. We love this style with its cut outs, criss cross ankle straps, and comfy chunky heel.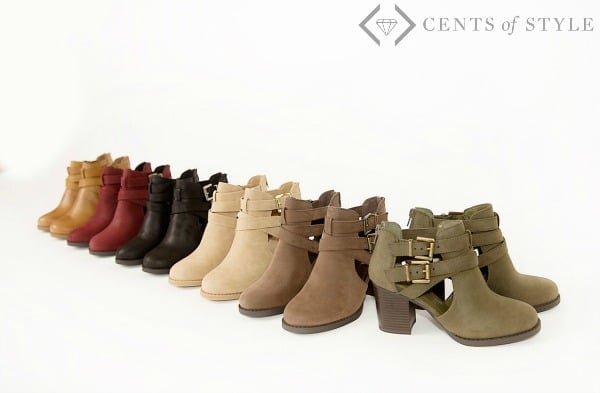 Right now you can snag a pair of ankle strap booties for only $29.95. What makes the deal even better is that shipping is FREE! There are tons of color choices in sizes up to size 11. The coupon code for this deal is FALLBOOTIE and it will make each pair $29.95 in the cart, with FREE SHIPPING.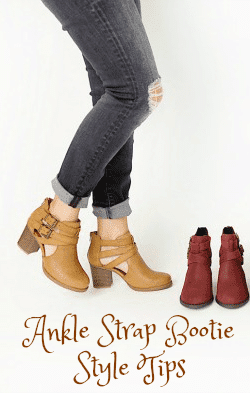 Now that your boots are ordered and you're ready to rock them for fall, here are some ankle strap bootie style tips to help make the most of them to complete your transitional fall wardrobe.
Ankle Strap Bootie Style Tips
Wear with a dress! Try a chic, flowy dress with a light jacket in Fall, and then move to a heavier style in the Winter. Either way, your ankle boot is the perfect finishing touch!
Skinny Jeans. We all know we love our skinnies with our must-have riding boot…but ladies, we're convinced the skinny jean was actually made to go with an ankle boot. Pair with a button-down & sweater or a chic blanket scarf.
Don't forget your favorite skirt! With bare legs, or tights (try a pop of color!), your ankle boot will polish off your look!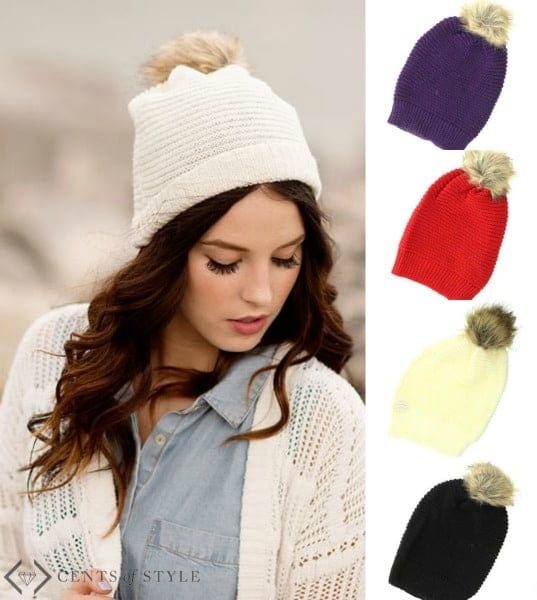 Oh, and we have one more great deal to tell you about. When buying your new Ankle Strap Booties, at checkout you'll be offered a slouchy knit beanie for just $5.99. That's another fall staple to mark off your list! Order HERE and don't forget the promo code FALLBOOTIE.