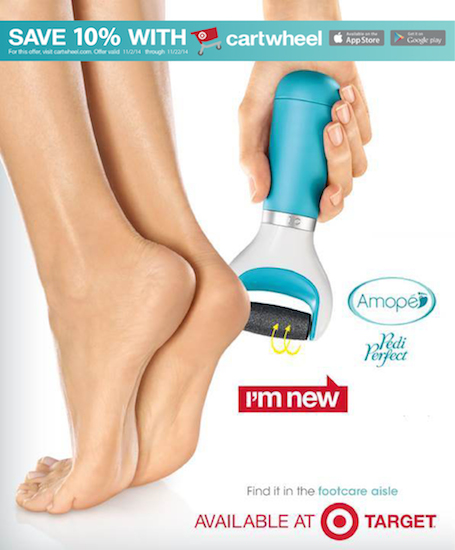 #RespectUrFeet #CollectiveBias
As I am writing this, the snow is falling. We have already had about 4 inches this morning and are expecting another 8 inches by the end of the day. That means winter is definitely here! While we often think of summer as the biggest time of year for pedicures and foot care to show off those sandals, winter feet need some extra love too.
Summer may be over, but that's no reason to hide your feet. Amopé™, Portuguese for love your feet, is a new brand enabling women to respect their feet and love every step! The NEW Pedi Perfect™ electric foot file gently and easily exfoliates away the hard skin on feet with it's safe rotating action, your feet can be soft and silky in minutes! Pair gadget with Amopé™ foot cream which adds moisture for even softer, healthier feet!
Maximize your savings at Target by redeeming a 10% discount on the Amopé™ Pedi Perfect™ through Cartwheel (available 11/2 – 11/22) AND by receiving a FREE $5 Target gift card (11/9 – 11/22).
Don't let the onset of colder weather chill your enthusiasm for silky, smooth feet. Respect your feet this season and purchase the Amopé™ Pedi Perfect™ at Target!